Welcome to Chandler Unified!
The Chandler Unified School District is a premier district of choice. Academic achievement is a high priority in the district as evidenced by test scores which exceed state and national averages. We pride ourselves on providing outstanding educational programs at all grade levels. Parents may choose from a menu of personalized learning experiences which best meet the needs of their children.

Chandler Unified School District is an open enrollment district. Click here to learn more about Open Enrollment and your many choices in Chandler Unified.
What's Happening Around CUSD
CUSD Photo Albums
September is Hispanic Heritage Month. During the Governing Board meeting on September 14th, students from all six CUSD high schools celebrated Hispanic excellence throughout the District. Click for photos and to read the district proclamation which was included in the student presentation.

CUSD schools commemorated Patriot Day September 2022 with a variety of activities to help students learn about one of our country's worst tragedies. Many schools welcomed and recognized first responders to be a part of the events.
CUSD Brags - Honors, Awards and Special Programs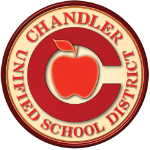 There are a LOT of great things going on in our school — honors, awards, community service projects, special programs we offer and accomplishments. Click below to spread the word, and to see the things we're doing!