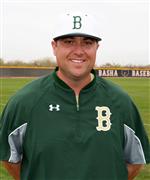 Phone: 480-224-2177
Email:
Degrees and Certifications:
Head Coach Jim Schilling

Coach Schilling's Coaching Philosophy

At Basha High School, we emphasize playing the game with hustle and with class. We strive to achieve excellence in every aspect of the game, while imparting to the young men in our program that baseball is more than a game. It is one aspect of many in the development and maturation of a young man. The game of baseball can be a great teacher, and the lessons learned by the student-athletes who play at Basha go well beyond the diamond. Baseball is filled with failure; thus we try to stress process and improvement, rather than results. This way, success can be found even when the outcome doesn't go our way. We understand that winning is a by-product of our players practicing self-discipline, being respectful of themselves, their coaches, their opponents and the game itself.

My coaching philosophy is founded on the following principles:

1) BE POSITIVE. The game is inherently full of failure. Negativity has no place on the team.

2) ENJOY WHAT YOU ARE DOING. Enthusiasm is contagious.

3) EXUDE A CONFIDENT POSITIVE ATTITUDE. The team will ultimately follow the coach's lead.

4) PLAYERS SHOULD HAVE FUN. Despite wins and loses, players should be able to look back and say that they enjoyed playing in our program.

5) BE HONEST AND CONSISTENT WITH PLAYERS. Respect them as individuals and treat them as maturing young men. Even if they do not agree with your decisions, earn their respect with fairness and honesty.

6) NO ONE IS BIGGER THAN THE GAME.

Respect for the game and playing the game right requires intelligence, self-discipline, humility and maturity. These are qualities I strive to develop in my players.