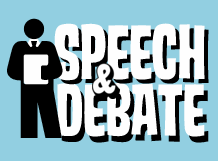 Very helpful documents:

Judging Ballots - Scroll through the Speech Ballots and look at the judging criteria for the ten different events. These might be good as a reference as you look at the document above. Also you could print some off and practice judging speeches online. Be sure that you are judging an NSDA video. There are many of them on Youtube. Note: (IE) Individual Events, i.e. speeches, oral interpretation and drama events (although some require a partner)

Jargon Glossary - When you first attend a tournament, it will sound like everyone is speaking another language. Basically--they are. Hopefully, this Jargon Glossary will help you as you travel in this foreign country.