Remind: text 81010 (consult parents before signing up) message @CCHSAPHUG1

Instructor: Cathy Culver Phone: 480/420-8329

Room: J209 E-mail: culver.cathy@cusd80.com

Office Hours: Conference Period: Wed/Thurs

Tues/Thurs 2:30-3:30PM & By Appointment

Welcome to AP Human Geography. You have enrolled in a yearlong course equivalent to a 1st year college course designed to represent a systematic study of the Earth & its inhabitants. APHUG should NOT be considered "college prep." This is a COLLEGE course, with college-level expectations for behavior, attendance, participation, and effort. The course covers seven different units including such items as: how to think geographically and use maps, population issues, cultural patterns, political organization of space, agricultural and rural land use, industrialization and economic development, and cities and urban land use. As I'm sure you've heard, AP social science classes are tough and those who are prone to procrastination will struggle. As an AP soceial science student, you must be committed to a year of intensive study and will be expected to take the AP exam in May. APHUG will follow very closely the curriculum recommended by the College Board.
Google Announcement

We will be using Google Classroom this year at Casteel High School. Go to www.classroom.google.com. Please log into Google Classroom using your school account (sID#@gse.cusd80.com). Your initial password will be s + ID# + ! You will join my classroom during the beginning of the year. From there you will be able to access PowerPoints and assignments. There is also an app for Google Classroom which makes keeping up with the class easier to manage!
Overview of APHUG Curriculum and Exam Information

AP Course Description
APHuG Notebook Instructions

AP Human Geography Course Information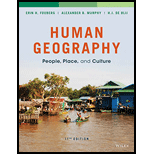 Fouberg, E. H., Murphy, A. B., & De Blij, H. J. (2015). Human geography: People, place, and culture (11th ed.). Hoboken, N.J: Wiley.