---
Arizona College Prep Erie Campus is the 12th Best High School in Arizona and the 2nd highest ranked district high school, as ranked by Niche in the 2020 Best Schools.

Proud to be a Knight!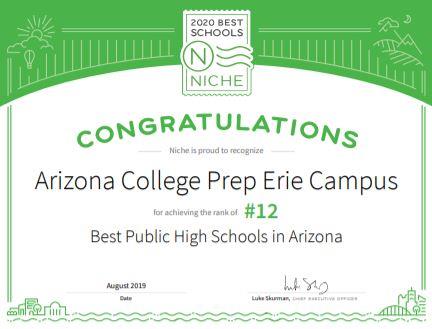 ---
Arizona College Prep - Erie is a 2019 A+ School of Excellence™
per the Arizona Educational Foundation
A+ Schools of Excellence™ is a comprehensive school assessment program that challenges school teams to work together to identify areas of excellence in teaching, learning, climate, community building, and leadership. A+ Schools are celebrated and recognized as outstanding. Earning the highly prestigious A+ designation spotlights the positive successes happening in public schools every day!
---
ACP - Erie Campus
Ranked #1 Public High School by MSN.com! Click here to see the list
---
2018 Arizona College Prep - Erie Campus received an "A"grade from the Arizona Dept of Education