About Philip Robertson...
---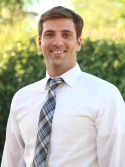 Home Site / Room Number: IRC/COA
Phone: 480-224-3768
Subject(s): Social Studies
---
Parent and Student Connections:
Check ongoing assignments and grades by logging into BUZZ:
Check final grades by signing up for Infinite Campus:
Connect with Us!
---
Welcome!
Welcome to Social Studies at Chandler Online Academy! I am looking forward to working with you this year. Please reach out to me with any questions or concerns - we are in this process together so let's make this a wonderful year.
Educational Background:
Philip earned his Bachelor's Degree in History with an Education Certification from the University of Iowa. He holds a Master of Education in Educational Leadership and a Master of Arts in History from Arizona State University. Philip has held endorsements in American History, World History, Government, and ELA. Working with 7th-12th graders, he has taught students in Iowa, Nevada, and Hawaii. Since 2010, Philip has worked in both the Yuma and the downtown Phoenix area.
Educational Philosophy:
All student have the right to learn and grow in a safe and productive environment.

---
Click to Report a Website Problem | Email Philip Robertson
---