About Angelika Foerst...
---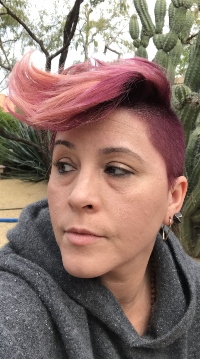 Home Site / Room Number: CHS/COA
Phone: 623-850-1391 Office hours: Mon, Tues, Fri from 1:20-2:20 Live Lab: Thursday 12:20 to 1:20
Subject(s): French
---
Parent and Student Connections:
Check ongoing assignments and grades by logging into BUZZ:
Check final grades by signing up for Infinite Campus:
Connect with Us!
---
Welcome!
Welcome to Chandler Online Academy!
Educational Background:
I completed my Bachelor's in Secondary Education: French (Spanish minor) in 1999. I completed my Master's in Curriculum and Instruction (Bilingual Education) in 2001. Finally, I completed my Ph.D. in Curriculum and Instruction (Curriculum and Cultural Studies) in 2008. All three degrees are from ASU. I started teaching for the CUSD in 1999. I started my career at AJHS (6 years), then moved to BHS (3 years), and have been at CHS ever since. I started teaching part-time with Chandler Online Academy in 2020.
Educational Philosophy:
I believe that we are a learning community whereby I am both teacher-student and my students are simultaneously students-teachers. We have a lot to learn about ourselves and each other and our language of study will serve as the vehicle necessary to cultivate our own gardens (Voltaire).

---
Click to Report a Website Problem | Email Angelika Foerst
---