About Britnie Crandell...
---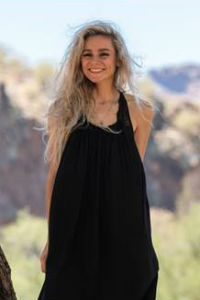 Home Site / Room Number: CCHS/COA
Phone: 480-256-2754
Subject(s): English
---
Parent and Student Connections:
Check ongoing assignments and grades by logging into BUZZ:
Check final grades by signing up for Infinite Campus:
Connect with Us!
---
Welcome!
Welcome to Chandler Online Academy!
Educational Background:
I graduated from Arizona State University (forks up!) with a B.A. in English Literature, along with my certificate in Secondary Education. As a product of Chandler Unified, I am exhilarated to be back in the best district in the state!
Educational Philosophy:
Learning is different for everybody. Literature is incredible because it speaks to every reader in a different way. In my class, students will never be penalized for learning and processing things differently. They will be rewarded for thinking critically and putting in the necessary effort in order to gain the magnificent knowledge and power that comes from reading and writing.

---
Click to Report a Website Problem | Email Britnie Crandell
---