About Phil Gonzales...
---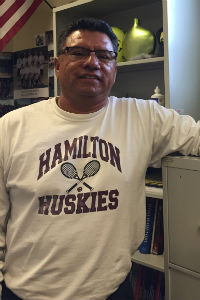 Home Site / Room Number: Hamilton High/N202
Phone: 480-883-5252
Subject(s): Comprehensive Health
---
Parent and Student Connections:
Check ongoing assignments and grades by logging into BUZZ:
Check final grades by signing up for Infinite Campus:
Connect with Us!
---
Welcome!
Welcome to Chandler Online Academy!
Educational Background:
B.S. Eastern Washington, M.S. Ed Northern Arizona University, 25+ years experience in teaching and coaching. USPTA
Educational Philosophy:
Each student is important in the classroom and on the playing field. Teaching and coaching allows me an opportunity to impact the lives of young people.

---
Click to Report a Website Problem | Email Phil Gonzales
---