About Jasmyne Griffiths...
---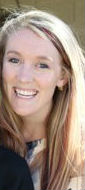 Home Site / Room Number: Chandler Online Academy
Phone: 480-442-6473
Subject(s): English Mathematics
---
Parent and Student Connections:
Check ongoing assignments and grades by logging into BUZZ:
Check final grades by signing up for Infinite Campus:
Connect with Us!
---
Welcome!
Welcome to 7th and 8th grade math and language arts! My name is Mrs. Griffiths. When I am not teaching, I enjoy spending time with my two kiddos. My son's name is Logan and he is 7 years old. My daughter's name is Raelynn and she is 2 years old. Together, my family and I enjoy hiking, swimming, playing soccer, and trying out new recipes in the kitchen.
Educational Background:
I graduated from Northern Arizona University and received my Bachelor of Science in Elementary Education. I have three endorsements in the areas of Language Arts, Mathematics, and Structured English Immersion. This is my 5th year in the Chandler Unified School District.
Educational Philosophy:
Teachers, educational institutions, and curriculum provide unique avenues for students to be stretched, edified, and strengthened by their learning experiences. Often times students ask, "Why do I need to know this? I'll never use this in 'real-life'." Though a specific concept I teach may not ever be revisited in a student's adult life, I know the experiences students encounter while attending school, (whether online or in-person), will teach them lessons that prepare them for the "real-world". They may experience failures that they may not feel they can push past. Yet, they will also feel success that will motivate them to do better, to be better, and to set new goals. Progress, no matter how small, drives my enthusiasm to teach. Every child, has the potential to grow. It is my goal to show them that they are capable of success.

---
Click to Report a Website Problem | Email Jasmyne Griffiths
---