Our BRAGS!
Honors, Awards and Special Programs
---
---
Basha Accelerated Middle School

(2017-2018)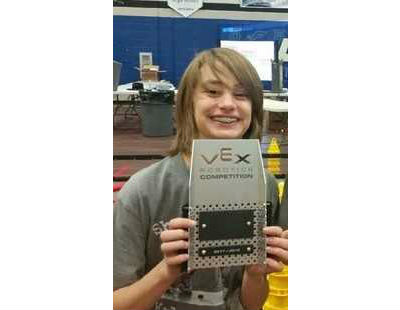 Our Shoot and Score Vex Robotics Team, made up of two members -- Ben Badhorn and Kyler Harden, won the Excellence Award at Central Arizona VEX Tournament in Fountain Hills. The Excellence Award is the highest award presented in the VEX Robotics Competition. This award is presented to a team that exemplifies overall excellence in creating a high quality VEX Robotics program. This team is a strong contender in numerous award categories.
Robotics Education & Competition Foundation website



Basha Accelerated Middle School

(2017-2018)

Our Shoot and Score Vex Robotics Team is ranked #1 in Arizona in the middle school category for Robot Skills. Robot Skills is composed of Programming Autonomous points and Driver Skills. The team scored 102 points, putting the team in the 27th (tied) spot worldwide against middle school teams from China, the U.S. and elsewhere. Their goal is to get to 130 points (into the top 10 worldwide) by adjusting their autonomous program and increasing their driver skills.



---