Our BRAGS!
Honors, Awards and Special Programs
---
---
Hamilton High

(2018-2019)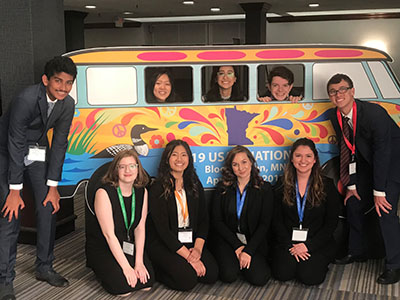 Hamilton Academic Decathlon competed in Minneapolis in April against 72 other teams from the US, the UK and China (approximately 876 students). Our Huskies made Arizona proud! Team results:
3rd Super Quiz Division 1: 4th (in the NATION!) overall Division 1
Individual medals:
Jake Nance - Bronze OVERALL, Gold in Science, Silver in Language and Litertaure, Silver in Music, Silver in Art, Bronze in Math
Jasmine Sun - Gold in Art, Silver in Interview, Bronze in Science, Bronze in Social Science, Bronze in Speech
Zuzia Stechly - Gold in Interview, Silver in Art, Bronze in Music
Emily Jefferson - Bronze in Language and Literature
Melina Chabolla - Bronze in Interview
Adding in the teams from other divisions and the international students, Hamilton ranked 7th overall.
Photo Album: Hamilton Academic Decathlon Shines at International Competition



---