Our BRAGS!
Honors, Awards and Special Programs
---
---
Basha High

(2019-2020)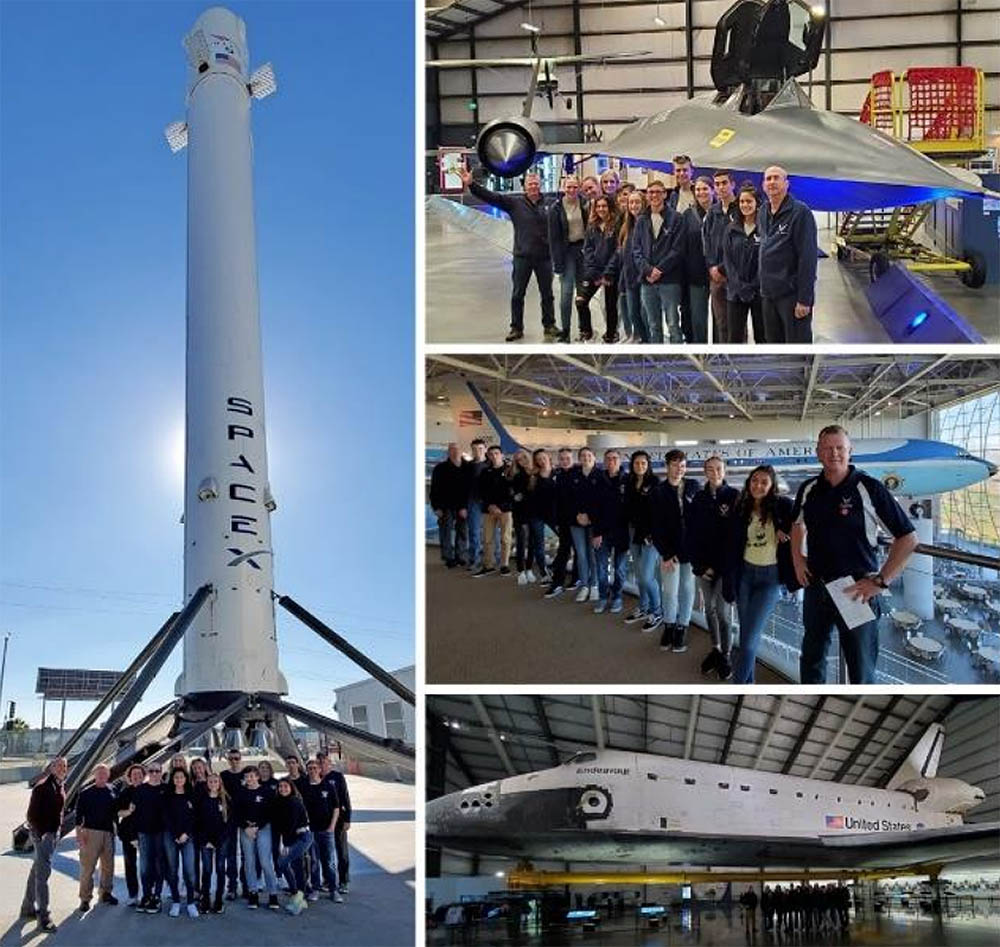 As part of the fifth annual California Aerospace trip, 11 Basha High AFJROTC cadet leaders spent four days visiting such locations as SpaceX, the Griffith Observatory, the Space Shuttle Endeavour at the California Science Center, March Field and Palm Springs Air Museums and the Reagan Presidential Library. This exciting trip enabled cadets to greatly expand their knowledge and understanding of aviation as well as space exploration.



Perry High

(2019-2020)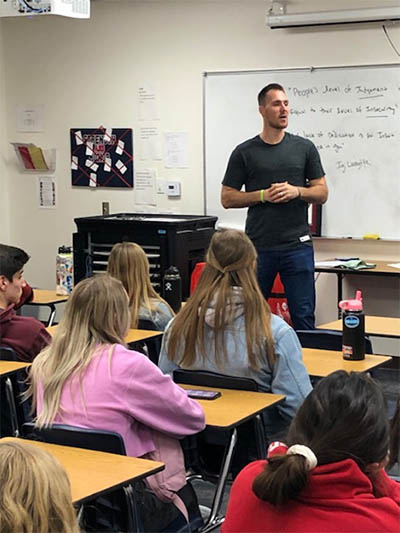 Lance Thonvold, former Major League Baseball pitcher for the Seattle Mariners spoke to Darren Johnson's Sports Medicine students on February 11 about athletes, the dangers of performance enhancing drugs, illegal substances, and how they have ruined many athletic careers.



Chandler High

(2019-2020)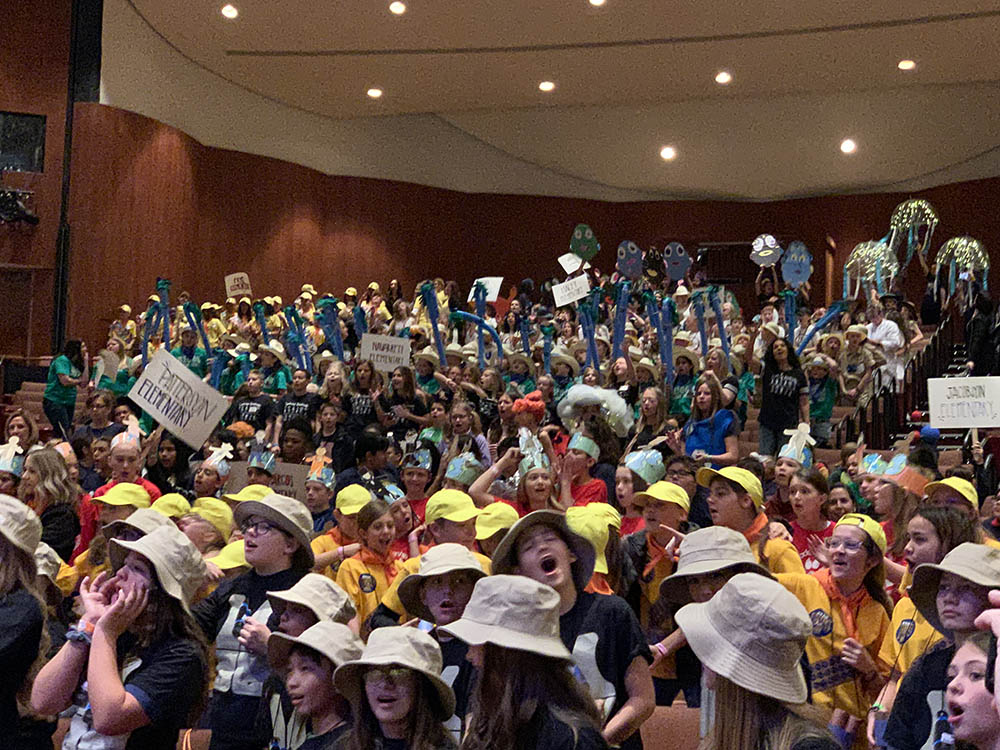 Chandler High hosted the 2020 CUSD Leadership Convention for all student councils throughout the district to celebrate leadership, spirit, and fundraising efforts. Thanks to CHS StuCo, Michael Gray, other high school student councils, their sponsors, and CUSD Nutrition for organizing and delivering an amazing day of "Exploring Leadership." As part of the agenda, CUSD schools presented a check for nearly $10,500 to the American Heart Association, and guest speaker Will Adams brought the house down with motivational speaking and dance.
Student Council Convention Photo Album



Chandler High

(2019-2020)

Twenty-three Chandler High Air Force JROTC cadets visited Luke Air Force Base and had a mission briefing on the F35 Lightning 2 along with some up close and personal time with the aircraft. Cadets also viewed an Explosive Ordinance Disposal and a medical training center.



Chandler High

(2019-2020)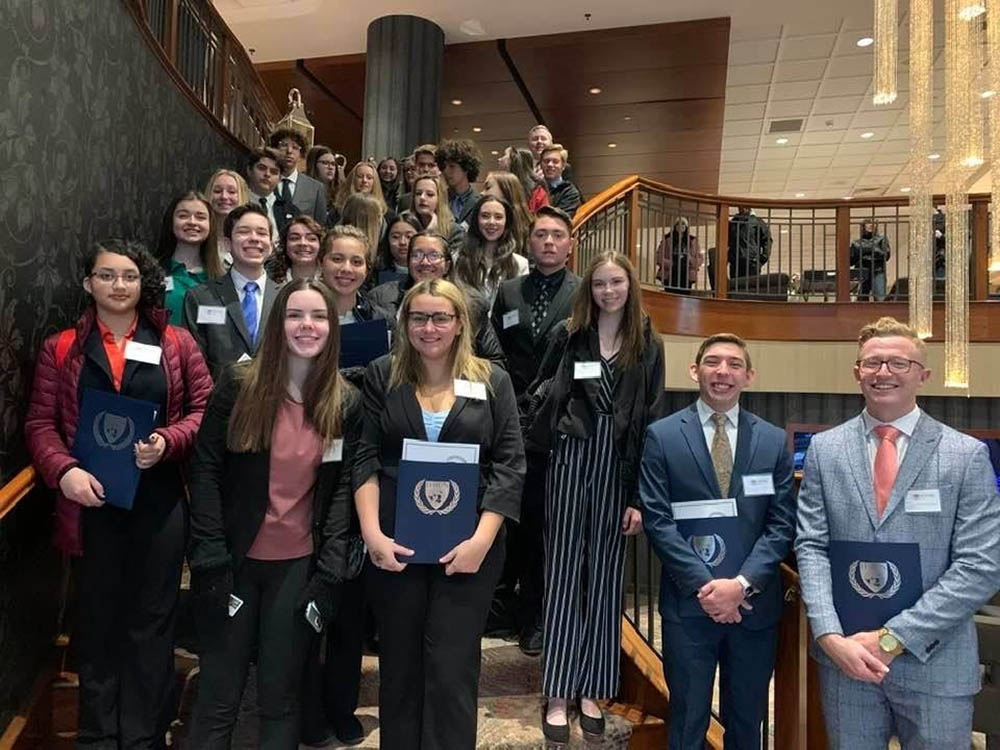 Thirty Chandler High Model United Nations students traveled to Boston to participate in the Harvard Model United Nations. The international event brought together over 3,000 students from all over the world to take part in a series of international simulations mirroring the workings of the United Nations.
Model UN at Harvard Photo Album



Chandler High

(2019-2020)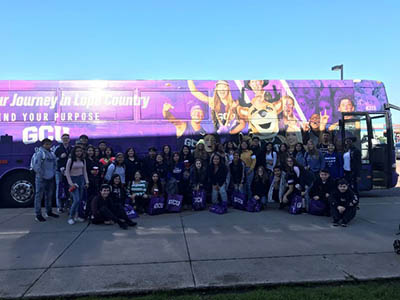 Forty members of Chandler High's AVID (Advancement Via Individual Determination) program visited the campus of Grand Canyon University. Students were given a tour of the campus, treated to lunch, participated in a college interest survey, and were able to ask questions of current GCU students in a student panel.



Chandler High

(2019-2020)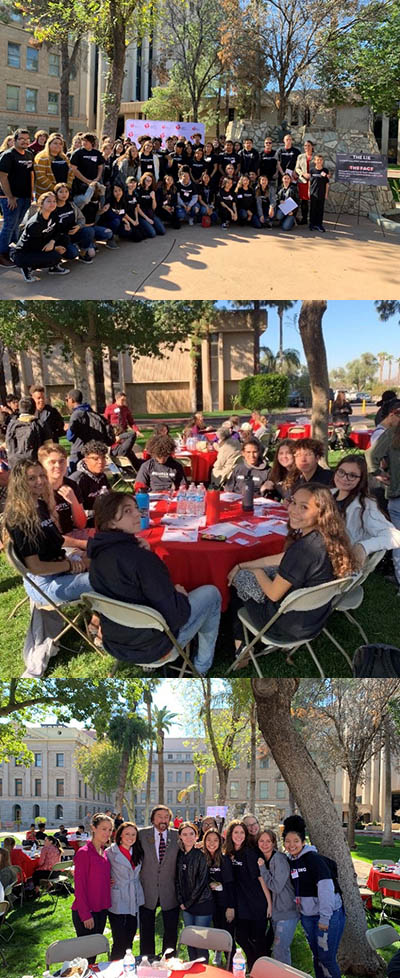 Forty International Baccalaureate / Middle Years Program Government and Economics sophomores met with state representatives at the Capitol during the anti-vaping rally as guests of the American Heart Association. It was a great opportunity for our students to better understand the legislative process and encourage civic awareness.



Chandler High

(2019-2020)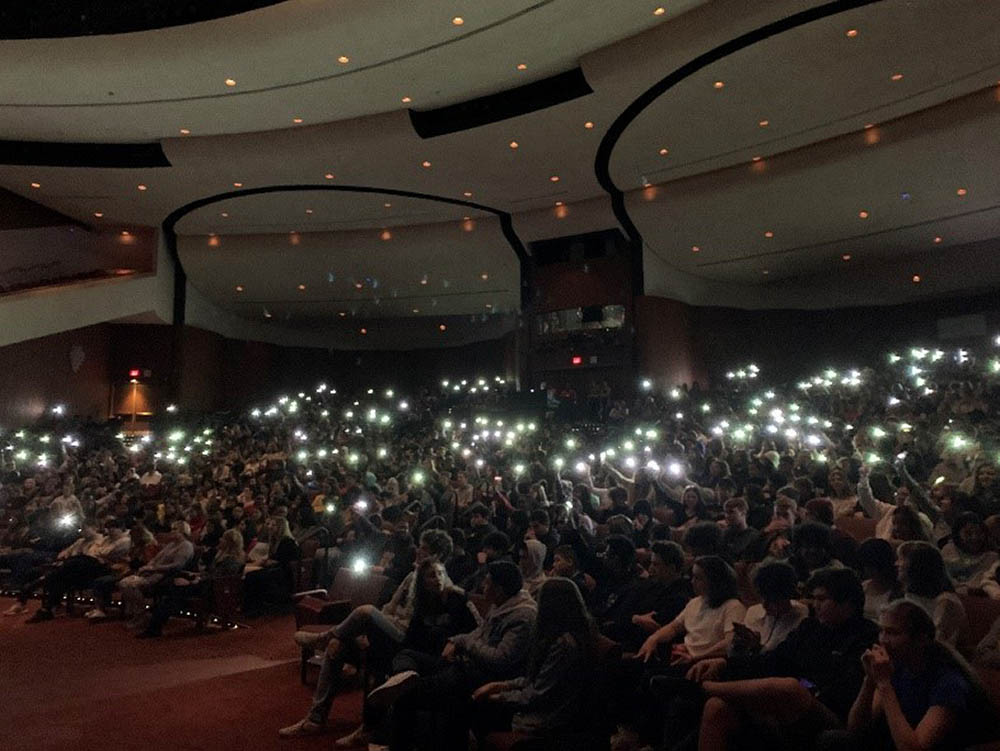 Students and staff celebrated the many cultures that make Chandler High special during the 2020 Unity Assembly. Thanks to all of the performers, and to StuCo and Mr. Gray for organizing such a terrific event!
Unity Assembly Photo Album



Chandler High

(2019-2020)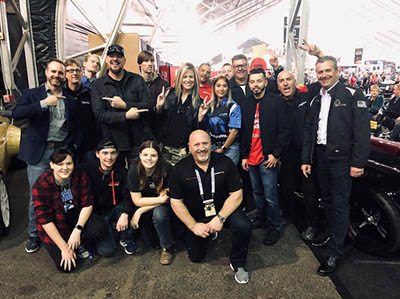 Kaylynn Stanley, Robert Hoppenrath, and Jordan Koepnick attended the Barrett-Jackson auction and had the opportunity to join professionals on stage. It was a great experience for the students who are part of Mr. Roger Van Why's Auto Program.



Chandler High

(2019-2020)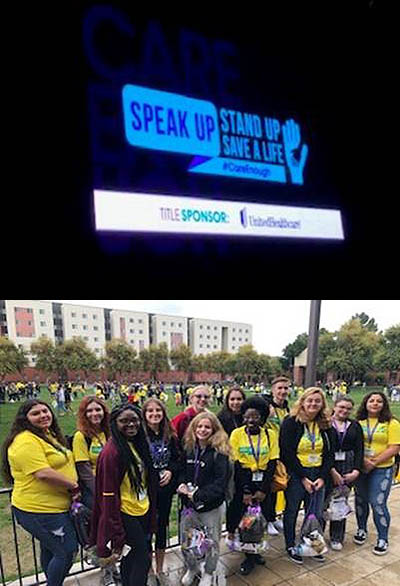 Chandler High's Bring Change to Mind (BC2M) club members attended the "Speak Up, Stand Up, Save a Life" conference at Grand Canyon University last week to focus on suicide awareness.



Casteel High

(2019-2020)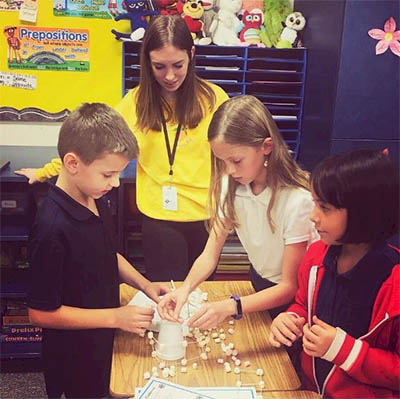 Michelle Capriotti teaches a class at Casteel High School that gives students an opportunity to explore teaching as a possible career. Students in the class spend one day a week in an elementary classroom. Shown in this picture Sierra Bingham, a sophomore at Casteel, teaching a STEM lesson to third graders. Sierra planned an engaging lesson where students built a shelter for an abominable snowman.



Chandler High

(2019-2020)
The Chandler AFJROTC, commanded by Colonel Jones and MSgt. Goodson, had the fantastic opportunity to present colors at the 2020 opening session of the Arizona State Senate.
AFJROTC at State Senate Photo Album



Chandler High

(2019-2020)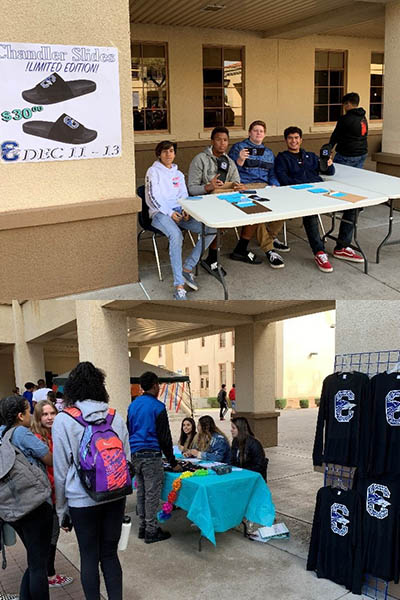 Chandler High School DECA (Distributive Education Clubs of America) hosted Market Days and showed off their entrepreneurial skills by selling products they created, including decals, slides, windbreakers, sweatpants, shirts, snacks, and more.
Market Days Photo Album



Chandler High

(2019-2020)

The Chandler High School Link Crew hosted a Freshman ONLY Final Exam Cram Session after school to help prepare freshmen for their first high school final exams. We had 245 freshmen attend the event!



Chandler High

(2019-2020)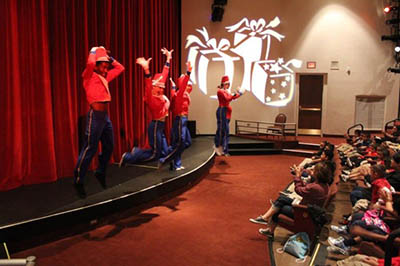 Chandler High Intermediate and Beginning Dancers performed for 340 CUSD kindergartners from around the district at the Chandler Center for the Arts.



Chief Hill Academy

(2019-2020)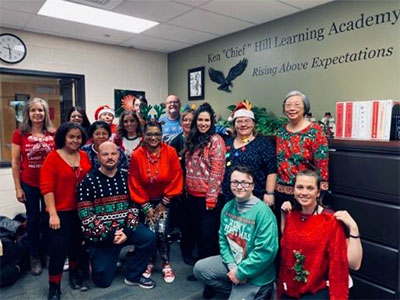 Hill Learning Academy staff dressed the part to wish everyone a Happy Holidays on Friday, December 13.



Casteel High

(2019-2020)

Robin Flyte's classes reviewed the chemistry of solutions by making supersaturated homogeneous solutions (AKA, "fudge") for the holidays.



Hamilton High

(2019-2020)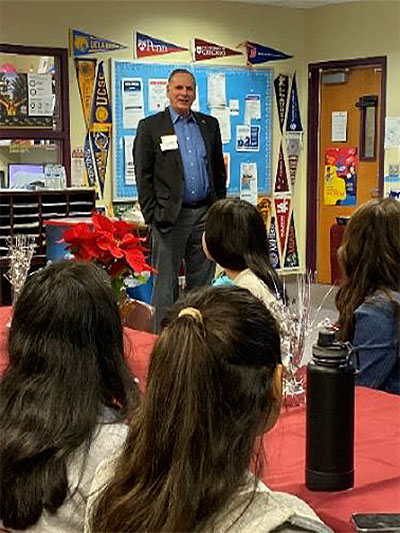 City of Chandler Mayor, Kevin Hartke visited Hamilton High School to talk to International students and Hamilton Ambassadors regarding the City welcoming the exchange students to Arizona.



Chandler High

(2019-2020)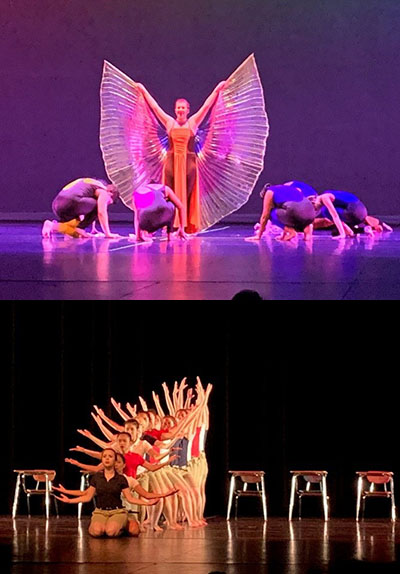 Chandler High Modazz, Advanced, and Improv dancers performed beautifully in the the Beautiful Madness Concert, featuring 16 pieces of student-choreographed work.
Beautiful Madness Concert Photo Album



Chandler High

(2019-2020)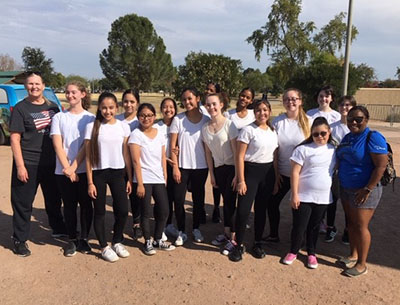 The Chandler High Dance Club performed at the City of Chandler's Woofstock Festival. The students did a great job, and many family members came with their furry friends to support our students.



Chandler High

(2019-2020)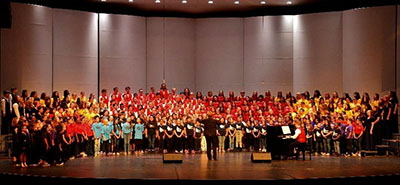 Chandler High School's "Step Up" choir concert, under the direction of Lori Lyford, with neighboring junior high and elementary schools (Andersen Junior High, Willis Junior High, Andersen Elementary, Conley Elementary, CTA Goodman, CTA Liberty, Hartford, Knox Gifted Academy, Sanborn Elementary, and San Marcos Elementary) was a wonderful experience for all the students.



Basha High

(2019-2020)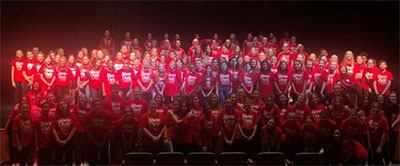 Basha High hosted the third annual Show Choir Live festival. They had more than 150 students participate from Santan Junior High, Payne Junior High and Basha Accelerated Middle School.



Casteel High

(2019-2020)

The second annual diversity program was held November 1 at Casteel High. Under the direction of Bonnie McNamara, French Honors Society and French Club puts on the program for National French Week every year. This year, it was nicknamed the COLTure Day because they celebrated all the cultures of the Casteel Colts! They had Choir, Band, Project 15 dance, Asian K-Pop and Fan Dances, Folklórico and even a song in German. Exchange students from Norway, Denmark and Spain also shared their experiences.



Chandler High

(2019-2020)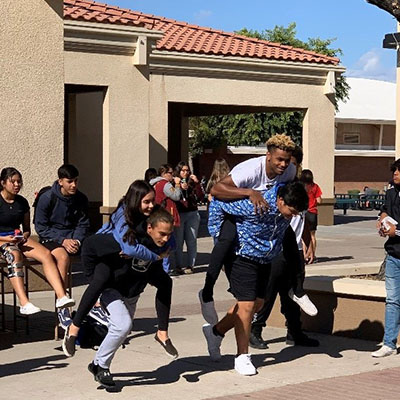 The Chandler High Link Crew hosted a lunchtime activity to reconnect with the freshman class and have some fun! The freshmen were asked, "What would you do for an ice cream bar?" and were challenged to choose a fun activity to do with their Link Leader to earn a treat. The freshmen, along with their Link Leaders, did things like give high fives to five people, give piggyback rides, or do the chicken dance. The freshmen enjoyed a sweet ice cream treat for their participation.
Link Crew - Photo Album



Chandler High

(2019-2020)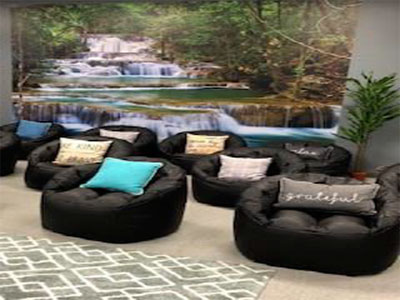 Chandler High School opened a Mindfulness Room in September. Prevention Coach Sarah Hunter runs the room for students and staff. Teachers can bring their students down for a mindfulness lesson during class time and students can come in before or after school and during lunch.



Chandler High

(2019-2020)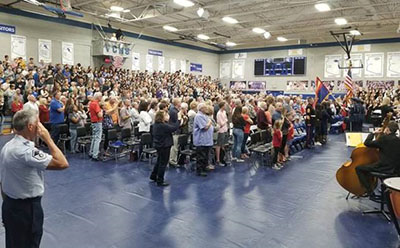 The Chandler High Air Force JROTC presented the nation's colors during a Veterans Day assembly at Valley Christian High School. They have been honored to present colors at the Veterans Day event for the last eight years.



Chandler High

(2019-2020)

The 2019 World Language Expo was an awesome display of students' talent and hard work. Thanks to Gigi Clara-Martinez, Evelyn Avitia Valverde, and Breiddy Guerrero for organizing the event and to everyone who performed on stage, or offered cultural activities, food, and fun. This year's theme was "BE KIND. THE WORLD NEEDS YOU," and CHS's World Language students and teachers decorated the courtyard with posters and crafts.



Perry High

(2019-2020)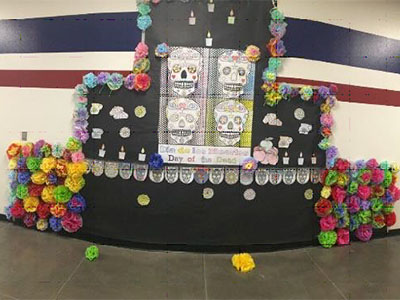 All nine Perry High Spanish teachers and their combined 1,200 students celebrated and learned about all the cultural components of Dia de los Muertos. The students rotated classes/teachers every 20 minutes into a new station to learn something different relating to Dia de los Muertos. The product can be seen on the two wall alters in the upstairs new C-wing. The Spanish teachers put in many hours to prepare for this event and the students enjoyed the cultural experience.



Chandler High

(2019-2020)

Chandler High students and staff participated in Rivalry Spirit Week leading up to the Chandler vs. Hamilton football game. Throughout the week, students participated in themed "VS" days where we had mathletes squaring up against athletes, elders vs. toddlers, cowboys vs. aliens, and more. Friday morning's pep rally kicked off game day, and the celebration continued through lunchtime. As part of Rivalry Week, StuCo worked collectively with Hamilton High to raise money for the Make-a-Wish Foundation. Chandler High collected $1,627.51
Rivalry Spirit Week 2019 - Photo Album



Chandler High

(2019-2020)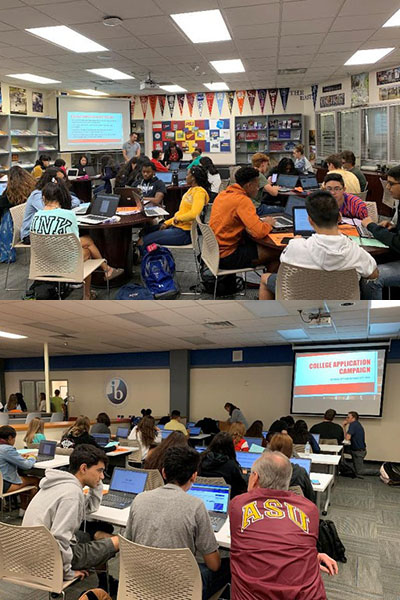 Chandler High's College Application Initiative was a huge success. Seniors met with counselors and college representatives to work on completing college/postsecondary applications, the FAFSA (Free Application for Federal Student Aid), and scholarships. Seniors who completed an application and/or the FAFSA were entered to win $1,000 scholarship and many other prizes.



Hamilton High

(2019-2020)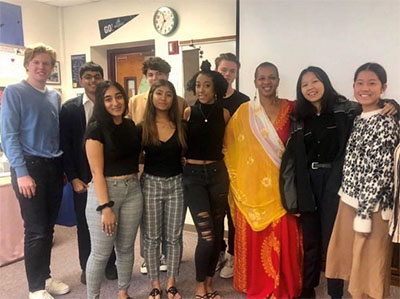 Hamilton's AP Seminar with African Diaspora content class presented their current research projects for Dr. Lisa Aubrey, associate professor of African and African American Studies in the School of Social Transformation at ASU. Hamilton teacher Audra Johnson, Dr. Adama Sallu, and Dr. Lisa Aubrey have developed a partnership with the goal of enhancing students' academic and postsecondary success. The students will attend one of Dr. Aubrey's classes at ASU in December!



Casteel High

(2019-2020)
Ms. Yard's AP Biology Students are playing "Cytosis," a biology board game where students model key cellular processes that keep each cell functioning properly within the body thanks to the Chandler Education Foundation Classroom Education Enrichment Grant.



Casteel High

(2019-2020)

Mrs. Alyssa Pitner and Mrs Jenny Olson and their talented theatre students put on a spectacular Halloweenpalooza for the community. Over 800 people went through the haunted house that the theatre students created in the science wing. A Kid Fun Zone was a hit with the elementary kids, where they painted pumpkins, colored drawings, and met famous characters.



Casteel High

(2019-2020)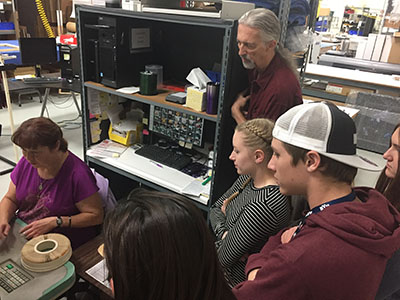 The digital photography students visited Tempe Camera on Wednesday, October 30. This industry visit allowed students a first hand look at the sales, rental and repair shop and also the printing area. The tour included a behind the scenes look into a dark room along with witnessing how slides are scanned.



Chandler High

(2019-2020)

Chandler High staff and students celebrated Red Ribbon Week last week. 275 students stopped by and filled out pledges saying why drugs have no place in their future.



Hamilton High

(2019-2020)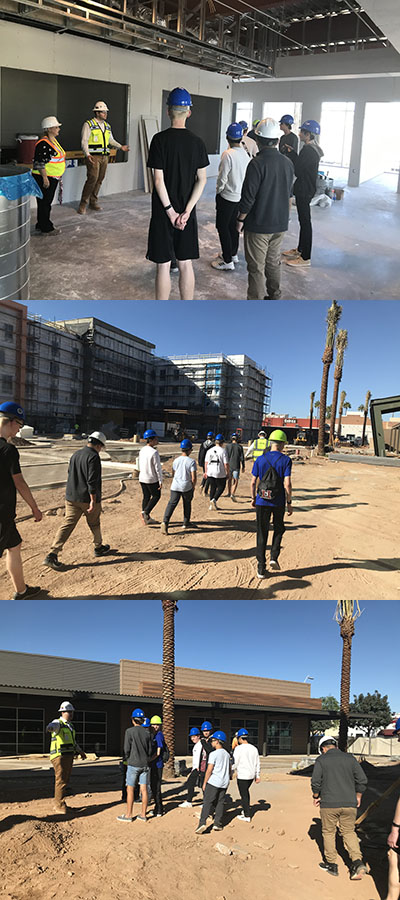 James Flannery's architectural drafting students took a tour of new construction in downtown Chandler and asked many questions. Thanks to Layton Construction, Whitneybell Perry Inc., and especially project manager Lisa Shea, Hamilton architecture students were able to tour a four-story office building, one-story commercial space, outdoor recreation plaza and hotel, and the new parking garage site.
Architecture Field Trip Downtown Chandler Photo Album



Perry High

(2019-2020)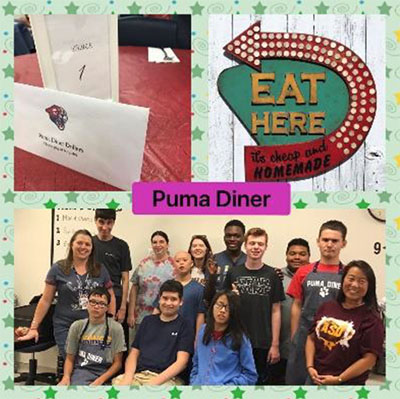 Perry High School "Puma Diner" is up and running. It was created and run by Perry students to work on a variety of job skills while feeding the Puma Nation.



Hamilton High

(2019-2020)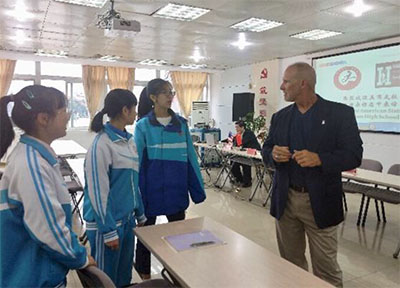 Hamilton High Assistant Principal Dick Baniszewski spent fall break in China. He was part of a delegation that visited Duhiangyan High School as part of an educational trip. He represented CUSD, Chandler, Arizona and the country admirably.
American Educational Delegation in Dujiangyan



Chandler High

(2019-2020)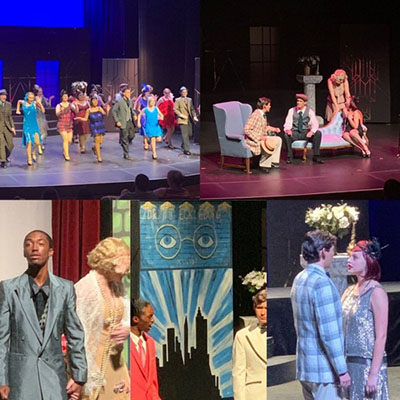 CHS Theatre's production of The Great Gatsby was superb! The play, directed by Ms. Stephanie Likes and Ms. Katie Kolacki, featured Elijah Newton, Charlize Cornejo, Ryan Cogley, Drew Sedgley, Liz Del Vecchio, Izzy Stephens, Zac Denny, Luke Waxman and an awesome ensemble cast. Without the outstanding stage management and other crews, this production would not have been possible. Congratulations on a great show!



Chandler High

(2019-2020)

Chandler High's DECA (Distributive Education Clubs of America) Marketing program and Student Council teamed up to sponsor CHS's 2019 Fall Fest, a community festival including rides, games, a petting zoo and food.



Arizona College Prep - Erie Campus

(2019-2020)

STYROFOAM BUSTERS! A group of eight students are looking at innovative ways to get rid of styrofoam pollution at ACP Erie. They are creating awareness among students to drop their used lunch plates in special containers, and then these students are collecting them everyday. The aim is to compress the styrofoam, hence reducing the volume and treat it with materials that will dissolve them. Creativity and innovativeness comes from critical thinking and problem solving. GO KNIGHTS!



Arizona College Prep - Erie Campus

(2019-2020)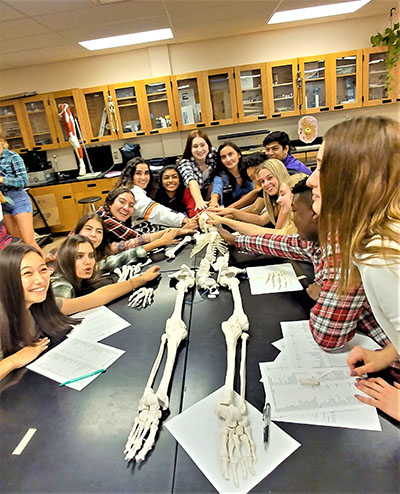 Halloween is definitely near -- but students had so much fun assembling the skeleton in Rachna Nath's Human Bio class.



Arizona College Prep - Erie Campus

(2019-2020)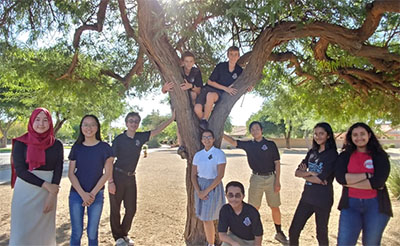 ACP Erie's Lemelson-MIT team, the KNIGHTS INNOVATORS, presented their Hydrothermal Hat/Headband to the CEO of Chandler Innovations, Mrs. Daina White. Mrs. White invited the team to attend the Track 1 program that the City of Chandler sponsors in collaboration with NACET (Northern Arizona Center for Emerging Technologies) for starting their own entrepreneurship. These ACP students will now be able to access technical support, marketing support, patent support and meet with some of the top businessmen in Arizona to support their cause. The Knights Innovators started their track last Tuesday at Chandler Innovations in Downtown Chandler. This group consists primarily of freshman and sophomores. We are proud of them for mastering public speaking and reaching out to Mayor Kevin Hartke, the Chandler Chamber of Commerce, and many IT companies around Chandler.
VIDEO: Hydro-Thermal Hat



Basha High

(2019-2020)

Keith Tomaszewicz's engineering classes took a field trip in September to Grand Canyon University to participate in Engineering GCU DAY. Students were exposed to different engineering programs and career options, and got to do a hands-on workshop with breadboards and electronic circuits to operate autonomous robots and a laser beam. Additionally, they went on a tour of the engineering labs and reviewed the engineering curriculum that GCU offers. Actual GCU engineering students also took Mr. Tomaszewicz's 2nd and 3rd year students around the campus to show them what campus life is like.
GCU Engineering Day Photo Album



Casteel High

(2019-2020)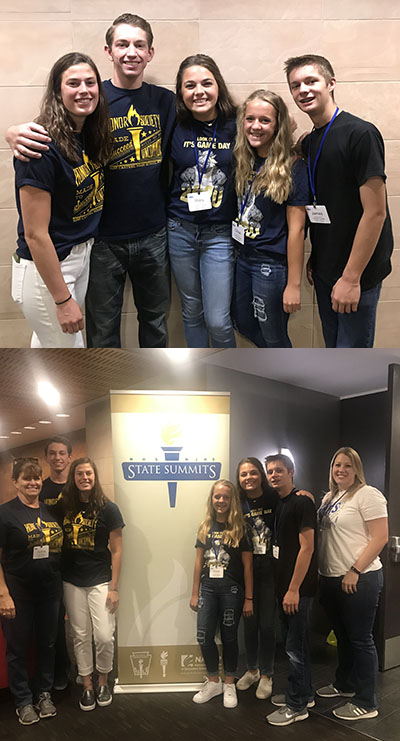 Casteel High students attended the National Honor Society (NHS) and National Junior Honor Society (NJHS) Arizona State Summit at ASU on September 12 to elevate our school's commitment to scholarship, service, leadership, character, and citizenship.



Casteel High

(2019-2020)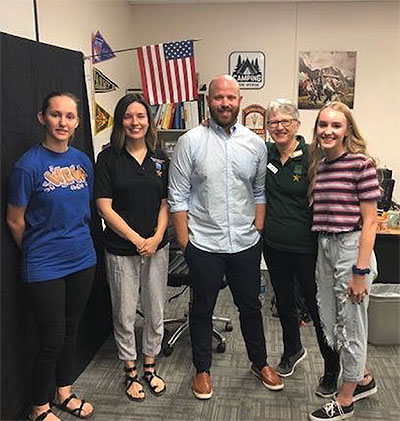 Casteel High teacher Christopher James was interviewed by his U.S. Military students (class) about his experiences serving in Iraq. The Veterans Heritage Project was on campus to record the interview and discuss the upcoming publication of the interview. Casteel sophomore, Sydnee Watkins will write the story to be published in the Library of Congress and the Veterans Heritage Project Book. Furthermore, James encouraged other students, including sophomore Hope Henry, to interview and write a story about a family member who served and can share their experiences as well. Hope is interviewing her grandfather about his experiences in the Vietnam War and will have the interview and story published.



Chandler High

(2019-2020)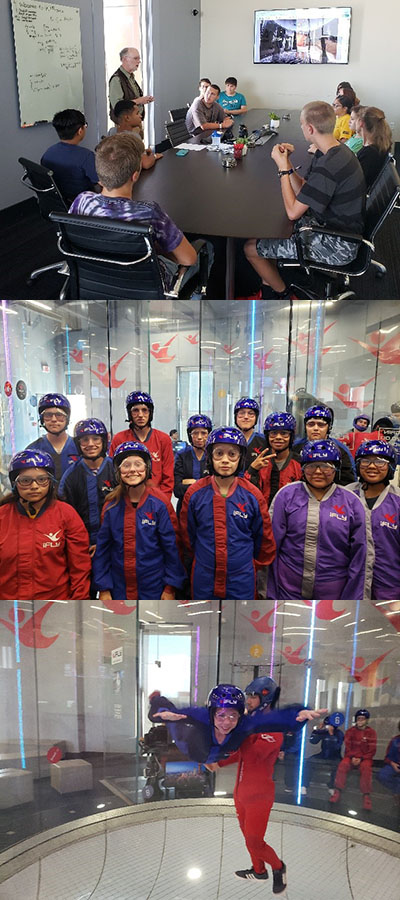 Chandler High's Air Force JROTC visited iFLY indoor sky diving last Monday and engaged in lessons on physics and wind tunnels and how terminal velocity can be calculated using a Algebraic equation. Cadets then suited up, received flight lessons, and had two flights in the flight chamber. After their flights, the cadets calculated their terminal velocity and came up with figures very close to what their true number was. It was a very rewarding experience.



Chandler High

(2019-2020)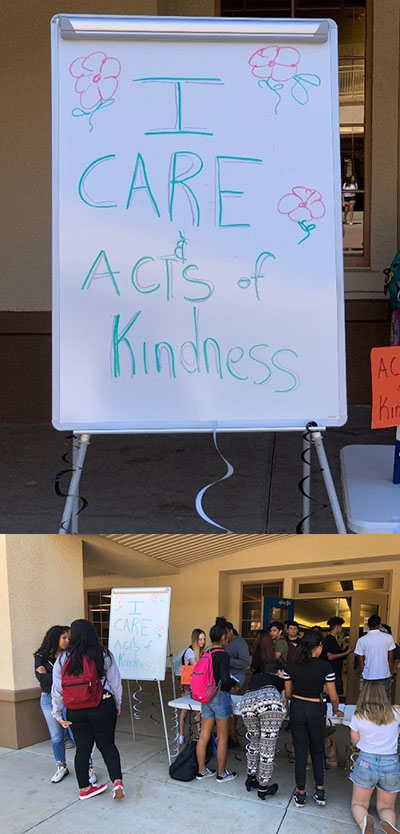 The Bring Change to Mind Club hosted an "I Care" table at lunch last week and encouraged students to write notes of encouragement and thanks to people they care about. Bring Change to Mind is a nonprofit organization dedicated to encouraging dialogue about mental health, and to raising awareness, understanding, and empathy.



Hamilton High

(2019-2020)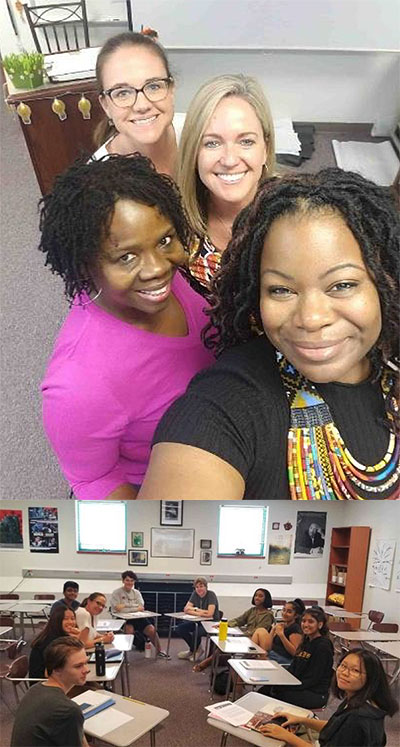 Hamilton High School is currently piloting an AP course developed through a partnership between the CollegeBoard and the African Diaspora Consortium: AP Seminar with African Diaspora content. This is the first ever AP course with an African topic, and Hamilton is proud to be the first school in the western US to offer this course. The Senior Executive Director of the African Diaspora Consortium, Rhonesha Blaché, visited with the class and facilitated a lesson about changing perceptions of Africa. Hamilton students have also had the pleasure of hosting Dr. Adama Sallu as a guest speaker and attending a 1619 commemoration event during which Dr. Sallu was a panelist. A university partnership is also a part of this pilot program, so students will have opportunities for field trips to ASU and graduate student mentorship as they conduct research.



Perry High

(2019-2020)

Dr. Darren Johnson's Sports Medicine students participated in a program called "Stop the Bleed" in partnership with Dignity Health. The program teaches students to tie a tourniquet, recognize arterial bleeds and other lacerations, stuff deep puncture wounds, and apply direct pressure to any bleeding. It includes vocabulary, explanation of wounds, pictures, and then a hands-on session. Congratulations to all students who completed the training and earned "Stop the Bleed" certification.



---