Our BRAGS!
Honors, Awards and Special Programs
---
---
Santan Junior High

(2019-2020)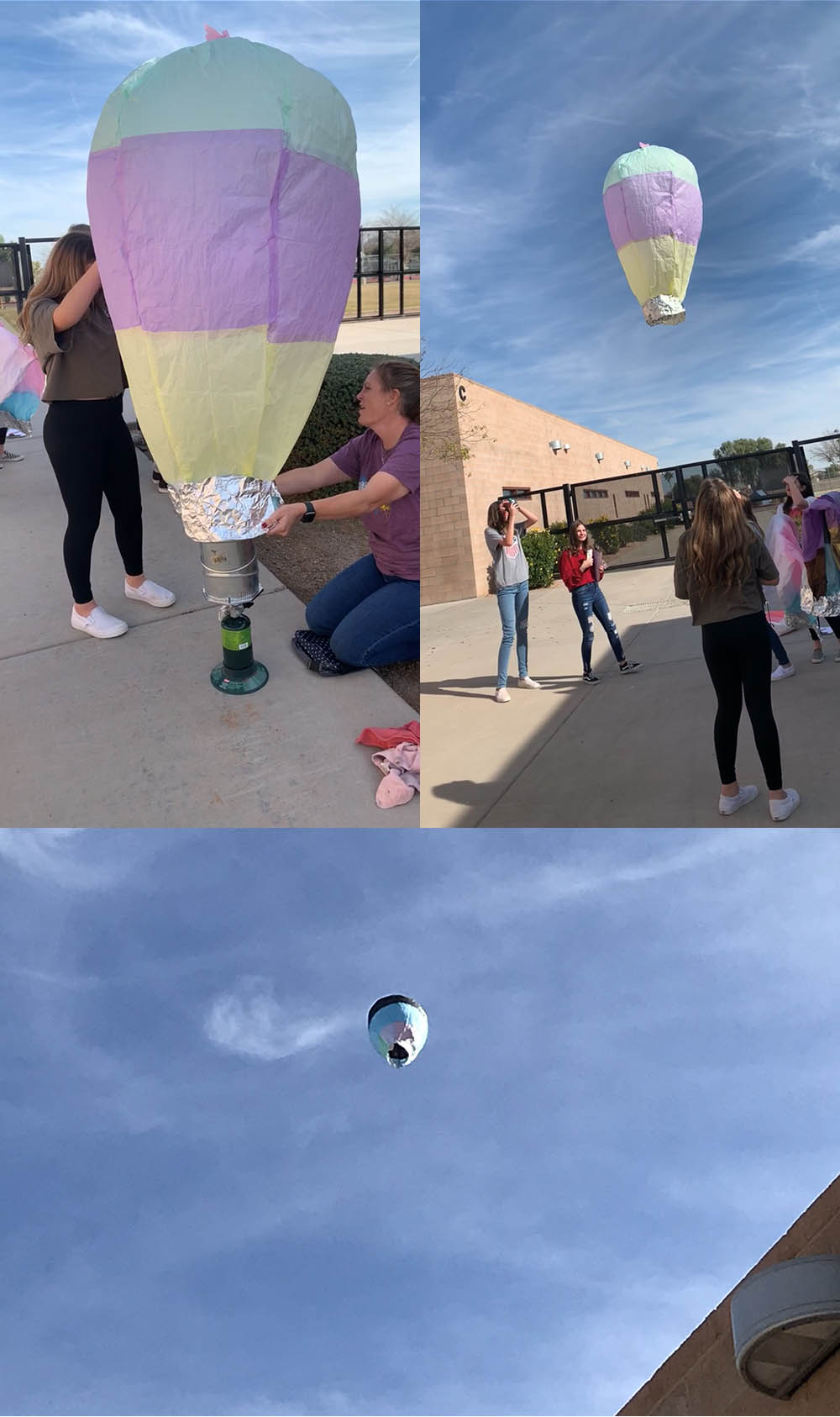 Seventh grade students at Santan Junior High learned about convection currents, both in the earth and the atmosphere. To illustrate the concept, they built and launched hot air balloons to help students make connections with convection and the lift of the balloons into the sky. It was a fun day for all who participated.



Casteel High

(2019-2020)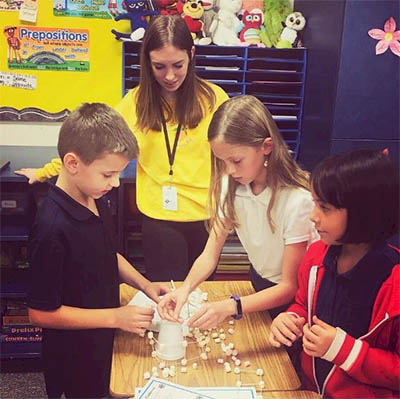 Michelle Capriotti teaches a class at Casteel High School that gives students an opportunity to explore teaching as a possible career. Students in the class spend one day a week in an elementary classroom. Shown in this picture Sierra Bingham, a sophomore at Casteel, teaching a STEM lesson to third graders. Sierra planned an engaging lesson where students built a shelter for an abominable snowman.



Santan Junior High

(2019-2020)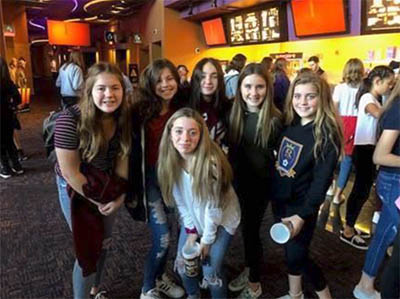 Santan Junior High - team 7A went to Harkins to watch "The Outsiders" after reading the novel.



Casteel High

(2019-2020)

Robin Flyte's classes reviewed the chemistry of solutions by making supersaturated homogeneous solutions (AKA, "fudge") for the holidays.



Willis Junior High

(2019-2020)
Willis Junior High School hosted its annual showcase on November 7. There were displays of student work, hands-on activities for kids, live music, games, and much more. There was a tremendous community turnout and they were happy to host families from all feeder schools.



Casteel High

(2019-2020)

The second annual diversity program was held November 1 at Casteel High. Under the direction of Bonnie McNamara, French Honors Society and French Club puts on the program for National French Week every year. This year, it was nicknamed the COLTure Day because they celebrated all the cultures of the Casteel Colts! They had Choir, Band, Project 15 dance, Asian K-Pop and Fan Dances, Folklórico and even a song in German. Exchange students from Norway, Denmark and Spain also shared their experiences.



Casteel High

(2019-2020)
Ms. Yard's AP Biology Students are playing "Cytosis," a biology board game where students model key cellular processes that keep each cell functioning properly within the body thanks to the Chandler Education Foundation Classroom Education Enrichment Grant.



Casteel High

(2019-2020)

Mrs. Alyssa Pitner and Mrs Jenny Olson and their talented theatre students put on a spectacular Halloweenpalooza for the community. Over 800 people went through the haunted house that the theatre students created in the science wing. A Kid Fun Zone was a hit with the elementary kids, where they painted pumpkins, colored drawings, and met famous characters.



Casteel High

(2019-2020)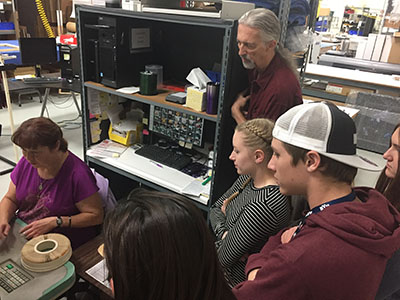 The digital photography students visited Tempe Camera on Wednesday, October 30. This industry visit allowed students a first hand look at the sales, rental and repair shop and also the printing area. The tour included a behind the scenes look into a dark room along with witnessing how slides are scanned.



Bogle Junior High

(2019-2020)

Mrs. Redding's Better Bulldog WIN (What I Need) group created door signs for the first season coaches to show appreciation.



Casteel High

(2019-2020)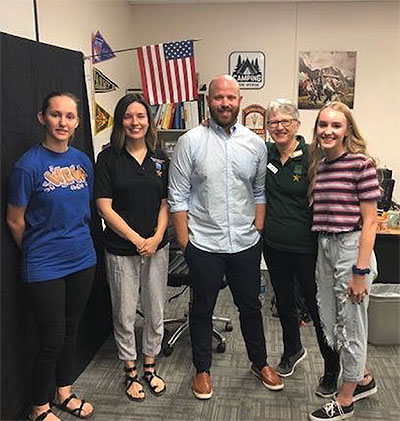 Casteel High teacher Christopher James was interviewed by his U.S. Military students (class) about his experiences serving in Iraq. The Veterans Heritage Project was on campus to record the interview and discuss the upcoming publication of the interview. Casteel sophomore, Sydnee Watkins will write the story to be published in the Library of Congress and the Veterans Heritage Project Book. Furthermore, James encouraged other students, including sophomore Hope Henry, to interview and write a story about a family member who served and can share their experiences as well. Hope is interviewing her grandfather about his experiences in the Vietnam War and will have the interview and story published.



Bogle Junior High

(2019-2020)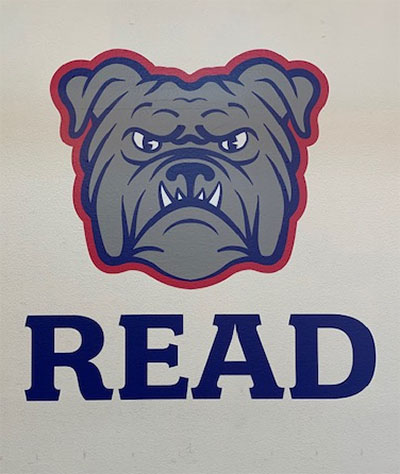 Have you seen them? New Bulldog signs and graphics have been installed around our campus! "Respect. Persist. Triumph."



Bogle Junior High

(2019-2020)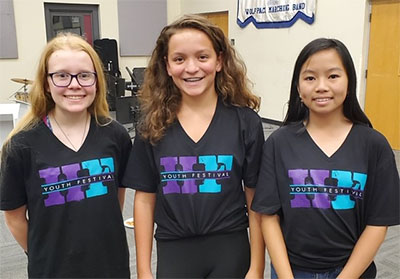 Congratulations to Bogle choir students Baylie Soto, Nora Chase, Alina Nguyen and Aubree Buri who participated in the first ever Harmony Fusion Barbershop Festival at the Chandler Center for the Arts in August.



Andersen Junior High

(2019-2020)
Andersen Junior High is focusing on equity with more inclusive activities for all students. Andersen all-stars participated with Heather Henrichs eighth grade science class to complete a dry ice experiment last week.



Santan Junior High

(2019-2020)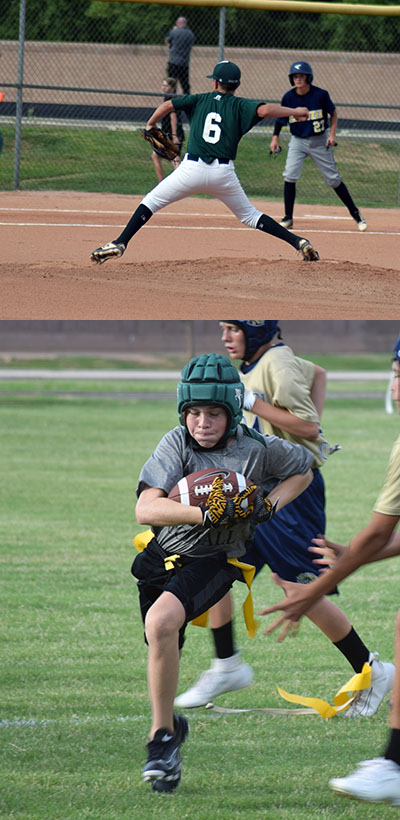 Sports at Santan Junior High are full of passion, talent and championships. We are a school that participates in the National Program, Positive Coaching Alliance - promoting better people, better athletes.



Santan Junior High

(2019-2020)

WEB (Where Everyone Belongs - facilitated by Donna Gustufson) successfully welcomed students to Santan Junior High!



Arizona College Prep - Oakland Campus

(2019-2020)

Students in Mrs. Filiere's Project Lead the Way classes worked together to create models of a foot orthosis for children with cerebral palsy. We have so many creative Knights!



Santan Junior High

(2019-2020)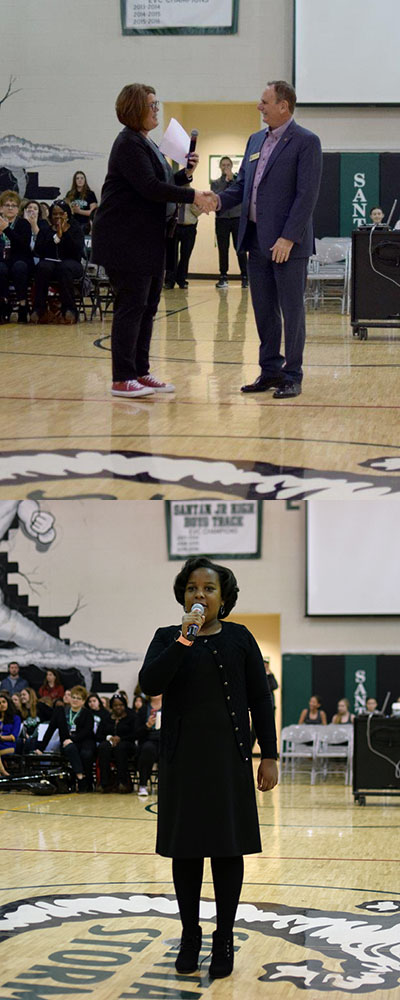 Students and staff on our Multicultural Committee put on a Celebration of Diversity. Sophia Brantley sings "Lift Every Voice and Sing" at the Multicultural Day event.



Payne Junior High

(2018-2019)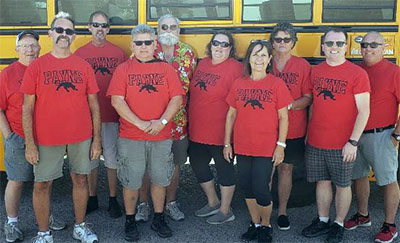 Payne Junior High loves bus drivers rocking their attire! They are a great group of people who keep kids safe and are always working to make connections with students.



Payne Junior High

(2018-2019)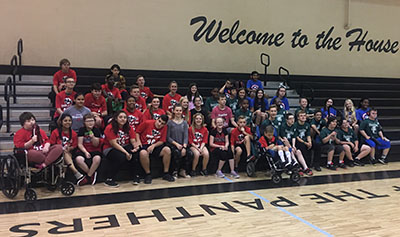 Open letter from self-contained Special Education teacher to Payne staff, teachers and students: "Panther Pride, Words can't express the overwhelming pride that Amber and I have in the Payne Staff and students! What an memorable experience you gave the Unified BASKETBALL team today! Payne has truly shown what it means to embrace inclusion and celebrate everyone's successes. Please take a moment and tell your students how proud we are of them! The energy in the gym was UNBELIEVEABLE!!! Payne ROCKS! Thank you, thank you, thank you to everyone who come out and watched the Unified Basketball game today vs. Santan. Can't wait for our next year's basketball game!"



Andersen Junior High

(2018-2019)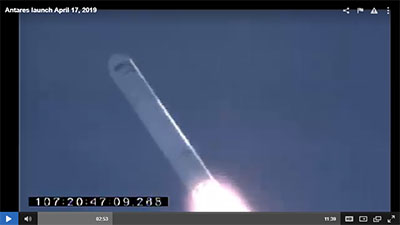 Andersen Junior High ThinSat Rocket Launches into Space! Northrop Grumman (previously Orbital) launched the Antares rocket last week. Andersen Junior High was the only school in Arizona selected to participate in the ThinSat Program, guaranteeing them a spot on this rocket launch. The rocket will release the satellite to orbit Earth for five to ten days, collecting data on atmospheric pressure, temperature, velocity, altitude, and UV light. Students in Joe Badala's class launched prototypes on a helium balloon on campus to collect low atmospheric data. Gearing up for this rocket launch, students conducted a series of these launches, tethering some balloons and releasing others. They also sent a prototype on a weather balloon.
NASA-TV Wallops video website: Antares Launch, April 17, 2019



Arizona College Prep - Erie Campus

(2018-2019)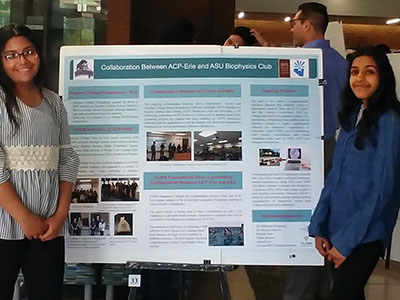 Two Biophysics Club students from ACP Erie, Sejal Jain and Michelle Sheikh, presented their work at Biophest 2019 at ASU on March 30 in ACP Erie and ASU's first collaboration to develop a biophysics pipeline. Sejal and Michelle were the only two high school students in attendance, making their presentation in front of over 300 ASU graduate students. Biophysics is an integration of biology concepts using mathematics, physics and chemistry. GO KNIGHTS!
Biophest 2019 website



Arizona College Prep - Erie Campus

(2018-2019)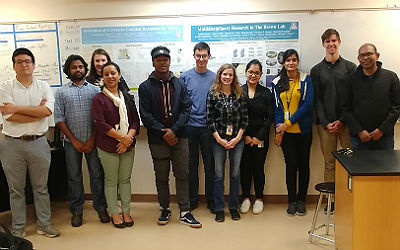 FLINN foundation has provided ACP Erie and ASU a grant of $5,000 to fund a collaborative effort to create a pipeline for biophysics students from K-12 schools to ASU, the first program of its kind. Mrs. Rachna Nath is working with Dr. Abhishek Singharoy at ASU to create a biophysics chapter at ACP Erie. Students in the program will be able to access ASU computers remotely and work on designing computer models of molecules.



Arizona College Prep - Erie Campus

(2018-2019)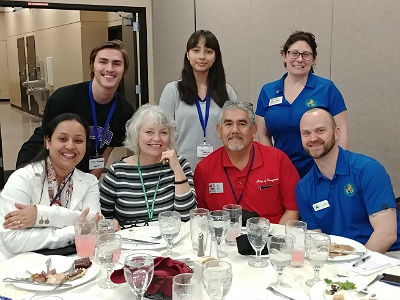 The ACP Erie Mobius E-waste club was invited by the Arizona Recycling Coalition to attend their annual meeting and gala. Though they were the youngest members in attendance, two club members, Nicole Carmiol and Elias Hernandez, interacted with many stakeholders and gained a lot of attention for their idea of e-waste collection. Pictured from top left to right: Elias Hernandez, Nicole Carmiol, Alana Lee Levine (Director of the Arizona Recycling Coalition); and bottom, from left to right: Rachna Nath, Jill Bernstein (Director, Keep Arizona Beautiful) and JB Shaw (Recycling Coordinator at Arizona Department of Environment Quality).



Casteel High

(2018-2019)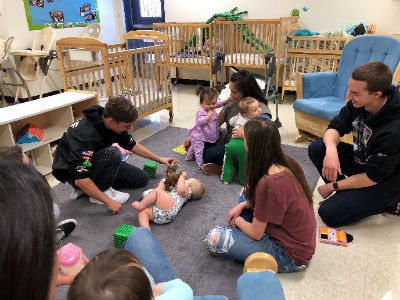 Jocelyn Dolan's AP Psychology class at Casteel High is working on childhood developments and philosophies in class. They recently visited Perry Lil' Explorers to see the applications of developmental theory in action. Babies were held, books were read, pictures were colored and the games of chase on the playground were endless. Both groups of kids came away with much more than just observing or being observed.



Bogle Junior High

(2018-2019)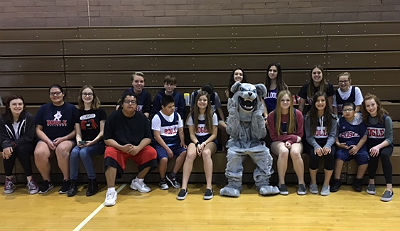 Bogle Unified Sports hosted a basketball game against the Unified team from Willis Junior High in December.



Arizona College Prep - Oakland Campus

(2018-2019)

All four ACP Oakland VEX robotics teams participated in the first annual Chandler Invitational VEX Tournament on Friday and Saturday, December 14 and 15 at Payne Junior High. Eighteen teams competed from Willis, Payne, ACP Erie, Casteel, Knox, and Bogle junior highs. Students spent two hours on Friday night at Payne so that all teams could engage in skills (driving and programming tests). These skill activities accumulate points that are added to their overall performance stats and compared to other teams around the world. They did great, and their confidence in their driving and programming skills increased. Saturday went well with teams 7830A and 7830K staying 1st and 2nd for the first half of the tournament. Our team 7830P won the Sportsmanship award for helping the Payne team with their robot. Team 7830A won the Design award for their robot design and engineering notebook.



Casteel High

(2018-2019)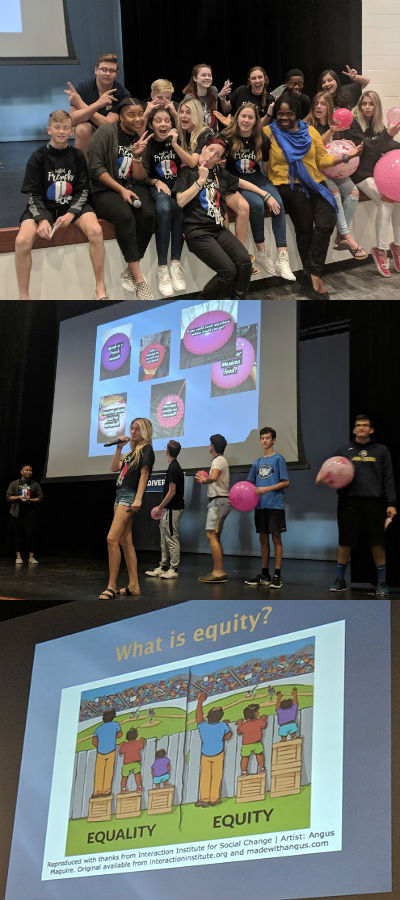 The first Annual Diversity Day at Casteel High, sponsored by the Casteel French Honors Society, was a huge success. The day included foreign exchange students from Germany/Norway, Spain, Chile, and Switzerland dispelling myths and stereotypes about their country. They also discussed the stereotypes they had about the U.S. prior to coming here and what they found that was different. Casteel choirs performed multicultural songs in Spanish, Latin, African, and Japanese to name a few. The importance of diversity in today's culture and the importance of voting was also highlighted.
Casteel High Diversity Day Photo Album



Bogle Junior High

(2018-2019)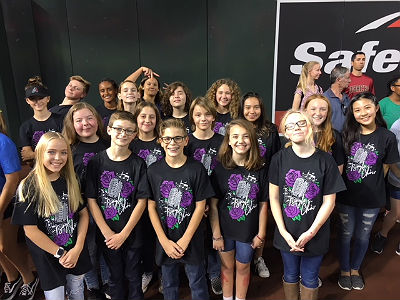 Bogle Junior High choir students participated in the Diamondbacks Choir Night and sang the National Anthem at the game.



Chandler Online Academy

(2018-2019)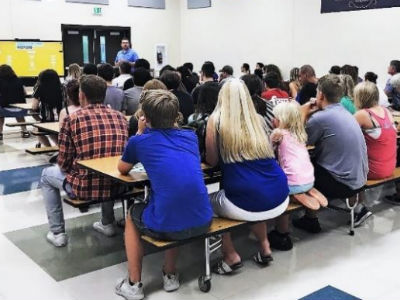 Chandler Online Academy had its first-ever back-to-school night for their fulltime online students. The event was held at Chief Hill Learning Academy and nearly 100 students attended. Everyone participated in a trivia competition, learned valuable information regarding online enrollment, met COA teachers, office staff, and received a student ID. Papa John's supported COA by donating pizza for the event. Chandler Online Academy has almost 150 full-time students and is currently providing online courses for more than 1,000 students within the district.



Santan Junior High

(2017-2018)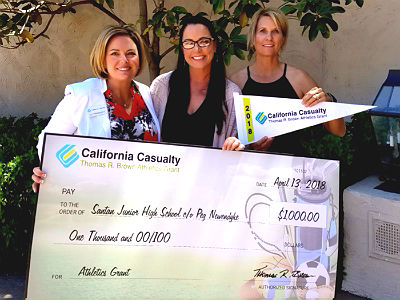 Peggy Newendyke recently wrote a grant to support our Unified Sports, allowing athletic equipment and uniforms to be a part of the ongoing athleticism in our year-round sports.



Casteel High

(2017-2018)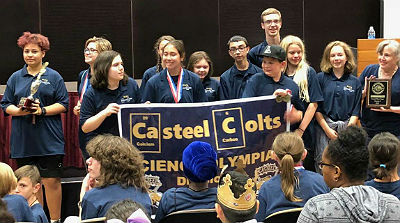 Congratulations to Casteel's Jr. High Science Olympiad Team, placing 4th place at the State Tournament.



Payne Junior High

(2017-2018)

The 8th grade students at Payne Junior High School were honored to hear Holocaust survivor Oskar Knoblauch tell his story about how respect for others saved his life during the Nazi Occupation of Poland.



Casteel High

(2017-2018)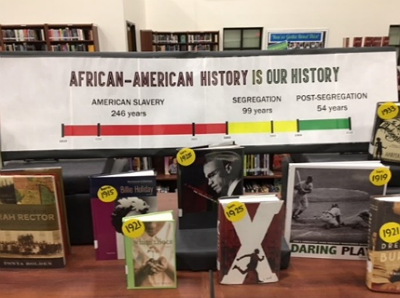 Casteel High School created an African American History display in the library.



Andersen Junior High

(2017-2018)
AJHS Booster Club sponsored a movie and paint night at Andersen Junior High. Andersen students and families came to watch Elf on the big screen and paint pottery from As You Wish.



Andersen Junior High

(2017-2018)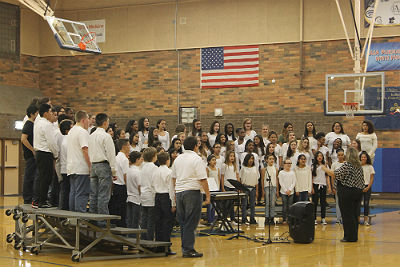 The Andersen Junior High Choir, led by Verónica Morales, put on a wonderful holiday choir concert in December.



Andersen Junior High

(2017-2018)

Thank you to Orbital for sponsoring the ThinSat Program! Andersen Junior High will be launching a satellite into space to collect and analyze data. This project begins in January 2018, and there are three phases to be completed before our satellite is launched into space in January of 2019.



Bogle Junior High

(2017-2018)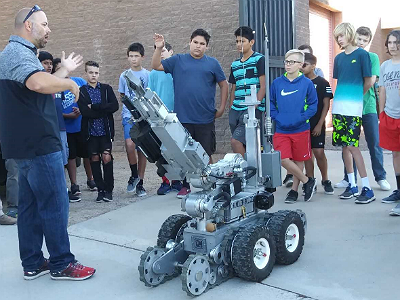 Mr. Cory's Robotics class invited the Chandler Police Department to demonstrate how they use robots and cameras in police work.



Casteel High

(2017-2018)
Casteel students made sweet treats for Veterans Day.



Willis Junior High

(2017-2018)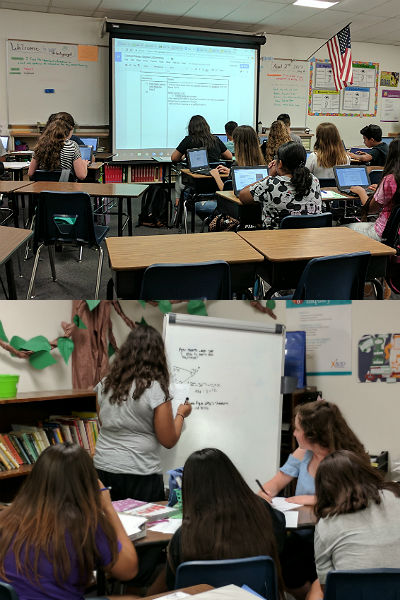 Willis AVID students reflect each day for positivity, and the students say they are now more positive in their daily experiences. Each student also completes Cornell Notes and tutorials for all core classes every week, and collaborates with peers to assist them in classes.
AVID at Willis



Willis Junior High

(2017-2018)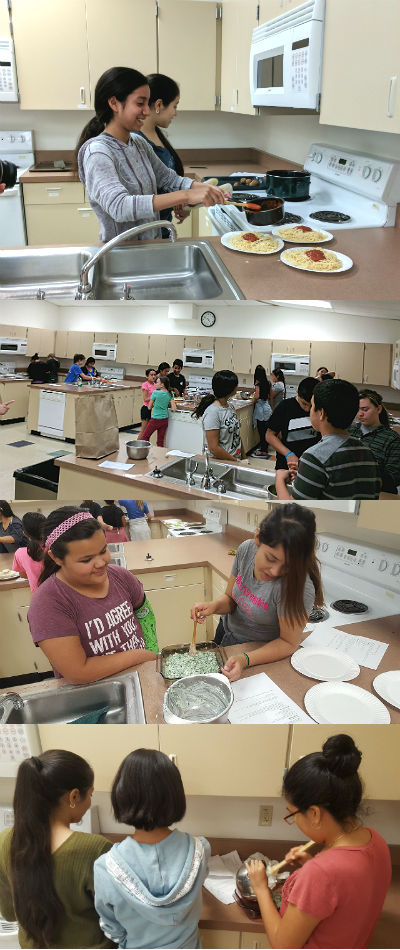 Culinary Club at Willis has learned to make salsa, spinach/artichoke dip, and spaghetti and meatballs this year!



Willis Junior High

(2017-2018)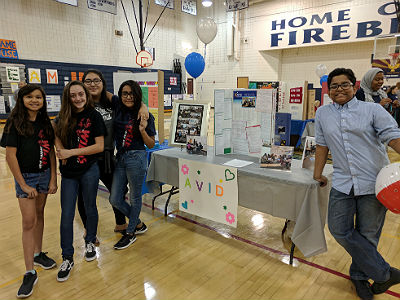 Students from several clubs on campus did an excellent job of interacting with potential future Firebirds and others at the Willis Showcase! They are a positive example of our campus and student body!



Payne Junior High

(2017-2018)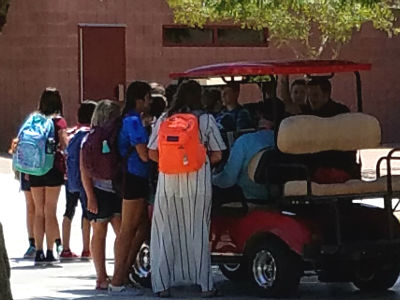 Teacher comment: "As a teacher, I love seeing our students flock to chat with Mr. Bollard at lunch. His connectivity and presence with our student population is inspiring."



Chief Hill Academy

(2016-2017)

Community comments: Chief Hill Academy has great kids that really shine. Thanks for being friendly and welcoming.



Andersen Junior High

(2016-2017)

Thank you to the Chandler fire fighters who came to visit AJHS on April 18th and did a mini-CPR lesson with our students. They have been coming to AJHS for years to give our students some valuable experience with CPR.



Payne Junior High

(2016-2017)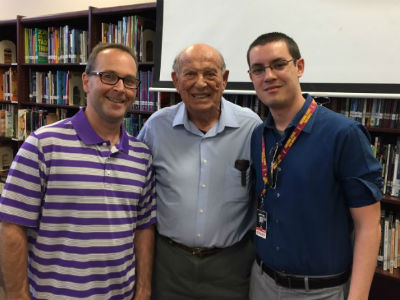 Payne was honored to have Oskar Knablauch come to our school to speak about his experience as a Holocaust Survivor. Mr. Knablauch is also a speaker and author of A Boy's Story - A Man's Memory.



Willis Junior High

(2016-2017)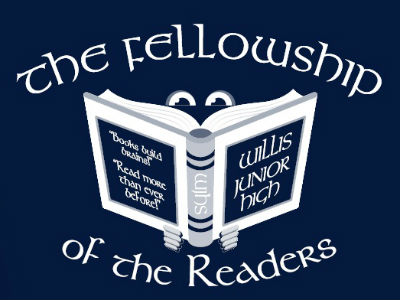 We are proud to offer the "Fellowship of the Readers" book club at Willis. Out of the 100 members in our club, 41 students have read over 1 million words or more, and our top reader has read 11 million words so far this school year!



Payne Junior High

(2016-2017)

Payne Junior High had a great season of Unified Football with student volunteers from Panther Pals club!



Basha Accelerated Middle School

(2016-2017)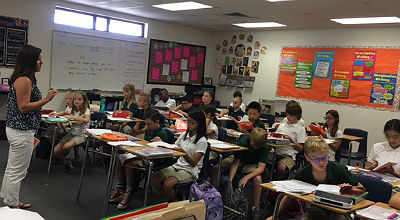 Basha High School's Accelerated Middle School (AMS) program grades 6-8 has exceeded growth expectations, growing by approximately 90 students! The department head, Amanda Cook, states "Our new students are raving about their specialized teachers at AMS, being challenged, and how easy it is to make friends that make them feel like they belong." We are excited to see these junior high kids grow and continue to succeed on the Basha High campus until they graduate as Basha Bears!
Basha Accelerate Middle School Program Website



Payne Junior High

(2016-2017)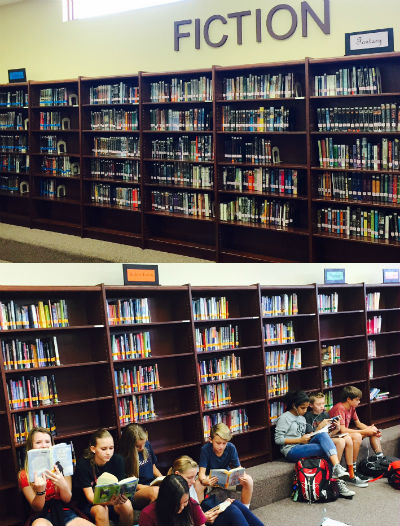 PJHS Media Staff, Shannon Jacques and Malinda Weister worked to make Payne's media center genre-fied! The fiction section of the PJHS Media Center is now organized by genre to help students more easily find the books they enjoy reading.



---