Our BRAGS! 
Honors, Awards and Special Programs
---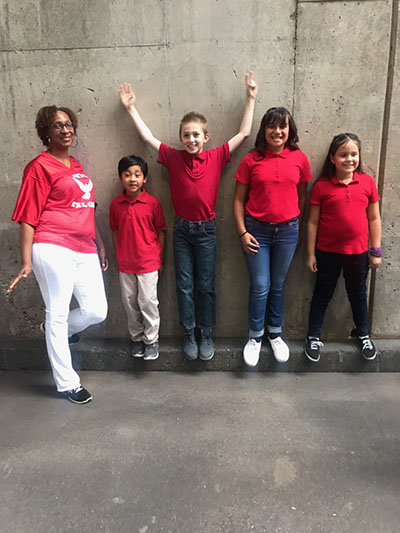 Frye Elementary
 - (2019-2020) Frye Music teacher Diana Clark took a group of 4th graders to the Diamondbacks game to sing the National Anthem.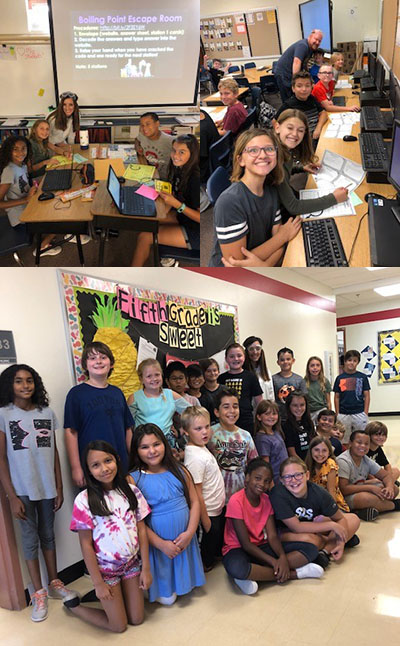 Hancock Elementary
 - (2019-2020) Hancock 5th grade teachers Mr. Lee and Mrs. Mumme's classes participated in an "Escape the Room" activity to learn about the three states of matter. We love science!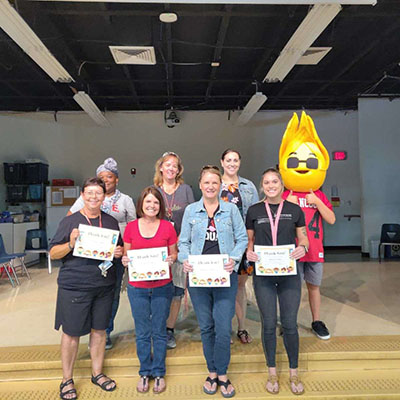 Hancock Elementary
 - (2019-2020) Hancock celebrates our staff with an award thanking them for their hard work and dedication to our students!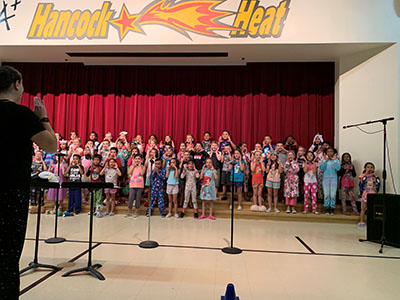 Hancock Elementary
 - (2019-2020) Hancock 2nd graders performed their Pajama Party play for Pre-K, kindergarten and 1st grade classes.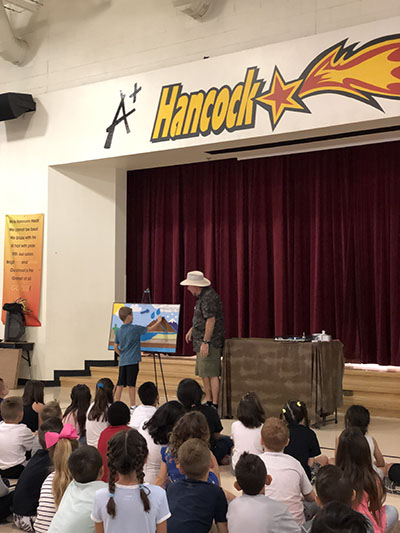 Hancock Elementary
 - (2019-2020) Hancock 2nd graders learn about how to care for Arizona's water.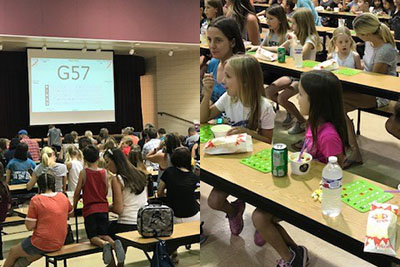 Haley Elementary
 - (2019-2020) Students enjoyed a bingo night in September put on by the Haley Parent Teacher Organization (PTO). Our wonderful PTO sponsors fun community events on a regular basis at Haley Elementary. Thank you, PTO!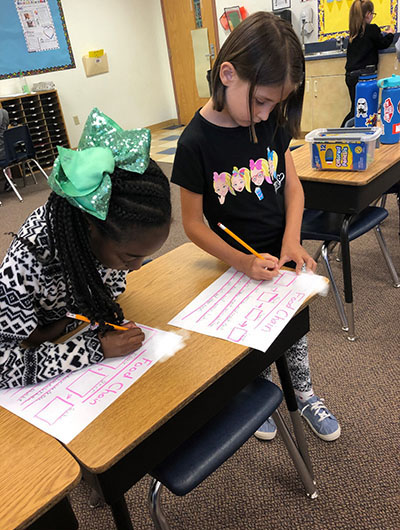 Hancock Elementary
 - (2019-2020) Mrs. Katz's 3rd grade class knows how to create their own food chain after learning about producers, consumers, and decomposers.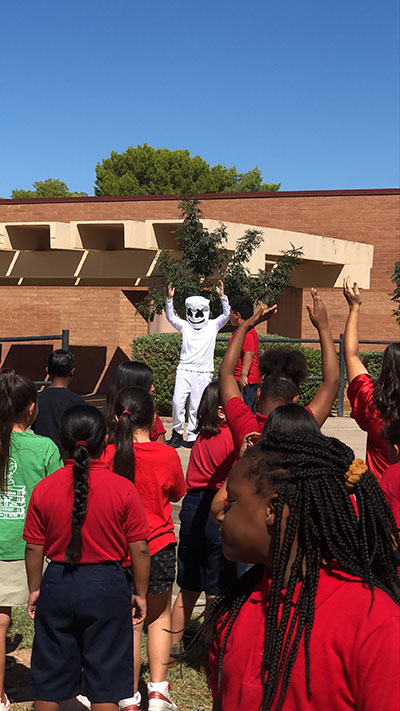 Frye Elementary
 - (2019-2020) Frye Elementary had a special guest appearance for their weekly Frye-day Recess Dance Party. Third grader DJ Dayne Marshmello took the stage and entertained the audience full of students and staff!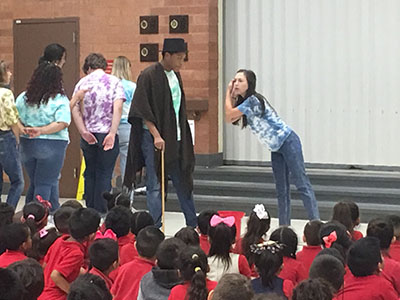 Frye Elementary
 - (2019-2020) Chandler High students in the Theater Bookends show came to Frye Elementary and put on an amazing performance for the kindergarten through 3rd grades. Student actors acted out scenes from several popular children's books.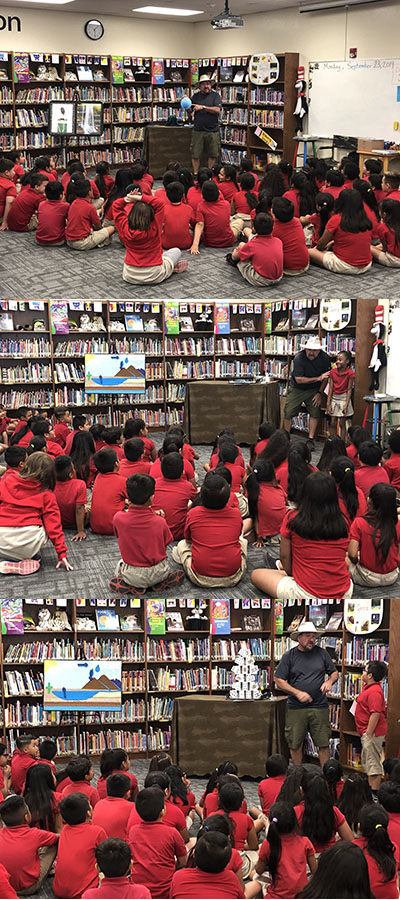 Galveston Elementary
 - (2019-2020) Galveston welcomed the City of Chandler who put on a Water Conservation Assembly / Magic Show for our 3rd graders.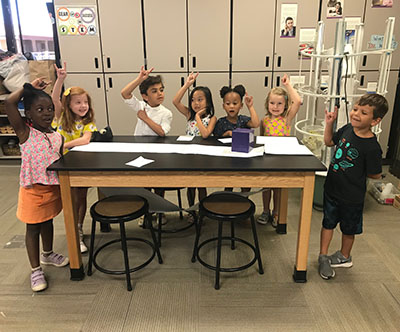 Tarwater Elementary
 - (2019-2020) This week in STEM, Mrs. Nowotarski's kindergartens participated in the Engineering Academy with Mrs. Limjoco, discovering mechanical engineering and simple machines. Students were able to make the connection that the conveyer belts they see at stores, malls (escalators), and airports are based on the simple machine called a pulley. While demonstrating the Toro Targets, these inquisitive students successfully completed the challenge of making a conveyor belt using limited supplies. Way to go, Toros!






Bologna Elementary
 - (2019-2020) Bologna Fourth graders attended the Arizona Diamondbacks Science of Baseball Show and STEM Fair. Students learned about probability, fractions and the number nine during the show. Then, they traveled through the stadium to visit all of the STEM fair participants. Each group experienced something different: some pet alligators, visited fire trucks, and controlled robots; others played laser tag, hit baseballs, and built epic structures taller than their chaperones! There were so many experiences to learn from! Plus, the seats were great, and students got to appear on the jumbotron!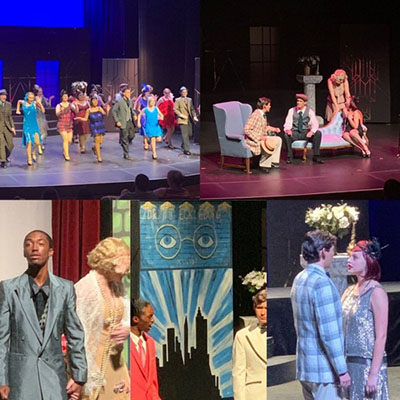 Chandler High
 - (2019-2020) CHS Theatre's production of The Great Gatsby was superb! The play, directed by Ms. Stephanie Likes and Ms. Katie Kolacki, featured Elijah Newton, Charlize Cornejo, Ryan Cogley, Drew Sedgley, Liz Del Vecchio, Izzy Stephens, Zac Denny, Luke Waxman and an awesome ensemble cast. Without the outstanding stage management and other crews, this production would not have been possible. Congratulations on a great show!






Chandler High
 - (2019-2020) Chandler High's DECA (Distributive Education Clubs of America) Marketing program and Student Council teamed up to sponsor CHS's 2019 Fall Fest, a community festival including rides, games, a petting zoo and food.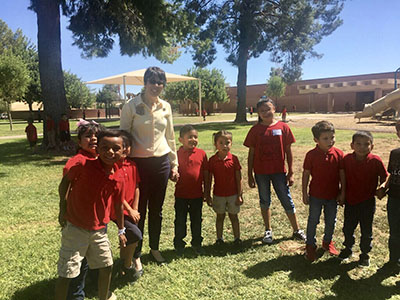 Frye Elementary
 - (2019-2020) Frye Elementary received a visit from State Representative Jennifer Pawlik. Our students enjoyed interacting with her and showing her our great school!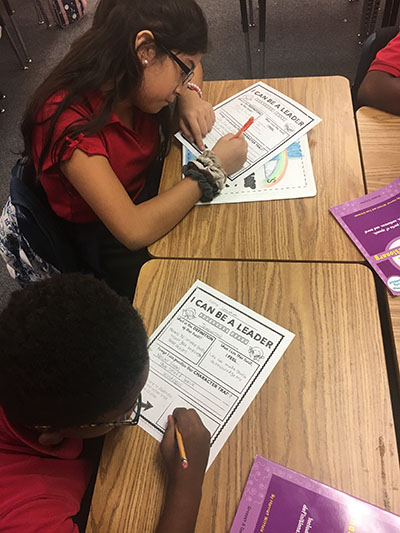 Frye Elementary
 - (2019-2020) Frye Student Council members sharpened their leadership skills creating a bulletin board display for their peers!





Knox Gifted Academy
 - (2019-2020) Knox fourth graders did an amazing job with their musical, "ARF!" -- the first musical of the year for our campus.






Arizona College Prep - Erie Campus
 - (2019-2020) STYROFOAM BUSTERS! A group of eight students are looking at innovative ways to get rid of styrofoam pollution at ACP Erie. They are creating awareness among students to drop their used lunch plates in special containers, and then these students are collecting them everyday. The aim is to compress the styrofoam, hence reducing the volume and treat it with materials that will dissolve them. Creativity and innovativeness comes from critical thinking and problem solving. GO KNIGHTS!




Knox Gifted Academy
 - (2019-2020) The entire Knox Gifted Academy campus is carefully calculating their design ideas in order to communicate their creative journey with cardboard during our annual Cardboard Challenge! We can't wait for their audiences to see their end products as well as hear about their process.
Cardboard Challenge Photo Album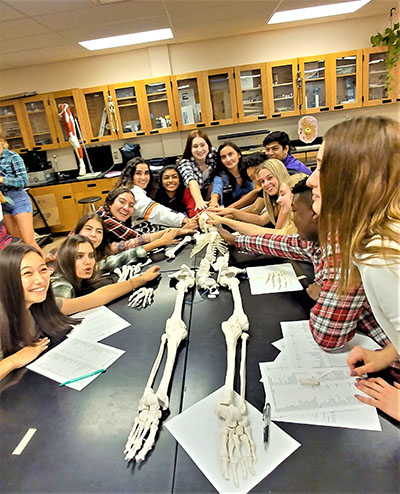 Arizona College Prep - Erie Campus
 - (2019-2020) Halloween is definitely near -- but students had so much fun assembling the skeleton in Rachna Nath's Human Bio class.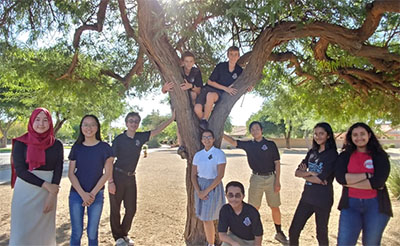 Arizona College Prep - Erie Campus
 - (2019-2020) ACP Erie's Lemelson-MIT team, the KNIGHTS INNOVATORS, presented their Hydrothermal Hat/Headband to the CEO of Chandler Innovations, Mrs. Daina White. Mrs. White invited the team to attend the Track 1 program that the City of Chandler sponsors in collaboration with NACET (Northern Arizona Center for Emerging Technologies) for starting their own entrepreneurship. These ACP students will now be able to access technical support, marketing support, patent support and meet with some of the top businessmen in Arizona to support their cause. The Knights Innovators started their track last Tuesday at Chandler Innovations in Downtown Chandler. This group consists primarily of freshman and sophomores. We are proud of them for mastering public speaking and reaching out to Mayor Kevin Hartke, the Chandler Chamber of Commerce, and many IT companies around Chandler.
VIDEO: Hydro-Thermal Hat






Jacobson Elementary
 - (2019-2020) Mrs. Murrieta celebrated with pies in the face from her students for being a top earning class for school fundraisers! Thank you to all who contributed! Jacobson is grateful for their giving, supportive public school community. This year, PTO's fundraising committee raised over $52,000. Funds go to support over 18 student clubs, additional books and current event magazines in the classroom, new playground equipment and so much more.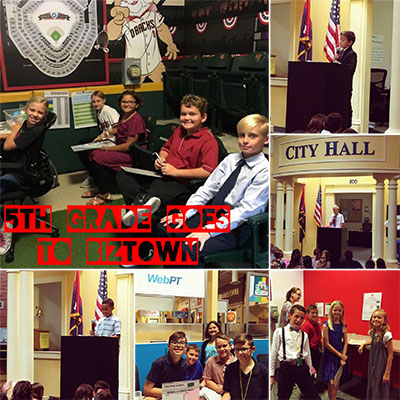 Chandler Traditional Academy - Freedom Campus
 - (2019-2020) CTA Freedom 5th grade students spent the day at BizTown®, an engaging, hands-on program from Junior Achievement that "introduces 4th, 5th, and 6th graders to economic concepts, workplace skills, and personal and business finances in a student-sized town built just for them."
JA BIZTOWN® website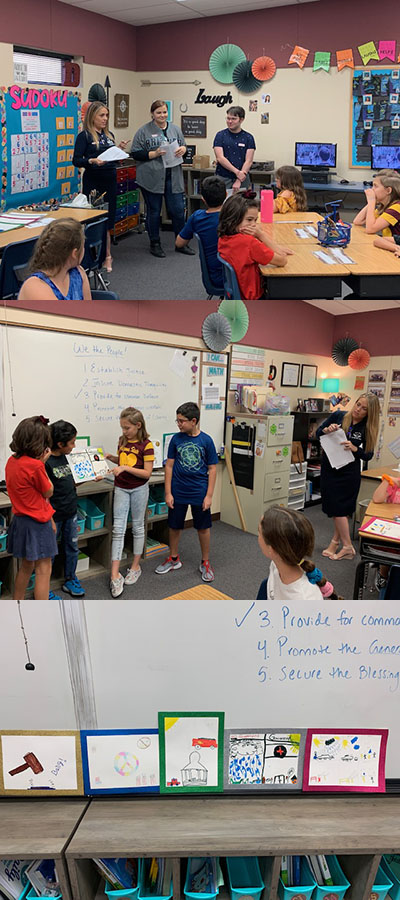 Haley Elementary
 - (2019-2020) On Constitution Day (September 17), Hamilton High School students from Brianna Willits' class who participate in the We The People program visited Haley Elementary and taught our fourth grade students a lesson about the Constitution. These seniors talked about what government is and what the preamble of the Constitution means. The fourth graders worked together to complete pictures of what each phrase of the preamble meant to them -- such a fun way to celebrate Constitution Day!
Constitution Day at Haley Photo Album






Basha High
 - (2019-2020) Keith Tomaszewicz's engineering classes took a field trip in September to Grand Canyon University to participate in Engineering GCU DAY. Students were exposed to different engineering programs and career options, and got to do a hands-on workshop with breadboards and electronic circuits to operate autonomous robots and a laser beam. Additionally, they went on a tour of the engineering labs and reviewed the engineering curriculum that GCU offers. Actual GCU engineering students also took Mr. Tomaszewicz's 2nd and 3rd year students around the campus to show them what campus life is like.
GCU Engineering Day Photo Album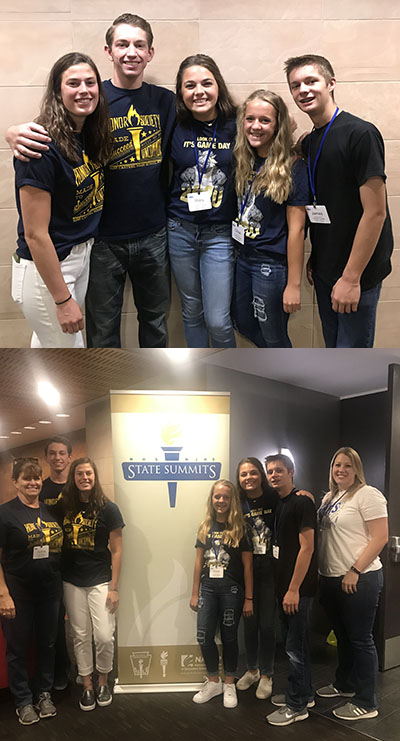 Casteel High
 - (2019-2020) Casteel High students attended the National Honor Society (NHS) and National Junior Honor Society (NJHS) Arizona State Summit at ASU on September 12 to elevate our school's commitment to scholarship, service, leadership, character, and citizenship.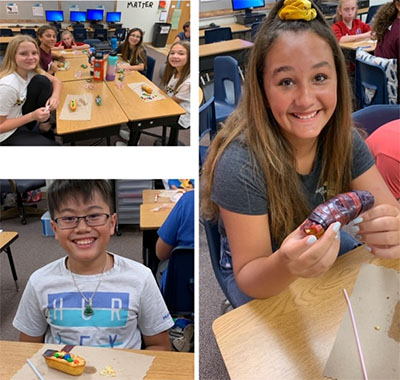 Hancock Elementary
 - (2019-2020) Ms. Hannah Burkhardt's Class is learning about the Ancient Egyptian's way of mummification by mummifying Twinkies.






Bogle Junior High
 - (2019-2020) Mrs. Redding's Better Bulldog WIN (What I Need) group created door signs for the first season coaches to show appreciation.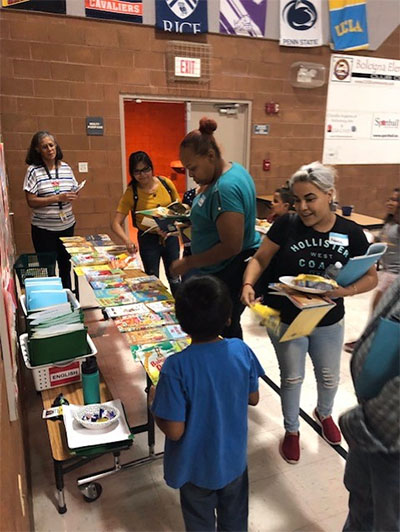 Bologna Elementary
 - (2019-2020) Bravo to the Bologna Community Collaboration Committee, teachers and families who came out to learn how to help their child practice reading fluency with a hands-on approach!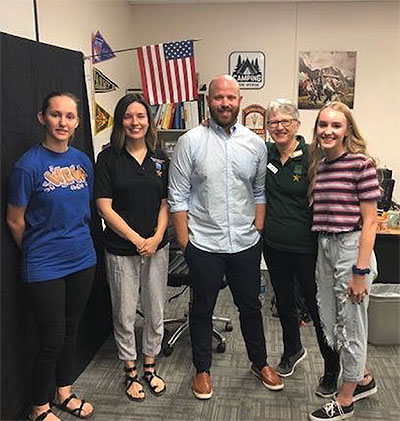 Casteel High
 - (2019-2020) Casteel High teacher Christopher James was interviewed by his U.S. Military students (class) about his experiences serving in Iraq. The Veterans Heritage Project was on campus to record the interview and discuss the upcoming publication of the interview. Casteel sophomore, Sydnee Watkins will write the story to be published in the Library of Congress and the Veterans Heritage Project Book. Furthermore, James encouraged other students, including sophomore Hope Henry, to interview and write a story about a family member who served and can share their experiences as well. Hope is interviewing her grandfather about his experiences in the Vietnam War and will have the interview and story published.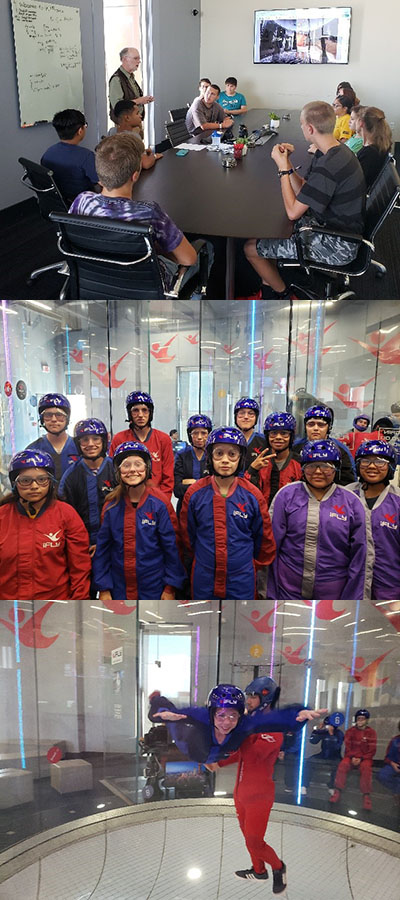 Chandler High
 - (2019-2020) Chandler High's Air Force JROTC visited iFLY indoor sky diving last Monday and engaged in lessons on physics and wind tunnels and how terminal velocity can be calculated using a Algebraic equation. Cadets then suited up, received flight lessons, and had two flights in the flight chamber. After their flights, the cadets calculated their terminal velocity and came up with figures very close to what their true number was. It was a very rewarding experience.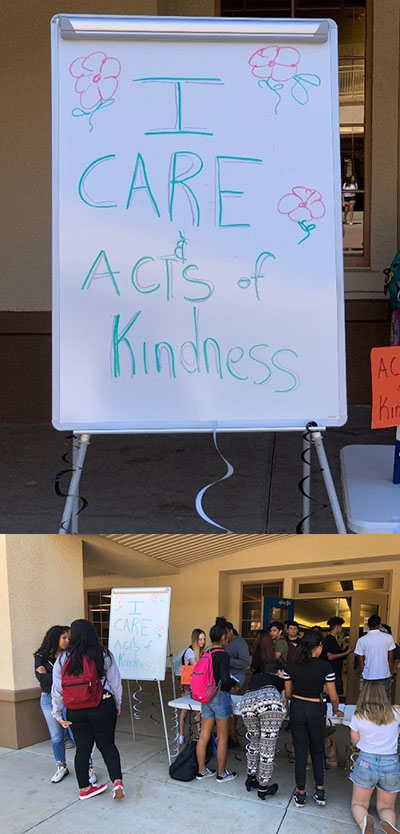 Chandler High
 - (2019-2020) The Bring Change to Mind Club hosted an "I Care" table at lunch last week and encouraged students to write notes of encouragement and thanks to people they care about. Bring Change to Mind is a nonprofit organization dedicated to encouraging dialogue about mental health, and to raising awareness, understanding, and empathy.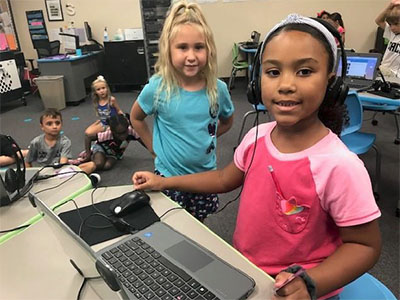 Haley Elementary
 - (2019-2020) Haley first graders are working in their newly furnished collaborative technology lab. Haley Elementary was able to purchase the new furniture using results-based funding.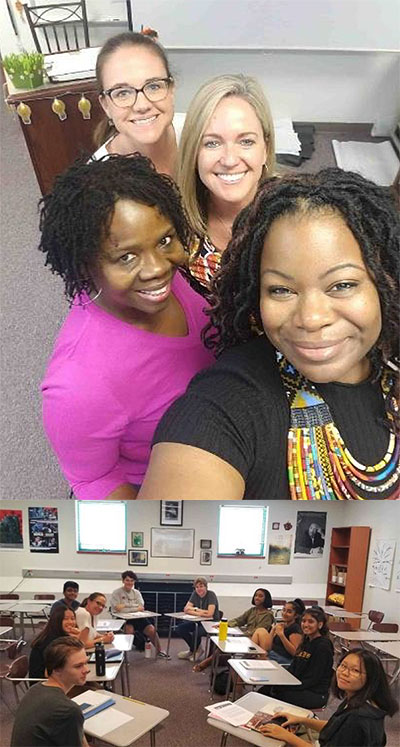 Hamilton High
 - (2019-2020) Hamilton High School is currently piloting an AP course developed through a partnership between the CollegeBoard and the African Diaspora Consortium: AP Seminar with African Diaspora content. This is the first ever AP course with an African topic, and Hamilton is proud to be the first school in the western US to offer this course. The Senior Executive Director of the African Diaspora Consortium, Rhonesha Blaché, visited with the class and facilitated a lesson about changing perceptions of Africa. Hamilton students have also had the pleasure of hosting Dr. Adama Sallu as a guest speaker and attending a 1619 commemoration event during which Dr. Sallu was a panelist. A university partnership is also a part of this pilot program, so students will have opportunities for field trips to ASU and graduate student mentorship as they conduct research.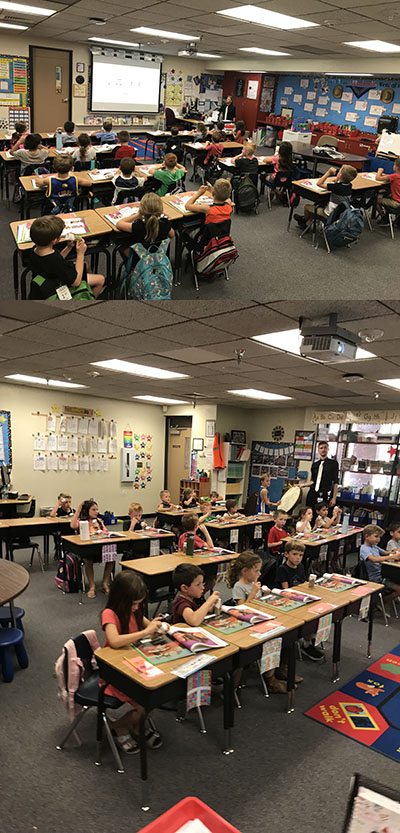 Weinberg Elementary
 - (2019-2020) Weinberg first graders from Shannon Van De Beuken's class experienced what happens when music and reading collide. The story they read this week was all about music, and Mr. Pitts joined them to help teach the high frequency words while keeping the beat on their student-created drums.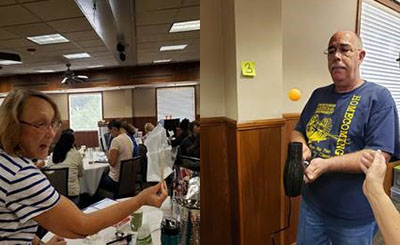 Weinberg Elementary
 - (2019-2020) Weinberg 3rd grade teachers attended a STEM training hosted by Salt River Project last Saturday. They built the winning sail for a boat! Pictured are David Cox and Robyn Bills.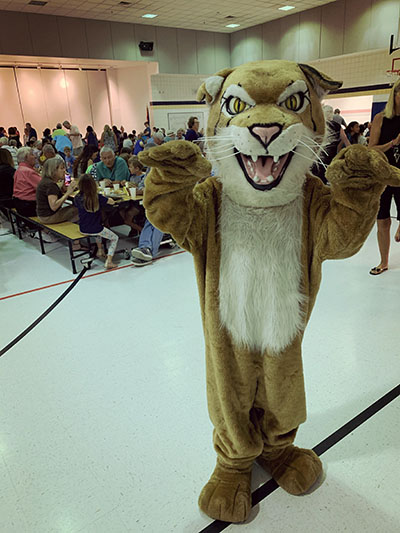 Basha Elementary
 - (2019-2020) Basha Bobcats enjoyed breakfast with their grandparents at the annual Grandparents' Breakfast. Muffins, coffee, juice and fruit were provided by Basha Elementary's PTO. Families also visited the Follett Book Fair in the Media Center.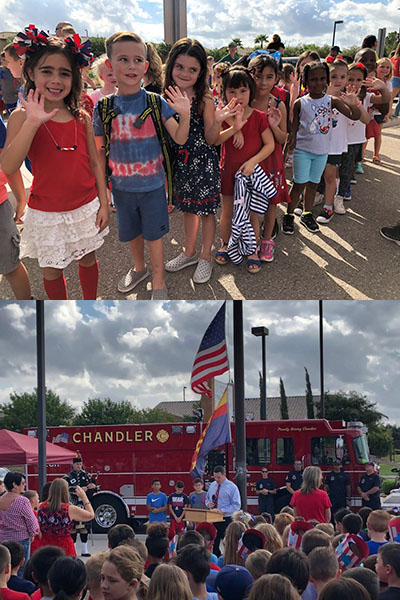 Carlson Elementary
 - (2019-2020) Carlson Elementary held a special flag ceremony on 9/11 to commemmorate those who lost their lives, and to remember our living heroes.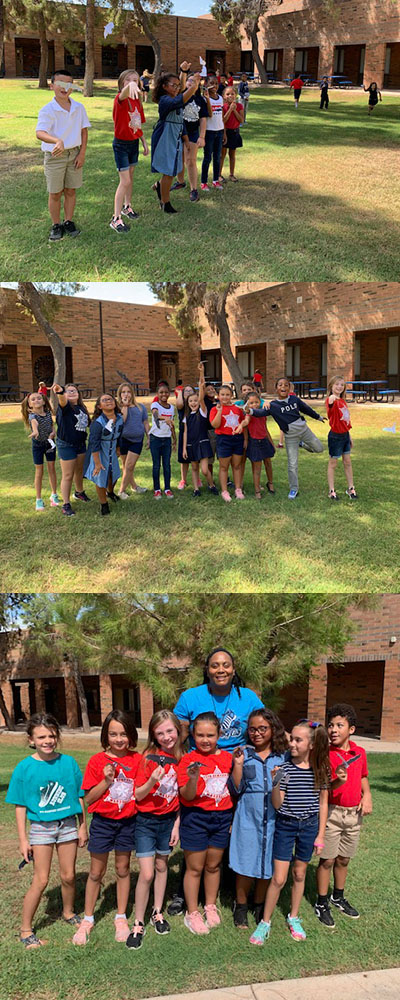 Chandler Traditional Academy - Humphrey Campus
 - (2019-2020) Mrs. Bullock's 3rd grade students are working on a project with the story Bat Loves the Night from their Journey's Anthology.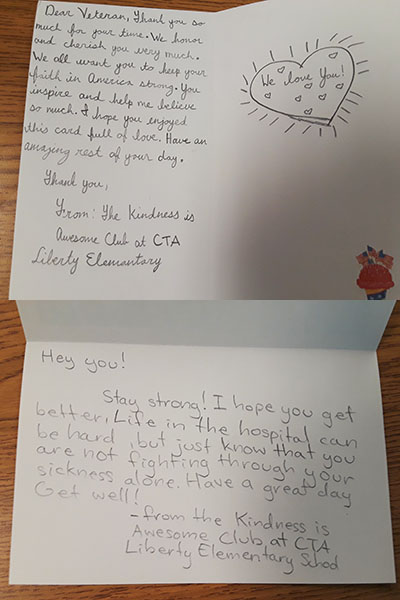 Chandler Traditional Academy - Liberty Campus
 - (2019-2020) Kindness Is Awesome Club's Kind Letters Committee wrote their first letters of the year! The club's mission is to spread kindness across the community and make people feel more positive about the future (and today!). Through our kindness we can help renew the good simple acts in life that help people. Check out the club's activites and Public Service Announcements at the link below.
Kindness Is Awesome Club website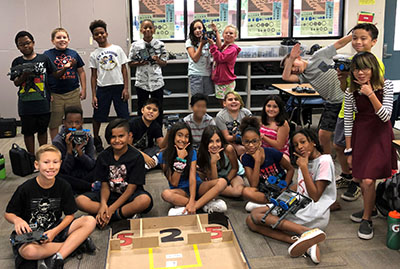 Conley Elementary
 - (2019-2020) Mr. Flores's 5th grade homeroom class completed a robotic class challenge after extending their Project Lead the Way (PLTW) Robotics and Automation Module. All students were successful and had a blast participating while learning new skills and strategies to help them succeed in future technology.





Knox Gifted Academy
 - (2019-2020) What an amazing year of student council elections! We couldn't be more proud of this group and the bravery they showed by putting themselves out there. We are so impressed with their speeches and personal displays. Here are just a few of the things they had to say: "Everyone should be given an opportunity to speak up and advocate for themselves." "I am driven by a passion to give people opportunities." "I will roll up my sleeves and work for you." and "The magic of our school ripples across campus because we are allowed to flourish."





Knox Gifted Academy
 - (2019-2020) On Friday, September 13, Knox Gifted Academy held their annual Dot Day celebration. This is a day to showcase who each individual child is, what makes them special, and what his/her interests are. KGA's 7 Cs of creativity were showcased around every corner. Highlights from the day included walking the fence line to view the Ish Gallery (where we celebrated every student as an artist), exploring the dot garden (where each student created a dot that represents them), and experiencing the wide range of activities for the kids around campus. There was coding, art, problem solving, engineering, learning new languages, and -- most importantly -- connecting as a community.






Riggs Elementary
 - (2019-2020) In the recent Riggs PTO Read-a-Thon, students read a total of 196,585 minutes -- surpassing last year's total by 33,690 minutes! In addition, the total amount raised was $18,646.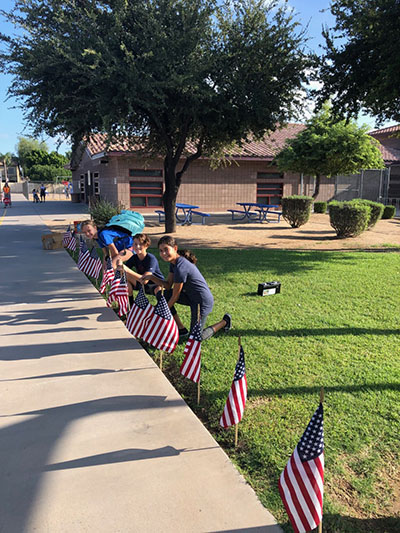 Basha Elementary
 - (2019-2020) Basha Elementary student council representatives decorated the campus in remembrance of September 11, 2001. The main flag was flown at half mast, and smaller American flags lined the front of the school in observation of Patriot Day.
Basha Student Council






Perry High
 - (2019-2020) Dr. Darren Johnson's Sports Medicine students participated in a program called "Stop the Bleed" in partnership with Dignity Health. The program teaches students to tie a tourniquet, recognize arterial bleeds and other lacerations, stuff deep puncture wounds, and apply direct pressure to any bleeding. It includes vocabulary, explanation of wounds, pictures, and then a hands-on session. Congratulations to all students who completed the training and earned "Stop the Bleed" certification.






Perry High
 - (2019-2020) Dr. Darren Johnson's and Rebecca Goetz's Sports Medicine students recently participated in CPR training in partnership with Dignity Health and earned their CPR certification.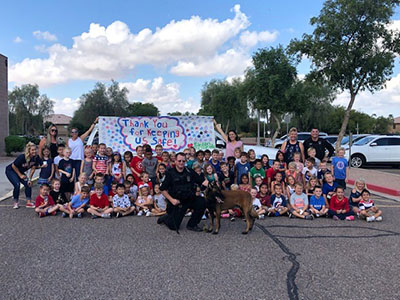 Santan Elementary
 - (2019-2020) In honor of 9/11, Santan first graders thank local Chandler Police officers for their service. (Canines, too!)






Tarwater Elementary
 - (2019-2020) Tarwater second graders celebrated our country on September 11 by putting on a patriotic performance. Singing patriotic songs and teaching us about our American symbols, they truly turned a difficult day into a beautiful special celebration of the wonderful country we live in.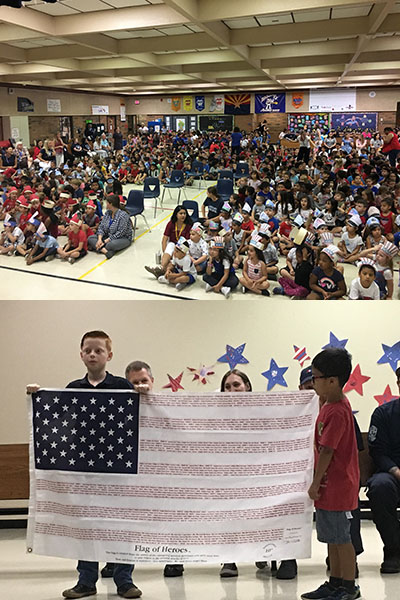 Andersen Elementary
 - (2019-2020) Andersen Elementary honored our first responders during our First Responders Assembly on 9/11.
Patriot Day 2019 - Honoring First Responders Photo Album



---