Our BRAGS! 
Honors, Awards and Special Programs
---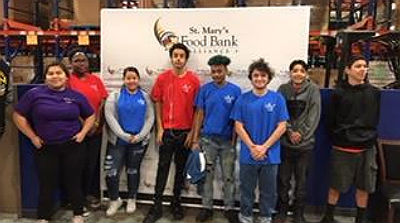 Chief Hill Academy
 - (2018-2019) The Hill Learning Academy student council volunteered at the St. Mary's Food Bank in Phoenix.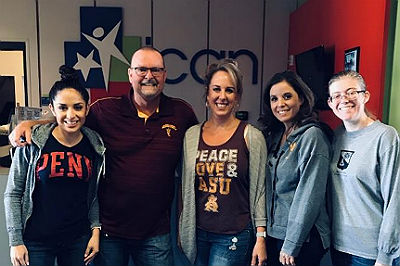 Chief Hill Academy
 - (2018-2019) Alma Bonillo, Dave Constance, Jen Chandler, Michelle Swope, and Kelly Castillo promote College Day at the Hill ICAN campus. Every other Thursday, they promote colleges and talk about the opportunities out there for students.






Chief Hill Academy
 - (2018-2019) Our staff and students worked so hard 1st quarter, and the students earned 607 1/2 credits toward graduation!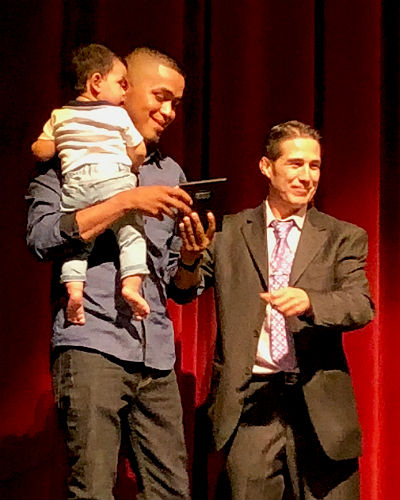 Hill Academy at ICAN
 - (2017-2018) SENIOR HIGHLIGHT: The Saunders Montague Perseverance Award recipient from Hill Academy at ICAN is Jose Camargo Ramirez. Jose took a nearly three-year hiatus from high school after facing some personal struggles. Earlier this year, at the age of 20, Jose learned he was going to be a father. Jose had one goal in mind before the birth of his son -- and that was to graduate high school. One credit shy of achieving that goal, Jose asked to re-enroll in school and accomplished his dream just days shy of the birth of his son, Josiah.
Hill Learning Academy Seniors Highlights






Chief Hill Academy
 - (2017-2018) Congratulations to the Chief Hill senior who was credit-deficient when he started as a sophomore, has graduated a semester early and will start college in the spring!






Chief Hill Academy
 - (2016-2017) Community comments: Chief Hill Academy has great kids that really shine. Thanks for being friendly and welcoming.






Chief Hill Academy
 - (2015-2016) This school year, Hill Learning Academy helped 92 students earn their high school diplomas. When compared to the past 5 years where the school had an average of 32 graduates per year, this was a great accomplishment by our students. My hat is off to the staff who helped make their dreams come true.






Chief Hill Academy
 - (2015-2016) Parent comments submitted about Chief Hill Academy: "The people at this school have helped my daughter so extremely much that she has made the Principal's List for the first time EVER and she LOVES going to school, also for the first time ever. They have figured out how she learns and have helped her so extremely much. She has always struggled in school until this year when she finally received the help she needed to be successful in school. I am eternally grateful."






Chief Hill Academy
 - (2014-2015) Crystal Porras, teacher at Chief Hill Learning Academy, has been selected as the Sun Lakes Rotary Club 'Teacher of the Month' for September.






Chief Hill Academy
 - (2014-2015) In January 2014, Hill Academy was announced as an accredited school by AdvancEd corporation.






Chief Hill Academy
 - (2012-2013) The staff at Hill Learning Academy has added Character Education lessons to their classroom curriculum. This month's terms are 'Trust and Honesty.' Together teachers and students discuss a story, video clip, or passage to find the message. Students then write a short summary to solidify their understanding of the term. Also, in December, the students donated more than 350 canned food items to the Chandler Care Center for their semester community outreach.






Chief Hill Academy
 - (2012-2013) Saunders Montague, former director of the Hill Learning Academy was honored posthumously as a 2012 NAACP honoree leader. Saunders passed away in August after suffering a heart attack.



---