Return to Headlines
Meet James Torre: A COA student who plays soccer in Germany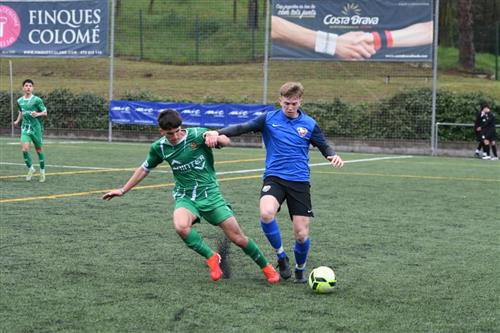 Imagine attending school online with Chandler Unified School District's Chandler Online Academy (COA) while playing soccer in Germany. This is exactly what sophomore James Torre does each day.
He plays left-footed center back for The Talentprojekt at Deutsches Fußball Internat (DFI), a former US military base, where he and other soccer players live on campus. This school year, 2022-2023, is his second year playing overseas.
Between practices with the Austrian Alps in the background, Torre works with staff from COA to take advantage of an opportunity of a lifetime in Bad Aibling, Bayern, Germany.
"School is obviously very important. I can do it on my own schedule with COA. You can do lessons throughout the day, and it has been a great fit for both years [playing soccer]. The teachers are great, and they've helped me with applications." Torre said.
Torre is a long-time Chandler Unified School District (CUSD) student. Before coming to COA, Torre attended Elite Performance Academy and Arizona College Prep Middle School.
What it's like to play youth soccer in Germany
Similar to most student athletes, the 16 year old defense player has been in soccer since he was 4 years old.
"I love the competitiveness of the game and the intimacy of it. It's detail-oriented, and I love being competitive with other people, pushing yourself to be the best," he said.
But unlike most players, he competes with other elite American youth players from various cities across the United States, and their teams with Talentprojekt play against various European youth leagues, academies, and friendlies throughout the year.
On a typical day, he wakes up around 7 a.m. German language classes start at 8 a.m. before his first practice at 10 a.m. After lunch at noon, he attends a second practice at 3:30 p.m. and eats dinner at about 6 p.m. Between all these times, he's able to work on school assignments.
"It's awesome. You get to go all over the world. The competition is high and it's a cool experience to play with kids who don't speak your language, but it's always competitive and fun. I loved when we went to Spain for a tournament in Barcelona," Torre said.
Fortunately for Torre, he's bilingual and speaks English and German.
"My mom is German, and we speak German in the house. I even have a German passport and I'm a German citizen, too … So when I was invited to play with Talentprojekt, it helped that I speak fluently," he said.
Torre hopes to sign for an academy in Germany or a Division I college in the United States in the future.
Interested in Chandler Online Academy and other CUSD schools? Visit cusd80.com/schools.