Return to Headlines
Andersen Elementary principal named a 2022 National Distinguished Principal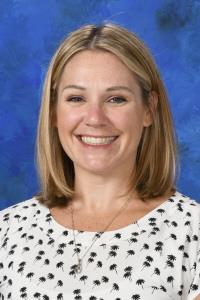 In October 2022, John M. Andersen Elementary School principal Kristin Kinghorn was named a 2022 National Distinguished Principal by the National Association of Elementary School Principals (NAESP).
According to her profile on naesp.org, she led her staff through various challenges from rapid demographic changes, to declining assessment scores and widening achievement gaps for the school's majority English-Language-Learners and low-income families. With her guidance, culture at Andersen Elementary shifted with shared goals, meaningful relationships, and rigorous PLCs, which improved academic performance on campus.
"None of this could have happened without the dedication and forward-thinking of the staff here at Andersen Elementary. One hundred percent of the staff believes that all students deserve the best education possible, and we believe it is up to us to offer them an education that prepares them for the changing world. We believe in creating a learning environment that is engaging, fun and relevant to kids today, and I am lucky to work with the best staff out there that want to make this happen. To say I am proud would be an understatement," Kinghorn said of her school's achievements.
Her leadership paved the way for even greater things to come at Andersen Elementary.
IB candidacy
In the 2021-2022 school year, Andersen Elementary started the process of becoming an International Baccalaureate (IB) Primary Years Program (PYP).
"It has been one of the most exciting and rewarding experiences I have been a part of. To see the staff come together across grade levels and subjects to create units of inquiry that excite students is phenomenal. On top of that I get to learn alongside my staff and come together to determine what is best for students and how we are going to come together to push them into deeper levels of learning and make it relevant to them and the world we live in today," Kinghorn said.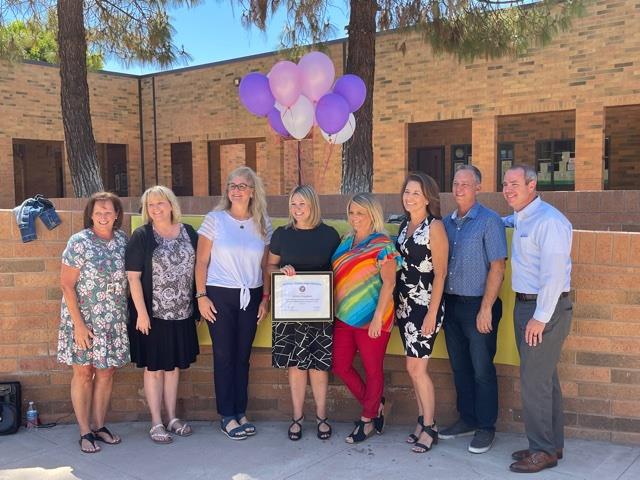 Through this process, Andersen Elementary school invites guest speakers from the community to speak with students and show them how they are using what students learn every day. For example, a chef demonstrated how she uses her five senses to cook, an engineer explained how he uses force in his job, and ASU professors shared their expertise in natural disasters, space and scientific methods.
IB challenges students to develop questions surrounding big ideas. By using those questions, students collaborate and use resources to find answers or create more questions. The program aligns with Chandler Unified School District's Portrait of a Learner initiative.
In a recent assignment, Kinghorn said fourth graders learned about an upcoming water park in Glendale. Students researched the park, from how much water it consumed each day, to how many new jobs it would create. Then, students decided if the water park should be built, created brochures and speeches, and developed attractions at the park. They presented arguments to families and other students in the school, learning from each other.
"As we look at Portrait of a Learner, we want our students to ask questions, value other's input because for this example, there is no one answer. Students had to collaborate to learn from each other and challenge each other. In the end, each student felt empowered to make a difference in our community either advocating for or against the water park," Kinghorn said.
If fully approved by IB, Andersen Elementary expects to be an official IB PYP school in the 2023-2024 school year.
About Kristin, Andersen Elementary
She is one of 38 total public-school principals who received this honor from NAESP, and one of 41 total recipients.
In her 18th year of education, Kinghorn is a former elementary teacher, Title I teacher on assignment, and assistant principal. Since joining Chandler in 2018, Kinghorn has been a visionary leader and inspiration to her staff. Two of her children attend CTA Independence. She holds a Bachelor of Arts in Science from Western Michigan University and a Master of Education in Leadership from Northern Arizona University.
Andersen Elementary School is a preschool through 5th grade school that opened in 1984. The school shares property with Andersen Junior High School. The school's namesake, John M. Andersen, was a school board member from 1917-1928. He was instrumental in CUSD's expansion to its present-day size of 80 square miles and the construction of Chandler High School.
Explore Andersen Elementary and visit the school's website at cusd80.com/andersen.