Return to Headlines
Casteel High School honors veterans with a living library
In honor of Veterans Day, Chandler Unified School District's Dr. Camille Casteel High School (CCHS) hosted its second Veterans Living Library on Wednesday, November 9, 2022.
A "living library" is a chance for guests to meet experts on certain topics, in this case veterans. Attendees could then "check out" their experiences and stories.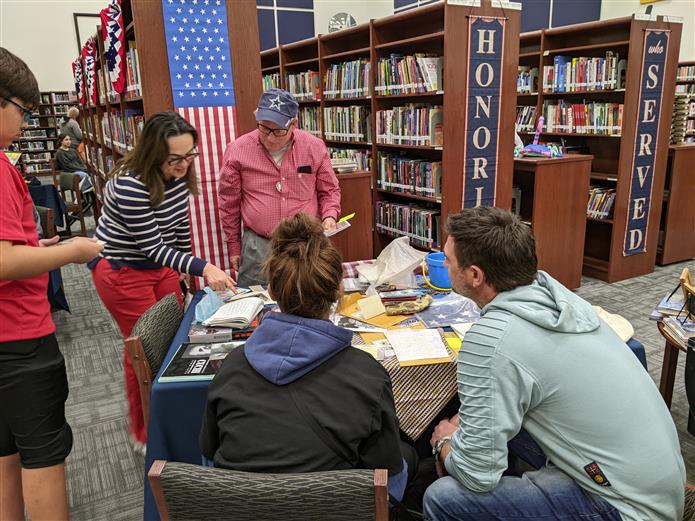 Casteel's media assistant Christine Williamson Diaz, who has been an original CCHS staff member since the school opened in 2015, introduced the concept to Casteel for the first time in 2021. With her connections to friends, Casteel staff members, and Sun Lakes Rotary, she gathered 12 veterans to share their stories.
She wanted to bring new ways for students to learn in a school library setting while sticking to a library's foundation of primary resources, research, and discovery.
"You think about the core missions of libraries, and one of the core missions is building community. It's about stories, not just books, but about stories in general ... So, when I was looking at Veterans Day, I thought 'let's look at our staff members who are veterans that have served' and we can highlight that to illustrate how the individual stories of our families relate to the bigger American story and to American history. Pull it out of the textbook and put it present in our students' lives," Diaz said.
All veterans represented various branches in the military and a wide variety of personal historical experience from the Korean War to the Iraq War.
Every 15 minutes, guests would rotate tables and listen to a different veteran's story, bringing rich details to history learned in class or offering advice to students interested in enlistment.
Meet three veterans
Gary Kay, a U.S. Army veteran (1966-1968) who served in Germany and Vietnam, worked on helicopters during his service. In the present day, he is a Sun Lakes Rotary member who contributes his time to honoring teachers and students at CUSD (Chandler Unified School District).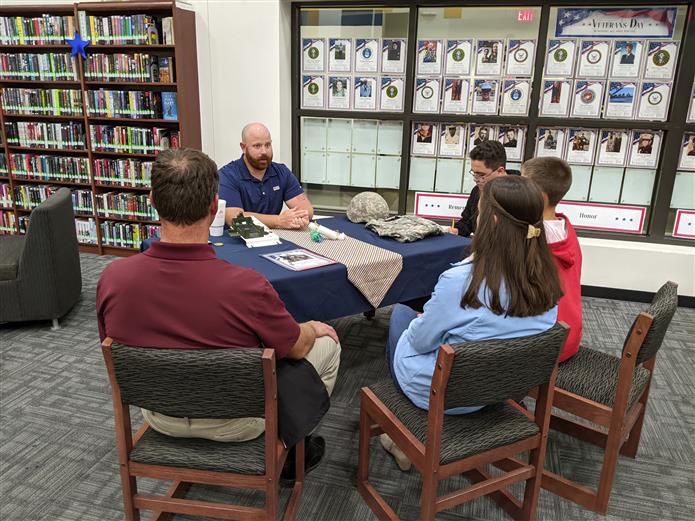 "The concept of a living library is something unique for those familiar with a library where they check out a book and read about history. This is a chance to sit down with the people who lived in history. What better way to learn about history than learn from the people who really did it," he said.
Christopher James, a U.S. Army veteran who served in the Iraq War, is also a U.S. History and U.S. Military History teacher at Casteel High. He shared his story about injury and perseverance during the event. He also helped open and guarded a school for girls in Iraq, which inspired him to become a teacher post-service.
"The living library at Casteel that Ms. Diaz puts on is exceptional. As a veteran, it makes Casteel and the community come together to be more inclusive; to bring in those outside perspectives and share stories with a lot of CUSD students. I feel extremely honored to be a part of this, and it is great to connect with other veterans and hear the students speak so positively about it," he said.
Kiamesha Guy, a U.S. Navy veteran who rotated through several jobs in her service during wartime, loves getting a chance to connect with students who might be interested in enlisting with the armed forces. She comes from a historied military background that covers every branch, and she is also a Sun Lakes Rotary member.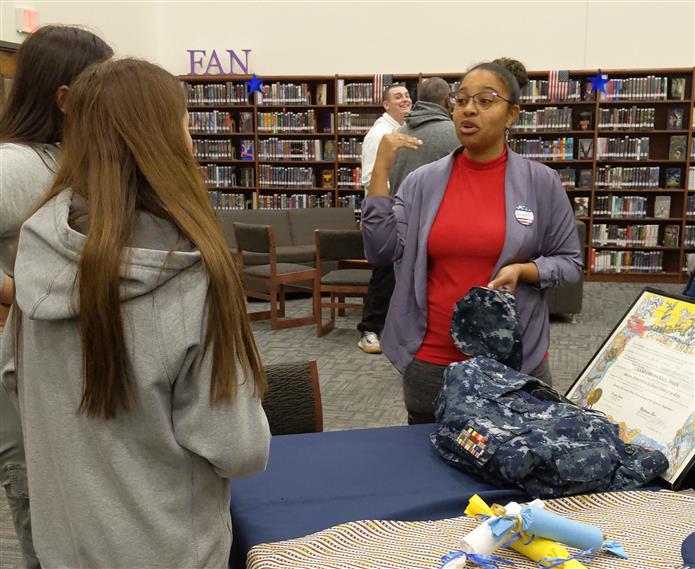 "It's inspiring to see what these kids are up to and see that they have resources that we didn't have at their age," she said.
On Thursday, November 10, several schools across CUSD held ceremonies, picnics, and concerts for veterans. School administrators welcomed CUSD students' friends and family members who served in the military to be recognized at their events.
School is not in session on Friday, November 11 in observance of Veterans Day. Chandler Unified School District honors the sacrifice men and women make every day in the armed forces, and we especially celebrate the veterans among the CUSD community of families, friends, and faculty and staff members.