Return to Headlines
Perry High School student named a Phoenix Indian Center High School Student of the Year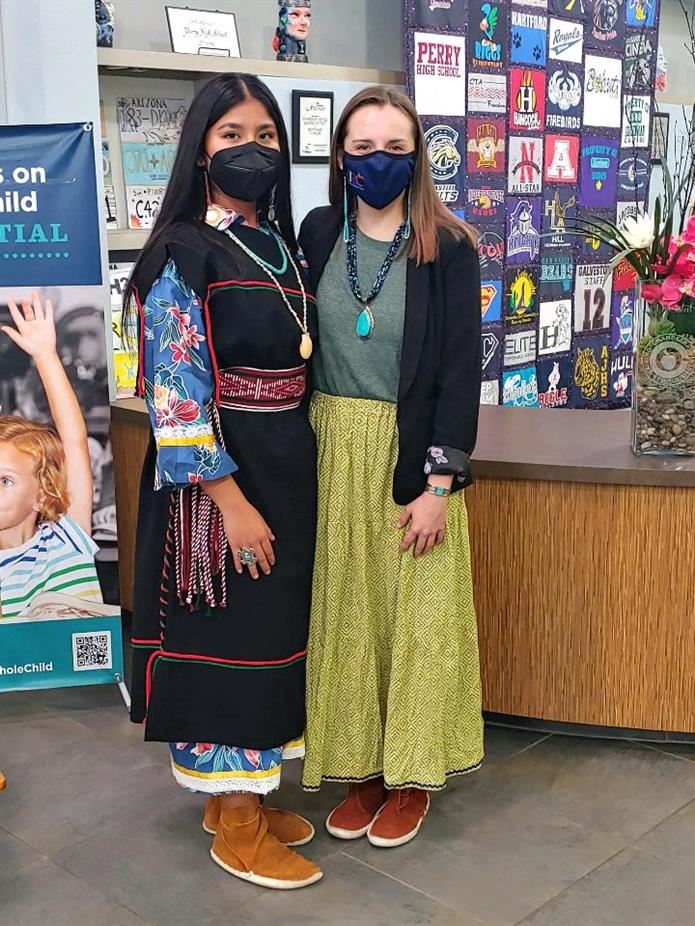 Perry High School senior Sumaya Quitugua (Acoma Pueblo) is an example of indigenous excellence in Chandler Unified School District (CUSD). The Phoenix Indian Center named Quitugua one of two High School Students of the Year in 2022. She will be honored during a dinner ceremony on Wednesday, November 30 at the Heard Museum in Phoenix.
Perry High photography teacher and Indigenous Student Advisor Megan Drivinghawk nominated Quitugua for the award.
"I am so thankful to have worked with Sumaya over the last four years in the Indigenous Student Club. She stepped up to be a leader in the club freshman year as our Student Representative and has been elected as President and Vice President of the club in the following years. Fellow students look to her for guidance and leadership for a reason. As the advisor of the club, I know I can depend on her to follow through on tasks in a timely and efficient manner. Not only does she set a high standard for those around her, but she also knows how to support others in reaching those high expectations. It takes a special kind of leader to work well with youth and elders," Drivinghawk said.
Along with her extensive involvement in Perry's Indigenous Student Club, Quitugua is also part of HOSA – Future Health Professionals, the varsity girls' basketball team, and the Phoenix Indian Center as a member of the youth council.
In June 2022, she ranked as a Top 10 finalist in Prepared Speaking at HOSA's International Leadership Conference in Nashville, Tennessee, where she wore traditional regalia to represent her tribe.
"It's so surreal to me … I know the people who received the award before me and what they've accomplished so far, and to be part of that is one of my biggest accomplishments so far," Quitugua said.
Quitugua also noted other achievements she's proud of, which included working with the CUSD Indigenous Education Program administration to get graduation stoles approved by the governing board. She also promoted awareness of Missing or Murdered Indigenous Persons and National Day of Remembrance for U.S Indian Boarding Schools at Perry and in her community.
"The community at Perry, especially with DrivingHawk, is one of the safest places I feel. I'm not sure I would've accomplished all this without her support," she said.
To Quitugua, representation of her tribe, culture, and indigenous values is an educational experience not just for others, but for herself, too. Plus, receiving this award is not something to boast about but rather a chance to represent her tribe, she said.
"Representation is important to me because of what I heard over the years generationally. They've been told to hush and be like others to pass in society. Now I have the ability to tell others they can accomplish so much through adversities they face. I always make it clear I am indigenous and Pacific Islander. I bring a sense that our voices matter as they do for indigenous youth and as a person," she said.
In the future, Quitugua wants to attend college and major in a healthcare degree or law school to give back to her community.
Quitugua has been part of CUSD since fifth grade when she attended CTA Liberty, then Willis Junior High School before Perry High.
To learn more about Indigenous student programming in Chandler Unified School District visit cusd80.com/iep. Go to cusd80.com/phs for more information on Perry High School.