Return to Headlines
Indigenous Education Program hosts first fashion show event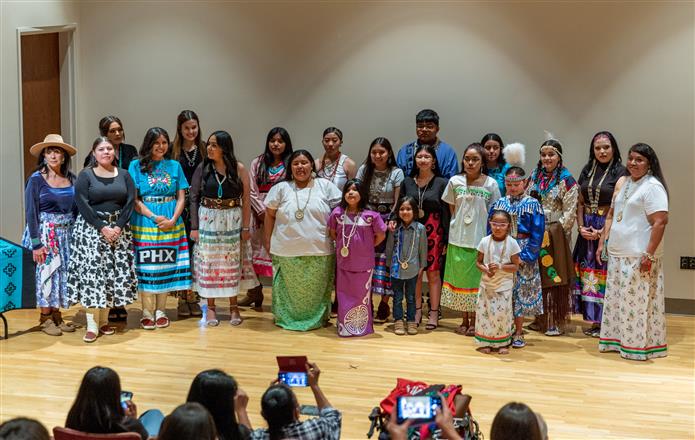 For the first time, the Chandler Unified School District (CUSD) Indigenous Education Program (IEP) hosted an Indigenous Fashion Show at the Chandler Center for the Arts, Thursday, March 9, 2023.
At the fashion show, 12 student models showcased their traditional wear, which was as bright and unique as each personality and tribe. An announcer described their clothing and its history with each model walking on stage. Fashion designers Tammy Histia, Tashina Taliman, and Raquel Manuelito held a Q & A for students near the end of the event. A handful of local vendors were also at the event selling jewelry, accessories, and clothing.
CUSD's Indigenous Student Engagement Specialist, Antonette Shirley, wanted to incorporate an event that melded family and culture when she found inspiration in her daughters Marisa (Chandler High School Class of 2022) and Markayla (Chandler High freshman).
"When they played basketball, they dedicated one game in their season to their late grandmother, Shirley Ashley. They wore their traditional Navajo Dine' hair wear. People would ask me about their unique hairdo, and so I would talk about the Navajo hair bun called the 'Tseyalth.' So many people were intrigued about our Navajo culture and how my daughters kept a part of their heritage."
Alexus Wilkinson, a junior at Hamilton High School, believes that her ancestors would be proud of her for sharing her culture with others. She represents three affiliated tribes of the Fort Berthold Reservation.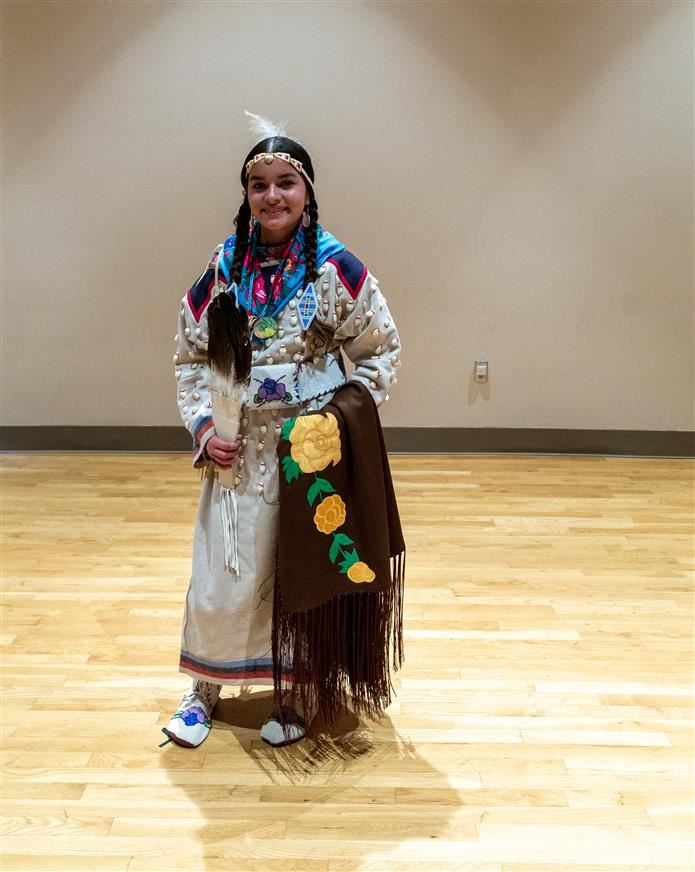 "It's important for me to embrace my culture in this fashion show because for so long, I have been made to believe that being Native American is not good — that I don't matter because I'm Native American. But I am proud of my heritage," Wilkinson said.
Karsyn Real Bird, a seventh-grade student at Payne Junior High School, said she had no idea what to expect at the fashion show, but she was happy to represent the Assiniboine and Sioux Tribes of the Fort Peck Indian Reservation.
"It's an opportunity to share my culture since there aren't many natives in the cities," Real Bird said.
Not only was the event a chance to spread awareness of the family engagement opportunities offered through the IEP, but it was also a great opportunity to educate the community about Indigenous culture in an engaging way and for students to embrace their heritage.
"When I see students embracing their culture, it gives me hope. I have a great appreciation when Indigenous students embrace their own culture and heritage. It shows that they honor and respect their culture of where they come from and represent our cultural roots," Shirley said.
What is the Indigenous Education Program?
The Chandler Unified School District's Indigenous Education Program is a federally funded program to supplement academic educational support and family cultural engagement. Students and families have a chance to connect with fellow indigenous students, engage in cultural experiences across campus, participate in special community events, and receive support for school supplies and class fees, funding permitting.
Visit cusd80.com/iep to learn more about the program. Follow the program on social media for updates @cusdindigenousep on Instagram.