Return to Headlines
Hamilton High School wins big at AIA Esports State Championship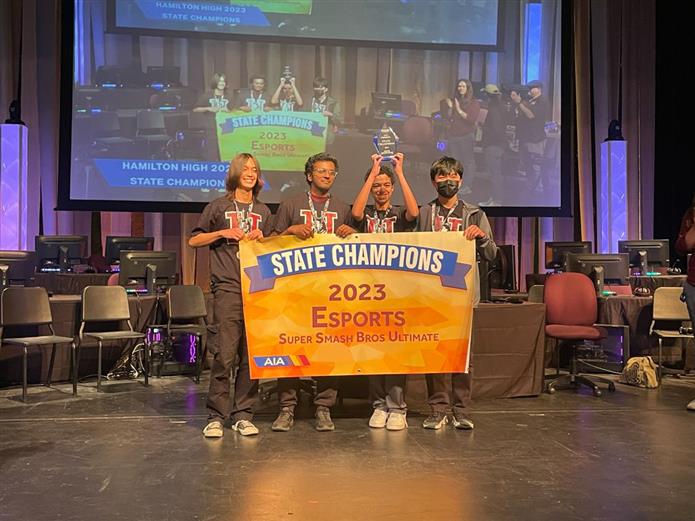 The Hamilton High School Huskies from Chandler Unified School District (CUSD) won two state titles during the Arizona Interscholastic Association (AIA) Esports State Championships. The tournament was held at Paradise Valley Community College in the Center for Performing Arts, Saturday, April 29, 2023.
Student athletes competed in two of the three video games approved by the AIA for the 2022-2023 school year: "Super Smash Bros. Ultimate," a Nintendo Switch crossover fighting game, and "League of Legends," a free-to-play multiplayer online game that makes millions of dollars globally through tournaments. The Hamilton teams won their titles after competing against Corona Del Sol High School in "Smash Bros." and Higley High School in "League." The game the Huskies didn't compete in was "Rocket League," a vehicular soccer video game that lets players drive a car rather than controlling athletes like the FIFA series.
Seven seniors are part of the Hamilton "League" team, and eight student athletes, in grades 9-12, are part of the "Smash Bros." team.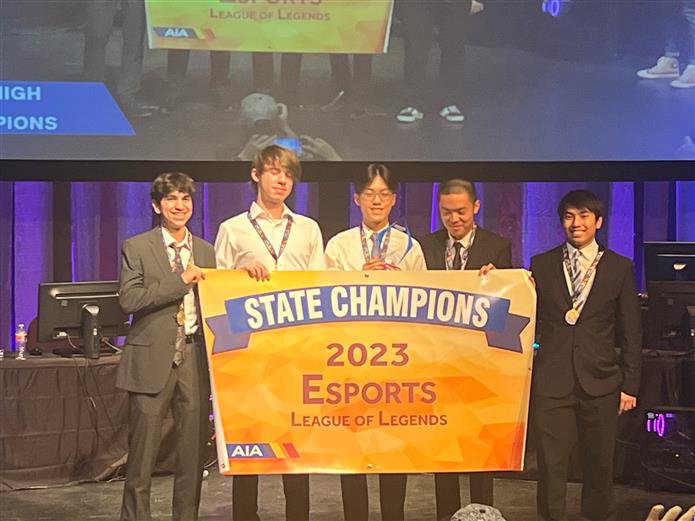 "I am incredibly proud of every single player on our team. Hamilton went from not having an Esports club two weeks before the start of the 2023 season, to state champions by the end. We couldn't have done it without our consistently hardworking, driven players, and we couldn't have done it without the support of both Hamilton High School and the District. We are so excited about the growth of Esports in CUSD, and look forward to competing again next season," said Michael Oei, Hamilton's Esports coach and English teacher.
The AIA state championship is proof that Esports has quickly grown in Arizona, especially in CUSD. For its inaugural year, the District recorded about 70 to 80 students who play Esports at all six high schools, with about 15 to 20 students per school.
"CUSD is proud of Hamilton High School's Esports student athletes for winning both games they competed in. We're excited to make history with CUSD's very first year of competing in the Esports state championships," said CUSD Director of Secondary Athletics and Auxiliary Programs Shawn Rustad.
Here is a list of the Hamilton students who were part of the state championship teams:
"League of Legends"
Esteban Dozal - 12th grade
Ty Stinson - 12th grade
TJ Chang - 12th grade
Marvin Sin - 12th grade
Daniel Kwak - 12th grade
AJ Vandenbrooks - 12th grade
Tyler Nguyen - 12th grade
"Super Smash Bros. Ultimate"
Ziyad Hassan - 9th grade
Pranav Velu - 12th grade
Xuan Xi Yap - 11th grade
Brandon Kawamoto - 11th grade
Cam Bravo - 11th grade
Iris Wang - 11th grade
Vincent Jiang - 12th grade
Travis Leoz - 10th grade
Watch the state championship games on the AIA's Youtube channel at youtube.com/@azpreps3657.