Return to Headlines
CUSD elementary team earns award at 2023 VEX Robotics World Championships
Originally published by VEX Robotics Worlds with additions from Chandler Unified School District (CUSD).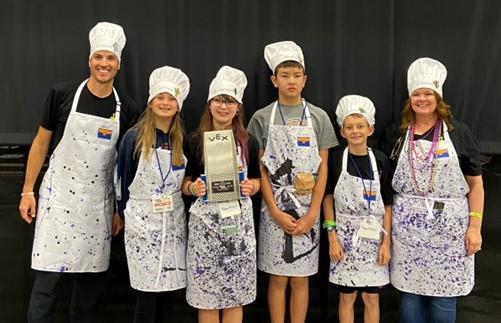 Team 4751Y (It's Fine, Just Add More) is a competitive VEX IQ robotics team comprised of Chandler Unified elementary students, from Fulton Elementary and Weinberg Gifted Academy. The students are: Jeremy LaPaglia, Natalie Milligan, Adam Shumway, & Autumn Topczewski. They are coached by Lori Ruff of Robotics Edge with support from Matt LaPaglia.
Team 4751Y just completed their season by participating in the 2023 VEX IQ Robotics World Championship competition in Dallas, TX. This three-day event is the largest robotics competition in the world, and included 800 elementary school teams from across the globe.
They were one of only 12 Arizona elementary teams to qualify for Worlds. During teamwork competition matches, these Chandler students were paired with teams from Canada, Ireland, California, Utah, Colorado, Texas, Kentucky, & Indiana. Team 4751Y earned the Create Award for their division during the competition, and was the only Arizona elementary team to earn an award at Worlds this year.
The Create Award is presented to the team whose robot incorporates the most creative engineering solution to the challenge of this season's game. This team demonstrates a highly creative engineering process and methodology, and this team shows ambitious and creative approaches to game play. Students understand and explain how they worked together to develop their robot design and game strategy. And during a team interview the team demonstrates effective communication skills, teamwork, professionalism, and a student-centered ethos.
The team incorporated chef's costumes to play off of their name, and build their team spirit for Worlds.
In the VEX IQ competition, students use guidance from their coaches and mentors to build a robot using snap-together VEX IQ parts. The robot is then used to solve an engineering challenge that is presented in the form of a game. Teams work together to score points in Teamwork Matches and get to show off their skills individually in driver-controlled and programming Robot Skills Challenges. There are also various awards presented by the judges.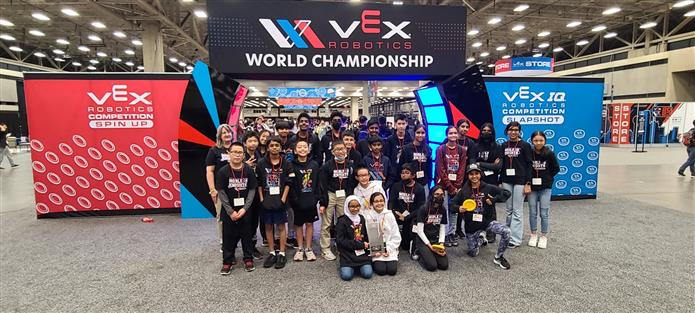 Arizona College Prep Middle School, a 6th through 8th grade school in CUSD, also won awards at VEX. Team 7830N won the Innovate Award for their division. The Innovate Award is presented to a team that has demonstrated a strong combination of ingenuity and innovation in designing their robot and typically recognizes a specific, unique piece of engineering that exemplifies thinking outside the box and innovative engineering design. The team included students Manha Hossain, Aarna Patel, Ethan Hum, Sahasra Muccala, and Tyler Standke. All of these team members were new to VEX this year, and there were 81 teams in their division vying for awards.
ACP Middle's Team 7830C, including students Vikesh Annamalai, Jim Edward, Rion Janarthanam, Sahasra Saithala, and Katherine Li, went into the elimination round in their division.
The VEX IQ Competition aligns with the CUSD Portrait of a Learner initiative by fostering student development of teamwork, collaboration, critical thinking, project management, and communication. The above mentioned skills help our students prepare to become the next generation of innovators and problem solvers.