Return to Headlines
Rice Elementary School Leader Named Exemplary Principal
Shirley Mathew, the Principal of Rice Elementary School in Chandler Unified School District (CUSD), recently received the prestigious Exemplary Principal Award from Maricopa County School Superintendent Steve Watson. Superintendent Watson honored Principal Mathew with a speech and special plaque in a surprise ceremony on May 16. The entire school was in on the surprise.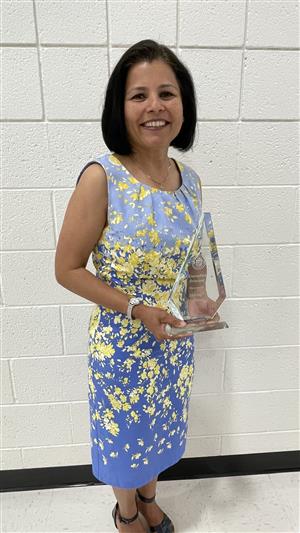 The Exemplary Principal Award recognizes leaders who understand the connection between a thriving school culture and high levels of student achievement and teacher retention. These leaders intentionally and strategically nurture school environments where teacher and student voices set and realize the vision. Exemplary Principals lead schools where students achieve academically and emotionally, and teachers are inspired to remain at the school and in the profession. Award recipients undergo a rigorous evaluation that involves a superintendent nomination, application, teacher survey, video interview, site visit and extensive data review.
Principal Mathew is a visionary leader who has dedicated her career to nurturing an environment of academic excellence. She recognizes the importance of a strong faculty and has prioritized empowering her team of dedicated educators. Shirley believes a motivated and well-supported staff is essential for providing quality education. Additionally, Principal Mathew has a genuine passion for her students and always puts students first.
ABOUT RICE ELEMENTARY: Rice Elementary provides options for families by offering both the Classic and CTA (Chandler Traditional Academy) education models. Under Principal Mathew's leadership, this neighborhood school delivers rigorous instruction aligned to the Arizona standards, and a wide variety of extra-curricular opportunities for our students. An overarching theme for the school is their focus on sustainability, which focuses on caring for ourselves, caring for each other, and caring for the world around us. Rice Elementary has an extended recycling program and an outdoor learning space for students to learn about gardening and engage in nutrition education programs.
The school is named after Robert Rice, a long-time CUSD governing board member who began his career as a U.S. Air Force officer and spent more than two decades working for Intel in senior management roles. While on the Chandler Unified Governing Board, he helped the district develop its first 10-year plan of excellence and used his leadership experience to mentor and coach various organizations. Rice Elementary is Chandler Unified School District's 32nd elementary school.
CUSD Marketing and Communications
chandlercommunicationoffice@cusd80.com
480-812-7015