Return to Headlines
CUSD offers inclusive tours for students with disabilities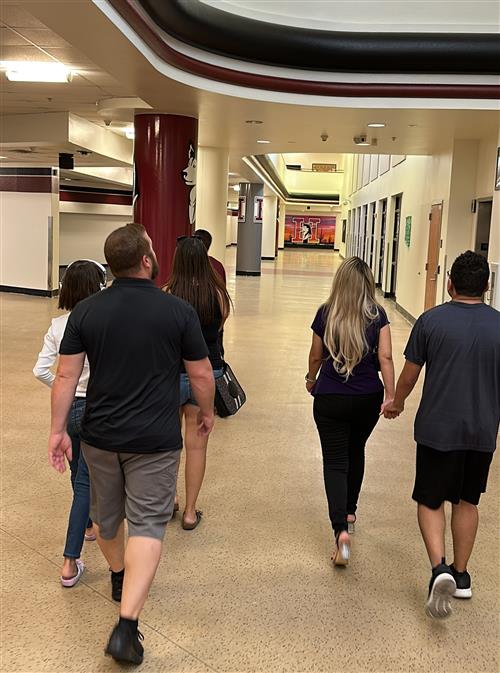 For the first time in Chandler Unified School District (CUSD), high schools hosted exclusive tours for students with disabilities before the first day of school July 19.
CUSD high schools welcomed families during open house hours to familiarize their students with expectations, meeting spots, and teachers without the noise and excitement of general education back-to-school tours. Families asked questions, double-checked schedules, and ensured they were ready for school.
"It has been done on an individual site basis, but the directive for organized plans came down from CUSD leadership to ensure all sites had a plan to provide additional supports for students with specialized needs. This topic came about from our grassroots parent organization, which Dr. Craig Gilbert and I meet with on a quarterly basis. It's called Special Education Parent Advisory Council (SEPAC). It's totally parent initiated and run," Dr. Kymberly Marshall, CUSD Executive Director of Student Personalized Learning said.
"Meet the teacher events and resources should be available to all students who attend CUSD sites. The inclusive practices we preach start at the top with a culture of belonging. These events cultivate that sense of belonging," she said.
For some, the accessibility encouraged families to enroll their child in CUSD schools.
"In the beginning, I wasn't sure if I wanted to have him come here. But I understand that the transition services here at Hamilton High School are top notch. I have to give Tara Spears a lot of kudos because I am a very nervous mom and she's been able to respond to my emails and questions very quickly. There will be changes from being in a self-contained classroom and wanting to transition him to move classes, meet new people and teachers. When he graduates it will be so important for him to learn from others, and that was my biggest factor in coming to Hamilton," Hamilton High School parent Diana Zoreily said. Her son, a 10th-grader named Nathan, transferred for a more dynamic classroom experience. She wanted to see him move from class-to-class and have a schedule outside of a self-contained curriculum.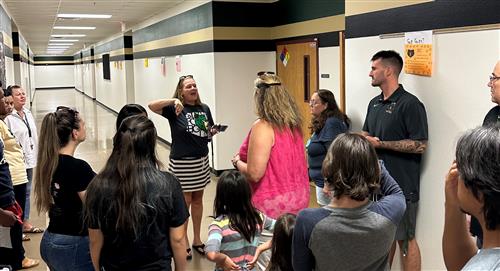 Parents Jessica and Ruben Mazariegos toured Basha High School's event with their children, including their son Ruben, who will be attending BHS for the first time.
"I think it went really well. Especially for him. I love that the campus is opened up so we can just walk campus and find their classes so they're comfortable doing that. The teachers were awesome. Very helpful, obviously, in answering all our questions," Jessica said.
When asked what he's looking forward to at school, Ruben said he was looking forward to something fun.
"He's been really excited about starting that next step in his life, going to high school. He's got a lot of friends that he knows who maybe came last year and he's catching up to them, or he knows them from church," Jessica said.
Familiar faces return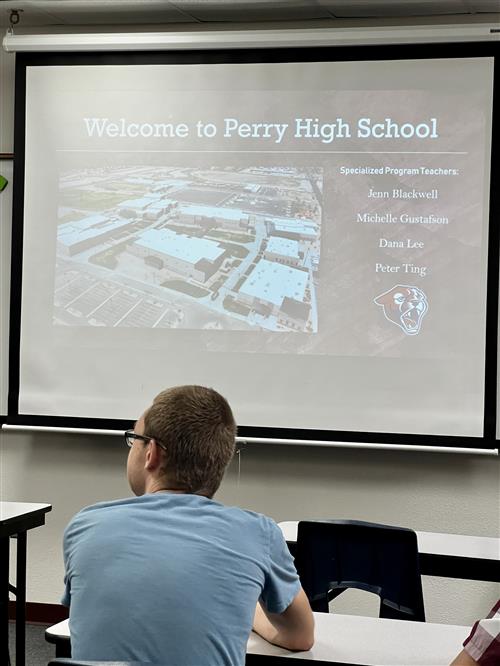 Depending on the school, families were also welcome to stop by during these tours, which were held on campuses the week before the new school year began.
Emily Wold had five children in CUSD, including two students with special needs who currently attend Perry High School.
"This event helps parents and students feel like they matter and that their program is important and not an afterthought," she said. She attended Perry High's tours with her son Ryan, a senior.
Special needs educators also appreciated the chance to connect with families beyond emails and phone calls.
"Having our students return to campus earlier is so beneficial because it gives them a comfortable environment and the ability to see their teachers and the classroom before the first day of school. It often helps calm nerves and gets them excited for the new school year," Camille Casteel High School special education teacher Allison Yohnka said. She has been at CCHS for five years.
CUSD schools accept enrollment year-round for the 2023-2024 school year. Visit cusd80.com/enroll to register your kids today.