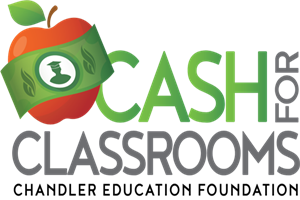 Hey Huskies! Wouldn't it be amazing if your student had a physics class at IFly? What if the robotics team was given lots of new equipment? What if your student's teacher brought in an amazing guest speaker to bring the curriculum alive? How about some news technology for your student's classroom? The possibilities are endless with an enrichment grant from CEF. All of these amazing things are all possible through the Chandler Education Foundation, but they need our help.
Cash for Classrooms: Otherwise known as C4C is the annual, districtwide campaign held by Chandler Education Foundation to raise money to help support these grants. Their ability to distribute funds to teachers is proportionate to the ability to raise them. Would you please consider donating so that CEF can fund some of these amazing opportunities for Our Hamilton students. Even a small amount quickly adds up when pooled together and can do big things!
You can give via the donation webpage: webpage: https://www.chandleredfoundation.org/what-we-do/campaigns/cash-for-classrooms.html
Plus, if you donate $100 or more you will receive a CEF State Forty Eight shirt!