Posted by Mary Rinne on 5/10/2018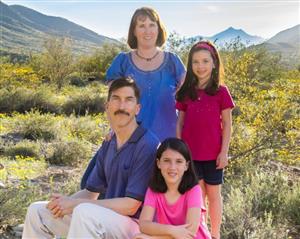 We are the Oakeson family: David, Leslee, Caitlin and Anna. We have been at CTA Liberty for 4 years now. Caitlin is 9 and in Sra. Mizzi's 3rd grade class. Anna is 7 and in Mrs. Garrison's 1st grade class. Both are blessed to be in the DLI program.

Dave and I moved into the neighborhood before Caitlin was born. We hoped that one day our kids would be able to walk to school with other kids that lived on our street. That has come true for us and we thoroughly enjoy it. Since it is so close, it is easy to be involved, even on short notice or for short periods of time. Over the years we have been involved in Dad's club, Los Padres, copy teams, class parties, grading homework for teachers, and going on field trips. It has helped us to get to know the teachers, staff, and other students so we know the influences on our children. I currently substitute teach only at Liberty for those same reasons. I love getting to know the kids and staff personally.
Caitlin is an excellent 3rd grader. She has been in the DLI program for 3 years now. She is amazing in her understanding of Spanish both in and out of the classroom. She is a top student and enjoys school. She has developed a strong friendship with several girls in her class which has helped her socially. She is our studious reader! Outside the classroom, she likes to have fun! She is very silly, imaginative and creative! She currently takes piano lessons and just started Taekwondo.

Anna loves the social part of 1st grade! She is our energetic, silly, attention seeking, people loving girl. She is also an excellent student in the Spanish program. Anna loves to have fun so CTA has helped teach her some structure! Anna is currently taking piano lessons and gymnastics. As a family, we enjoy bike riding, games, music, and traveling. It has been important to teach our children to help others. Helping at CTA Liberty is just another avenue to show our kids that others need help and it's just what we do!