Posted by Mary Rinne on 9/10/2018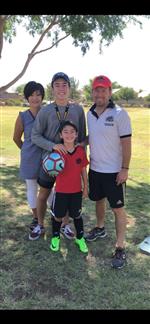 良く寝ましたか?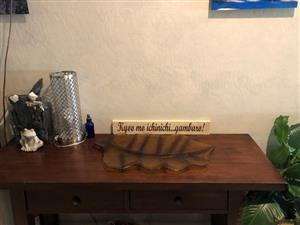 (Yoku nemashita ka?)
お元気ですか?
(Ogenki desu ka?)
今日も一日、頑張ろう!! 
(Kyoo mo ichinichi, Gambaro!!)
These 3 phrases mark the beginning of each day in the Osterkamp household. Did you sleep well? Do you feel good? Today, all day long, let's go get'em!! This tradition combines our feelings of gratitude (to be alive and healthy), our excitement at the potential each new day heralds (except when we simply want to sleep all day J), and the call to action to remind us that the day is what we make of it. Then again, it also serves as a really good excuse to yell the sleepiness out of each other!
Our immediate family consists of me, Jon, my wonderful wife, Kana, and our two great sons, Joe and Jay. We should include Jet and Sky, our two Yellow Labradors, Ash, our Grey Tabby, and Thing 1 and Thing 2, our Danios or glow-in-the-dark fish. We have not (yet) named any of the various lizards, scorpions, and spiders inhabiting our property.
Jay began at CTA-Liberty as a kindergartener, and now plies his trade as a Class Dojo student in Senora Mizzi's homeroom and Mrs. Blackwell's class. He very much enjoys his teachers and the Dual Language Immersion program. Since he is also Japanese, Jay delights in going back and forth between the languages, all while boogieing to the various Fortnite dances, of course.
Our CTA adventure, however, began 8 years ago when Joe entered 5th grade with the amazing Ms. Battani. Neighborhood friends had regaled us with stories of their extraordinary family experiences at CTA, and not simply because of the challenging curriculum, but more so due to the gifted educators, caring and professional administration, and engaged parents, all musical instruments in a symphony expertly and tirelessly conducted by Dr. Bader. We fell in tune with CTA-Liberty very easily.
While Joe is now a freshman at ASU's Barrett, The Honors College, he still accompanies Jay on occasion to say hello to Ms. Battani, Dr. Bader, Mr. Plamondon, and Ms. Husky, and point out to Jay his track and field accomplishment displayed on the cafeteria's wall. Jay was fortunate to also spend a year with Ms. Battani (we do like great traditions!) last year as she exceeded expectations again as his 2nd grade Spanish teacher. Exceeding expectations, in fact, appears to be the norm at CTA-Liberty, an element we can testify remains unchanged over the years with Jay's recent teachers such as Mrs. Soyland, Mrs. Moreno, Mrs. Garrison, and Mrs. Jauregui.
Also unchanged is our general craziness, as our boys continue to keep us busy, jumping from one family adventure to another. Jay and Joe both play chess, and Jay is in his second year with Mr. Plamondon's Chess Club. Soccer remains a constant and consistent theme in our lives. Jay currently plays competitively for Phoenix Rising Youth Soccer's 1st team. Joe played for the same club, then known as Scottsdale Blackhawks, for the past 4 years, running his team as captain and earning accolades from National League selection to being named to the ECNL's Southwest Region All-Regional Team.
I coached both Joe and Jay during their initial soccer years playing recreational soccer with National Youth Sports. And I also did the same with basketball, which Jay will begin for the first time this month. Jay rounds out his regular activities with weekly swim lessons.
Kana and I love being a part of our sons' lives, so we do volunteer at school, too, for class parties, excursions, the annual Field Day, and past school festivals. Perhaps our biggest endeavor remains the time we spent with the Phoenix Sister Cities Commission's Himeji, Japan Committee, volunteering over 2,000+ hours in a span of 6 years.
We travel when we can, and both Joe and Jay spent (and are spending) most of their summers in Japan, attending school within sight of Mt. Fuji. Our emphasis on education comes from both sides of the family, as Kana's folks and the Japanese culture itself heavily prioritize education, and my folks, both of whom worked for the University of Alaska-Fairbanks.