Posted by Michelle Whitmire on 10/1/2018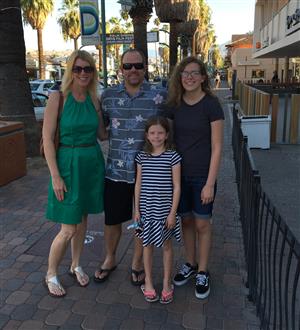 We are the Vancers' family and have been part of CTA Liberty for 10 years. When we moved here from California, we knew little about the schools in Arizona. We heard so many good things about CTA and are so glad we enrolled both our children at Liberty.
Our older daughter Megan attended Liberty from kindergarten through 6th grade and is now excelling in 9th grade at ACP Erie. CTA Liberty really prepared her for the intense curriculum in Junior High and High School. She still talks fondly of her memories at CTA including carnivals, dressing up for book reports, field trips and all the great teachers she had.
Our younger daughter Hailey is really enjoying 2nd grade at CTA Liberty. She is always very happy when I pick her up and tells me about something fun they did that day. We like that although the curriculum is harder than average, her teacher always makes learning fun. CTA also has a lot of campus wide activities and events tied into learning to make it fun for the kids. Although she isn't in the Spanish Immersion program she enjoys getting regular Spanish lessons and also loves working on the computers.
Another element of 2nd grade that Hailey loves is the effort to teach everyone kindness. She loves getting rewarded for not only her schoolwork, but also for her behavior. She is helpful by nature and a very kind sole and we love that CTA's culture includes teaching kindness and respect. We are grateful this school has produced some well-rounded students for our family, both academically and socially.