Posted by Michelle Whitmire on 10/1/2018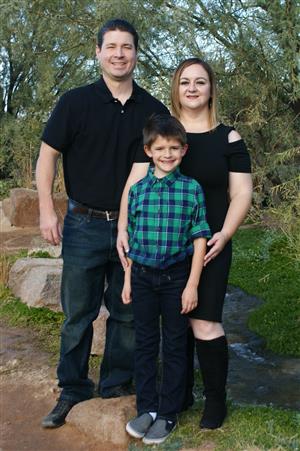 We are the Garrison Family: Damon, Molly and Max! We are a small family, but we have a lot of love for each other and have so much fun together! Max is currently a second grader at Liberty, and has attended since Kindergarten. However, Max has "grown up" at Liberty because I (Mrs. Garrison) am a teacher here! We are so lucky to be a part of the Spanish Dual Language Immersion program here at Liberty, and it is so exciting to see how much Max learns each year! Hopefully one day we will travel to a Spanish speaking country so Max can use the language that he is acquiring.
Damon and I are so blessed to be Max's parents. We adopted Max the day he came into this world, and we were lucky enough to be there with him as he was born. He was ours from the minute our eyes met, and our hearts were meant to love him. We celebrate Max's Adoption Day each year with a fun family day together!
Our family loves to travel to fun places and experience new adventures together. We have been to Max's favorite place in the world, Disneyland, a few times, and each time we go, it is such an amazing feeling to see the joy in our son's eyes! We traveled to Colorado this past summer, and we were lucky enough to go whitewater rafting, ziplining, alpine sliding, and to a zoo in the mountains! It was a great trip, and one we will never forget. We also love to go to the beach, Legoland, Sea World, and Sedona!
The Garrison Family loves CTA Liberty! We love the challenge of the academics and the kindness of the teachers. We could not have chosen a more perfect school to be a part of! Thank you for allowing us to share a little bit about ourselves!