Posted by Michelle Whitmire on 11/2/2018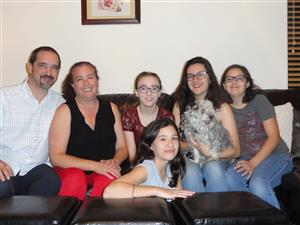 We are the Burke Family: Mark, Jessica, Kaitlyn, Allison, Regan, and Erin. Our children have attended CTA Liberty for 13 years now. Kaitlyn is a senior at ACP Erie and was the first to attend CTA liberty. Allison is a sophomore at ACP Erie, Regan is in 8th grade at ACP Oakland. Erin is a 5th grader here at CTA liberty, in Mrs. Logston and Mrs. Hight's class. We have been blessed to be able to have our children attend Liberty.
Mark and I feel lucky that our children were able to attend CTA Liberty since it was not our home school. We wanted a program that would drive our children to be the best and that is just what we found. Not only in the academics, but also in personal growth and responsibility. We have seen all four of our children grow throughout the years. This all began here at Liberty.
Kaitlyn is currently a senior at ACP Erie. She has excelled in her classes and plays basketball. She is getting ready to graduate from high school and move on to college. She would like to study veterinary science. She is now deciding where she is going to go for college. Allison is a sophomore at ACP Erie. She is an outgoing student and has many of the same friends she has had since she attended Liberty. Regan is an 8th grader at ACP Oakland. The strong foundation she received for Liberty has given her the ability to perform well in junior high. She also participates in several sports that started from her time at Liberty. She plays basketball, cross county, and track. She will be moving on to ACP Erie for high school.
Our youngest daughter Erin is the last to attend CTA Liberty. She is our social butterfly and loves coming to school every day. I think the whole environment here at Liberty leads to that. She is in 5th grade. She is in Mrs. Logston and Mrs. Hight's classes. She really enjoys learning. She is also in orchestra this year and is learning to play the cello. This is her second year in the school choir. It is so great all the extra activities that Liberty has to offer their students.
Not only do our children attend this school, but it is my, Jessica, 5th year working at the school. I enjoy being around all the students here. We have a great group of families and have been able to get to know you during lunch or while assisting you crossing the street.
We have enjoyed being part of the CTA Liberty family.