Posted by Michelle Whitmire on 2/27/2019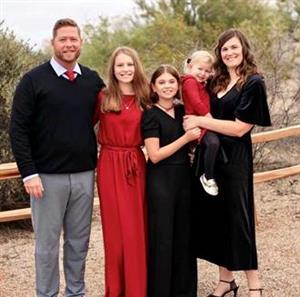 We are the Tollefson Family: Ryan, Kristin, Tatum, Teagan, and Tillie. We have been a part of the Liberty family for 9 years. Tatum is an 8th grader at ACP-Oakland, Teagan is a 6th grader here at CTA-Liberty, and Tillie is 3 years old and attends preschool at Lil' Express at Chandler High School.
When it came to choosing a school for our family, we knew we wanted a program like Liberty. Our children have been lucky to attend from Kindergarten all through sixth grade. They were challenged academically, but also felt so loved by their teachers. They have thrived in the structure, but of course still talk about all of the amazing events and classroom projects. Following Tatum through Liberty, Teagan has looked forward to 6th grade Science Camp, Student Council sponsored dances, Science Fair Night, dressing up for the Famous Arizonan Project, Cereal Box Book reports, and we have always loved attending the Spring Carnival as a family. Now that we have Tillie, we are looking forward to her joining the CTA-Liberty family in a few years!
Tatum is heading to Chandler High next year to start her new adventure. She has learned so much through the CTA and ACP programs, but is looking forward to not wearing a uniform! She loves all sports, but currently plays soccer and golf. Teagan is hoping to attend ACP-Oakland like Tatum. She is our deep thinker and is so curious. She loves learning about history and participating in discussions. She is our brave child, never afraid to try new things. Currently, she is taking Aerial Arts classes and loves to spend time outside on bike rides, hiking, or running.
Ryan and I (Kristin) love living in Chandler and live within 5 miles of where we grew up. We both are products of the Chandler Schools and attended ASU and NAU. Ryan is a consultant for an engineering firm that contracts with ADOT. After teaching in a classroom for 12 years at another Chandler school, Frye Elementary, I decided to make a change and knew I wanted to come to Liberty. My love for reading and passion for helping kids learn to read led me to become Liberty's Media Specialist or Librarian! I love collaborating with the classroom teachers, planning events, and sharing the power of reading with the CTA-Liberty students!