Second Grade Team 2018-19
Posted by Michelle Whitmire on 10/1/2018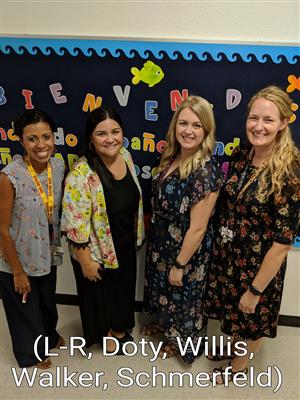 The second grade team is a powerhouse of knowledge!
Mrs. Willis:
Team lead, Valerie Willis has been with CTA Liberty since 2008. She has had two of her three children go through the program and continue with their academic successes at ACP-Oakland and Perry High. Mrs. Willis is a Spalding Certified teacher who has taught kindergarten, third grade (CTA and DLI), and now second grade DLI. She has a blast teaching this age as well as being part of a spunky-fun team!
Mrs. Doty:
Mrs. Doty became part of the CTA Liberty team in July of 2018. She is the Spanish Teacher of the Dual Language Immersion program. Her two daughters attend CUSD's Mandarin DLI program at a different school. Mrs. Doty strongly believes in teaching for bi-literacy. She is thrilled to be part of CTA Liberty.
Ms. Walker:
This is Ms. Walker's second year in second grade at CTA Liberty. She loves teaching second grade. CTA Liberty reminds her so much of the school she attended as a child, and that is one of the reasons why she enjoys teaching here so much! She also enjoys second grade so much because of the students she gets to teach. They are at an age where they can really take their learning to another level and she loves to encourage and help students take that next step! You can find Ms. Walker engaged with her students reading on her bright yellow rug, playing basketball outside at recess, or working with her team to create fun curriculum for students.
Mrs. Schmerfeld:
Although this is only Mrs. Schmerfeld's first year teaching, she has been part of the CTA Liberty family for many years. All six of Mrs. Schmerfeld's children have attended our school (4 are currently still here) and she has been a substitute at CTA Liberty for the last 4 years. Mrs. Schmerfeld loves teaching, she loves her class and she loves working with such a great team.