Posted by Michelle Whitmire on 4/1/2019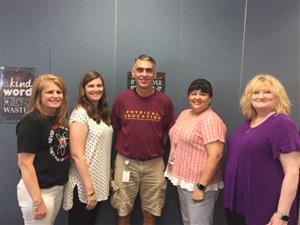 Library - Mrs. Tollefson joined the CTA Liberty team as the Media Specialist/ Librarian in 2017-2018 after teaching at another Chandler school for 12 years. Her passion for reading and helping students learn to read was the motivating factor in making the change. Mrs. Tollefson loves teaching all Eagles about the power of reading, being curious, planning super fun events like Read Across America, Books Fairs, and hosting authors.
Technology – Mrs. Whitmire has been a teacher at CTA Liberty since 2007. After teaching 4th & 5th grade for 7 years, she is excited to now be Liberty's technology teacher. Mrs. Whitmire is devoted to teaching students tech skills and how to integrate technology into their everyday learning. In the tech lab, student learn valuable problem-solving skills & cyber safety, and can be found working in various Microsoft apps (Word, PowerPoint, & Excel) and coding.
Music - Dalene Husky has been the music teacher and choir director at CTA Liberty since 2008 and has loved every minute of it! She teaches almost every Liberty student and loves being able to share her love of music with them. Ms. Husky enjoys developing the students' musical literacy skills while singing songs and playing singing games from various cultures, doing listening activities, movement activities, playing instruments, and more. One of the highlights of her Monday and Thursday afternoons is to direct the very talented Voices of Liberty. Through both choir and general music, Ms. Husky looks forward to continuing the musical journey with the wonderful students here at CTA Liberty.
P.E. - As one of the last original teachers to help open the school back in 2002, Mr. Plamondon has enjoyed teaching PE for many Liberty families - several for over a decade! In fact, there is even a current student whose sibling went to Liberty the first year it opened!
"Making learning and exercise fun… and changing their tomorrows," Mr. Plamondon uses various antics to motivate and reach each student where they are, encouraging all to do their very best in all activities. He has even been known to use "special guest teachers" as well. You might recognize some of his guest teachers on campus, like Darth Vader, "Kingpin" from Angry Birds, the "Food Ninja" (the Fruit Ninja's brother), a Kung-Fu Master, or a Pizza Kitchen chef. When you do, be sure to ask your child what they have been doing in PE that week!
Dual Language Immersion - This is Sra. Nieto's first year at CTA Liberty. She has taught throughout CUSD for the past 20 years. She is currently teaching Spanish to Kindergartners as well as other students in 1st through 4th grade.