Children who are 5 by August 31 may enroll NOW in kindergarten for 2023-24!

Not quite 5?

Children who turn 5 between September 1 and December 31, 2023 may participate in Kindergarten Readiness Testing for EARLY ENTRANCE into kindergarten! Testing available NOW! Click to LEARN MORE and REGISTER!

With input from more than 100 stakeholders, CUSD identified six attributes essential to student success beyond graduation that our students will build as they move and grow through our schools and district. Click to find out more.
Welcome to Rice Elementary!
Welcome to Robert J.C. Rice Elementary - Home of the Rhinos!

Rice Elementary provides options for families by offering both the Classic and CTA (Chandler Traditional Academy) education models. Our neighborhood school delivers strong instruction, aligned to the Arizona standards, and a wide variety of extra-curricular opportunities for our students. An overarching theme for the school is our focus on sustainability. Rice Elementary employs energy-saving features including an air-cooled central plant; an energy management system that allows HVAC and lighting to be controlled remotely via the internet; sky lighting in hallways to reduce the use of lights; and ground and polished concrete floors in hallways and bathrooms, which are easier and less expensive to maintain. Our approach to sustainability focuses on care for self, care for each other, and care for the world around us. We have an extended recycling program, and our outdoor learning space will provide students an opportunity to learn about gardening and engage in nutrition education programs. We use Positive Behavioral Interventions and Supports (PBIS) to guide student behavior. The PBIS program focuses on our core values of being respectful, inclusive, safe, and engaged.

The school is named after Robert Rice, a long-time CUSD governing board member who began his career as a U.S. Air Force officer and spent more than two decades working for Intel in senior management roles. While on the Chandler Unified Governing Board, he helped lead the district to develop its first 10-year plan of excellence and has used his leadership experience to mentor and coach various organizations.

We are proud to be Chandler Unified School District's 32nd elementary school.

-- Shirley Mathew, Principal
What's Happening Around Rice
Rice Elementary Photo Albums
Rice Elementary Brags - Honors, Awards and Special Programs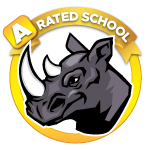 There are a LOT of great things going on in our school — honors, awards, community service projects, special programs we offer and accomplishments. Click below to spread the word, and to see the things we're doing!