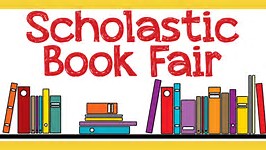 Fall Book Fair
The Fall Book Fair will be October 23-26. Be sure to stop & shop Tuesday through Friday. Book Fair hours are: Mornings - 8 AM to 12:15 PM & Afternoons - 2:30-3:15 and of course, Friday evening, during the Fall Festival! To access the online book fair catalog click here.
Ms. Hale's Book Club- Ms. Hales' book club is back! To get an invitation from Ms. Hale, you mush make the following purchase from the Fall Book Fair: K-1st Try a Little Kindness, 2nd-3rd Zoe's Rescue Zoo, 4th-6th The Chocolate Challenge.
Fairytale Dress Up Day- On Tuesday, October 23rd, we are kicking off the book fair with a fairytale dress up day. Come to school dressed as your favorite fairytale character (please no masks, weapons or face paint. Kids will be going to recess with costumes on so make sure they can move freely.)
Grandparent/Loved One Lunch- Bring your grandparents or other loved ones to lunch! After lunch come to the book fair in the Media Center with your special someone. Please check the lunch schedule below and bring cash if you will be purchasing a lunch.
Tues., Oct. 23- KG 11:10 AM, 1st grade 11:30
Wed., Oct. 24- 2nd grade 11:10, 3rd grade 11:50
Thurs., Oct 25- 4th grade 11:20, 5th grade 11:40, 6th grade 12:00
**If you have multiple students, please choose the best day for you to have lunch with your students at their respective lunch times.