Welcome to Chandler Unified!
The Chandler Unified School District is a premier district of choice. Academic achievement is a high priority in the district as evidenced by test scores which exceed state and national averages. We pride ourselves on providing outstanding educational programs at all grade levels. Parents may choose from a menu of personalized learning experiences which best meet the needs of their children.

Chandler Unified School District is an open enrollment district. Click here to learn more about Open Enrollment and your many choices in Chandler Unified.
What's Happening Around CUSD
Upcoming Events
February 9, 2022

February 10, 2022

February 21, 2022

February 23, 2022

March 9, 2022

March 11, 2022

March 14, 2022

March 15, 2022

March 16, 2022
View Calendar
CUSD Photo Albums
Photo Album - September 2021

Photo Album and Video - February 2020

Photo Album - February 2020
CUSD Brags - Honors, Awards and Special Programs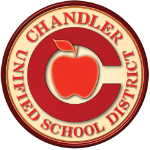 There are a LOT of great things going on in our school — honors, awards, community service projects, special programs we offer and accomplishments. Click below to spread the word, and to see the things we're doing!