The Scholastic Arctic Adventure Book Fair is coming to Ryan!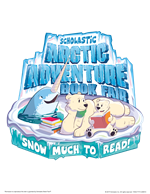 The fair opens on August 22nd and will run through August 29.
Open Hours are:
8:30-3:30 Thursday, Friday, Monday, and Tuesday.
8:30-4:30 Wednesday (Open for Conferences)
8:30-7:00 Thursday (Open for Conferences)
Volunteers Needed! Please sign up through signup genius if you are able to volunteer
New this year EWallet! Create and Load money on to your child's account from home. No worrying about sending cash to school.
Use the book fair link below to sign up for EWallet.
Ryan Elementary Arctic Adventure Book Fair