Welcome to Jacobson Elementary!
Jacobson Elementary is an excelling school with an "A" label from the Department of Education. Our school supports families with a rich history for high expectations, incredible family involvement, and a safe, nurturing environment. We are proud of our reputation as one of the leading schools in CUSD! Jacobson offers a wide range of student opportunities such as Science Camp, Space Explorers Club, the JGP - Jacobson Gifted Program, Safety Patrol, Running Club, Art Masterpiece for all grade levels, Spring Carnival, Renaissance Fair, and Courage Retreat. Our veteran staff is committed to providing rigorous curriculum experiences with individualized approaches to meet the needs of all students. Most importantly, Jacobson teachers and staff believe in collective efficacy. We understand the importance and need to work together, think together, make school-wide decisions together... to support our students collectively, as a school family. This shared belief system provides only the best for our students.

-- Liz Wolf, Principal
What's Happening Around Jacobson
Upcoming Events
June 14, 2023

June 28, 2023

July 12, 2023

July 13, 2023

July 14, 2023

July 17, 2023

July 18, 2023

July 19, 2023
View Calendar
Jacobson Elementary Brags - Honors, Awards and Special Programs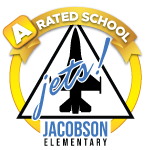 There are a LOT of great things going on in our school — honors, awards, community service projects, special programs we offer and accomplishments. Click below to spread the word, and to see the things we're doing!