Welcome to Basha Elementary!
Basha Elementary School teachers and support staff work diligently to provide an inclusive culture by incorporating unique learning experiences for students and families. Students are exposed to differentiated academics and a comprehensive focus upon social-emotional standards which will assist in preparing students to be contributing community members.

Celebrating student success is valued amongst the Basha staff, and a great sense of pride is exhibited as students are recognized for being a Positive Achieving Compassionate Kid. We look forward to welcoming families to be a part of our Basha Bobcat community!

-- Steph Reeves, Principal
What's Happening Around Basha Elementary
Upcoming Events
January 27, 2021

February 8, 2021

February 10, 2021

February 11, 2021

February 15, 2021

February 24, 2021

March 8, 2021

March 10, 2021
View Calendar
Photo Album - November 2020

Photo Album - September 2020

Photo Album - August 2020
Basha Elementary Brags - Honors, Awards and Special Programs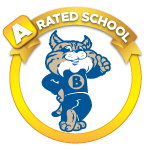 There are a LOT of great things going on in our school — honors, awards, community service projects, special programs we offer and accomplishments. Click below to spread the word, and to see the things we're doing!