Welcome to the Jacobson PTO Webpage!
We are looking forward to a great year!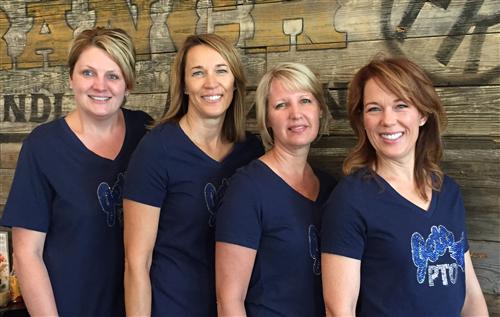 Melony Lieurance, Jenny Sanderson, Katie Ingram, Leah Lang, Jenn Pickles (not pictured)
Jenny Sanderson - President
I have 11 year old twins, Brooke and Gavin, that are starting 6th grade this year. Unfortunately, this will be our last year at Jacobson (insert sad face). I've lived in Chandler for the past five years, having moved here from the midwest. I have my own speciality painting business that keeps me busy when I'm not volunteering at school. I'm looking forward to a great year!
Melony Lieurance - Vice President
This is my 8th year at Jacobson. Our family loves the school. My son, Brody, is in 4th grade and my son, Cooper, is in 7th grade at Bogle. This is my second time serving on the PTO. I run the Art Masterpiece program at Jacobson as well.
Jennifer Pickles - Co-Treasurer
This is my seventh year at Jacobson and my first year on the PTO Executive Board. My husband, Jeremy, and I have three children: identical twin sons, Evan & Ian, are in 6
th
grade and daughter, Audrey, is in 5
th
grade. I have been a classroom volunteer, a member of the Site Council, PTO's former Volunteer Coordinator, and have coordinated Jacobson's 2015 & 2016 Jog-a-Thon Fundraisers. My professional background is in accounting and finance and I currently work full-time for Thomson Reuters. Jacobson is a wonderful school with dedicated teachers, staff, and families. I hope to ensure the school's good works continue in my capacity as Co-Treasurer.
Katie Ingram - Co-Treasurer
My name is Katie Ingram. I have four children. Collin is a freshman at ASU, my twins, Lindsey and McKenna, are 6th graders in Mrs. Gutierrez's and Mrs. Coking's classes, and Tessa is a 4
th
grader in Mrs. Stine's class. Before becoming a stay-at-home mom, I taught at the elementary school level for 13 years. During the past year, I have returned to the classroom as a substitute teacher for Jacobson. I enjoy being active in our school and supporting our school staff to provide the best possible environment for educating our kids. This is going to be a great year at Jacobson!
Leah Lang - Secretary
I am so excited to be a part of the Jacobson PTO Executive Board this year. My oldest son, Brayden, is a 6th grader in Mrs. Gutierrez's class and my youngest son, Evan, is a 1st grader in Mrs. Tunstall's class. I am happy to currently be a stay at home mom but worked in education for 20 years prior to that. I was a Family and Consumer Sciences teacher and then became a Guidance Counselor, both at Marcos de Niza High School in Tempe. My husband, Scott, was also an educator and continues to be an advocate for education. I am looking forward to a fun filled year working with Jets parents, staff, and students.
Would you like to receive text messages to remind you about upcoming Jets events? It's Easy! Sign up for the Remind App on your smart phone!