Join us for our Kindergarten Open House events, coming soon! Click for dates/times and details.

Join us for CUSD Virtual Open Houses to be held on Oct. 25, Dec. 14 and Feb. 7. Find the best fit for YOUR child! Click for details.

Children who are 5 by August 31 may enroll NOW in kindergarten for 2023-24!

Not quite 5?

Children who turn 5 between September 1 and December 31, 2023 may participate in Kindergarten Readiness Testing for EARLY ENTRANCE into kindergarten! Testing available NOW! Click to LEARN MORE and REGISTER!

With input from more than 100 stakeholders, CUSD identified six attributes essential to student success beyond graduation that our students will build as they move and grow through our schools and district. Click to find out more.

Arizona law enables taxpayers a tax credit contribution of up to $200 or $400 per calendar year (depending on filing status) for contributions that fund extracurricular activities in public schools. A tax credit is a full refund, not a deduction! Click here for details.

Rudy G. Bologna Site Council meets quarterly at 3:30 pm in our school's Media Center. Click for meeting dates for the 2023-2024 school year. For more information, please contact our office at (480) 883-4000.
Welcome to Bologna Elementary!
Rudy G. Bologna Elementary School is one of a few schools named for a Chandler Unified School District teacher. Since 1988, Bologna has been an exceptional place that takes pride in providing a well-rounded education to its students.



With a dedicated staff committed to meeting students' unique needs, our school provides a solid academic foundation, fosters character development, promotes diversity, and encourages physical well-being. Our dedicated staff is committed to ensuring each student receives a personalized and engaging educational experience. We are honored to have the opportunity to serve our students and families, and we thank you for choosing the Rudy G. Bologna School.

-- Patty Chinchilla, Principal
Featured Videos
The Choice is Bologna Elementary
Bologna Elementary Namesake Video
Chandler Unified - The Premier District of Choice
Chandler Unified - Watch Your Dreams Grow!
What's Happening Around Bologna Elementary
Upcoming Events
December 13, 2023

December 20, 2023

December 21, 2023

December 22, 2023

December 25, 2023

December 26, 2023

December 27, 2023

December 28, 2023

December 29, 2023

January 1, 2024
View Calendar
Bologna Elementary Brags - Honors, Awards and Special Programs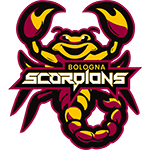 There are a LOT of great things going on in our school — honors, awards, community service projects, special programs we offer and accomplishments. Click below to spread the word, and to see the things we're doing!