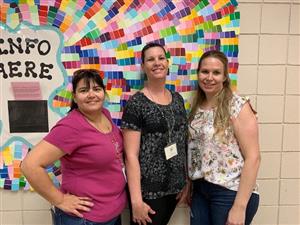 Art Masterpiece is a national art enrichment program that uses reproductions of fine works of art to promote art literacy in elementary school age children. It is entirely dependent upon volunteer "Art Guides" at each elementary school to present a lesson planned for a particular grade level.

Lessons are taught by Volunteer Art Guides on a monthly basis, usually six per school year. They last from 30 minutes to one hour and include a "hands-on" art activity. The purpose is not to teach specific art/craft techniques, but rather to increase the child's awareness of art. Elements of art and principles of design are introduced in fun ways that the children can easily grasp. The volunteer Art Guides

DO NOT

have to have a background in art, thus we encourage every able person who would like to participate to sign up!

Thank you for your service,

Art Masterpiece Coordinator

Please e-mail artmasterpiece.patterson@gmail.com if you have questions or would like more information on volunteer opportunities or call the front desk at Patterson Elementary at 480-224-3600.
Last Modified on November 1, 2017