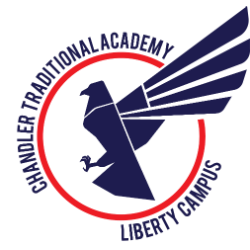 Enroll in Chandler Traditional Academy - Liberty Campus
---
Welcome to Chandler Traditional Academy - Liberty Campus in the Chandler Unified School District, the premier district of choice! If your family is new to our community, we look forward to enrolling your child/children into our school. Our office staff is available to assist you with registering your child. School office hours are 7:30 a.m. - 4:30, Monday-Friday, with the exception of holidays.
We are an Open Enrollment district.  If you live outside the school or district boundaries, click here for information about Open Enrollment.
NOTE: To complete your registration packet, you will need emergency contact information as well as your child's primary physician information. Scroll down for more details.
Registration packets are available in the school front office for you to complete.
Student Registration and Enrollment Information
Welcome to Chandler Unified School District. If your family is new to our community, we look forward to enrolling your child/children in one of our excelling schools. Our office staff at each school is available to assist you with registering your child. You must be an Arizona Resident to complete registration and enrollment.



School Office Hours

Elementary School: 7:30 a.m.-4:30 p.m.

Junior High School: 7:00 a.m.-4:00 p.m.

High School: 7:00 a.m.-4:00 p.m.



What should you bring to register?



Proof of Residency

One or more of the following documents (a second document may be requested at any time), which must bear the parent or legal guardian's full name and residential address or physical description of the property where the parent or legal guardian resides with the student (no P.O. Boxes) must be submitted:

Valid Arizona driver's license, Arizona Identification Card or Arizona Motor Vechicle Registration

Valid Arizona Address Confidentiality Program Authorization Card

Real estate deed or mortgage documents

Property tax bill

Residential lease or rental agreement, including Section 8 agreement or off-base military hosuing (must be on letterhead of rental company)

Current Utility Bill (Gas, Electric, Water, Cable, Phone) with name and address. Disconnect notices will not be accepted.

Bank or Credit Card Statement

W-2 Wage Statement

Payroll Stub

Certificate of tribal enrollment (506 Form) or other identification issued by a recognized Indian tribe in Arizona

Documentation from a state, tribal, or federal government agency (Social Security Administration, Veterans' Administration, Arizona Department of Economic Security)

Temporary on-base billeting facility (for military families)

Residency Affidavit (see Affidavit of Shared Residence below)

Affidavit of Shared Residence Form:
If the student is not living in the parent's home, please right-click and save the fillable form below:

Immunization Records

To comply with Arizona State Law immunizations are required for school attendance. Please visit the Health Services Department for more information.



Birth Certificate

All students must have a state certified Birth Certificate on file. The original Birth Certificate must be brought in at the time of registration. If the original Birth Certificate is not submitted upon the day of registration, the original must be submitted within 30 days.



Legal Guardianship or Custody Papers

One of the following must be submitted:

Current, Valid Court Order

Arizona Court Appointed Guardianship Papers

Documentation from Superior Court of Arizona showing the pending court date for Guardianship hearing. Final papers must be provided within a week of the hearing date.



Academic Records

If available, please also provide:

Withdraw form

Report Card from prior school

State test scores - High School ONLY

Transcripts from prior school - High School ONLY



Special Education

Current copy of the IEP and current psychological report.



Please present the above items to the school office to register your child.

Registration packets will be available in the school front office for you to complete. You will also need emergency contact information as well as your child's primary physician information.

---

Click to Report a Website Problem