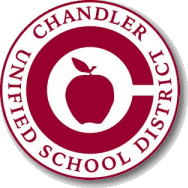 The Chandler Unified School District is a premier district of choice. Academic achievement is a high priority in the district as evidenced by test scores which exceed state and national averages. We pride ourselves on providing outstanding educational programs at all grade levels. Parents may choose from a menu of personalized learning experiences which best meet the needs of their children:
Self-contained gifted programs (Chandler Academically Talented Students)

Honors classes and Advanced Placement courses

International Baccalaureate Program
Chandler Unified School District is an open enrollment district. Click here to learn more about Open Enrollment.
Personalized Education

Our Schools:

Prepare students for life and career

Have diverse paths for learning

Create global understanding

Student Centered Learning

Think critically and creatively
| | |
| --- | --- |
| | I am so confident that we can find the right school environment for your child, that I invite you to contact my office so that my staff and I can assist with placement for next year. |
Visits since June 17, 2011: