December 8: Willis Spelling Bee in the Media Center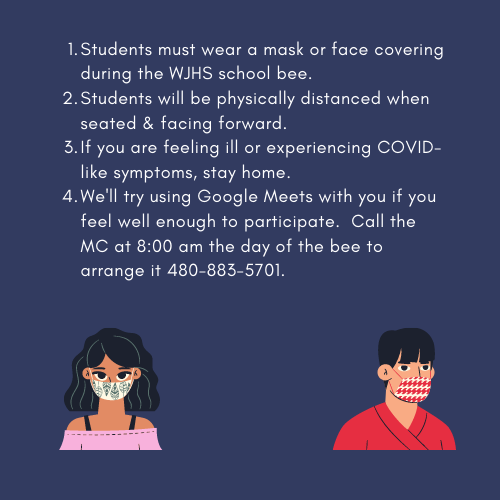 BOOK LISTS TO HELP STUDENT IMPROVE THEIR SPELLING

The books on the list are recommended for recreational reading. They provide words at the proper grade level in the contexts of their stories or information so students start to recoginize them in their "natural habitat."
PRACTICE SPELLING LISTS FOR THE 2020-2021 WJHS SPELLING BEE

These lists are at 3 levels. Suggestion: Make sure your are already familiar with Level 1. Focus on Level 2 and Level 3. These lists are for sharing from the Scripps National Spelling Bee site. You can also, of course, look at past lists that might be online.
If you have quesitons about the WJHS Spelling Bee for the 2020-2021 school year, feel free to call the Media Center at the following numbers:

480-883-5701 or 480-883-5721

Leave a message, if necessary, as at high volume times we may be unavailable to take your call. Thank you.