Our BRAGS!
Honors, Awards and Special Programs
---
---
Chandler Early College

(2021-2022)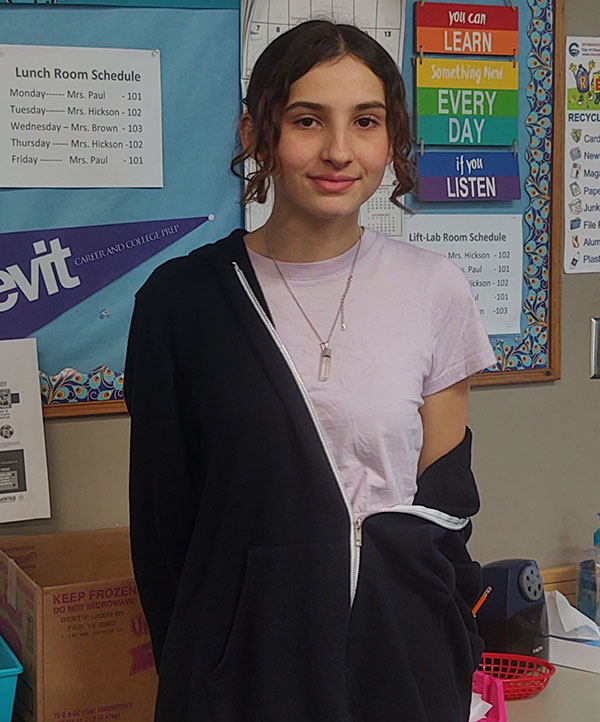 Isela Gonzales was awarded the Quarter 1 Caring Award. "Isela Gonzales shines in her dedication to her academics! Isela shows great inspiration to her peers at CEC with her commitment to her classes, and I know she will continue to do great things here at CEC and beyond!" -- Ms. Ramirez

She also won the Quarter 2 Social Studies Award! "Isela was awarded with the Quarter 2 Social Studies award due to her hard work and effort. She may miss a day or two, but that doesn't mean the work isn't being done. She is a role model for others that just because you miss a class doesn't mean you have to get behind. She is kind, positive and a joy to have in class." -- Mrs. Hickson



Tarwater Elementary

(2021-2022)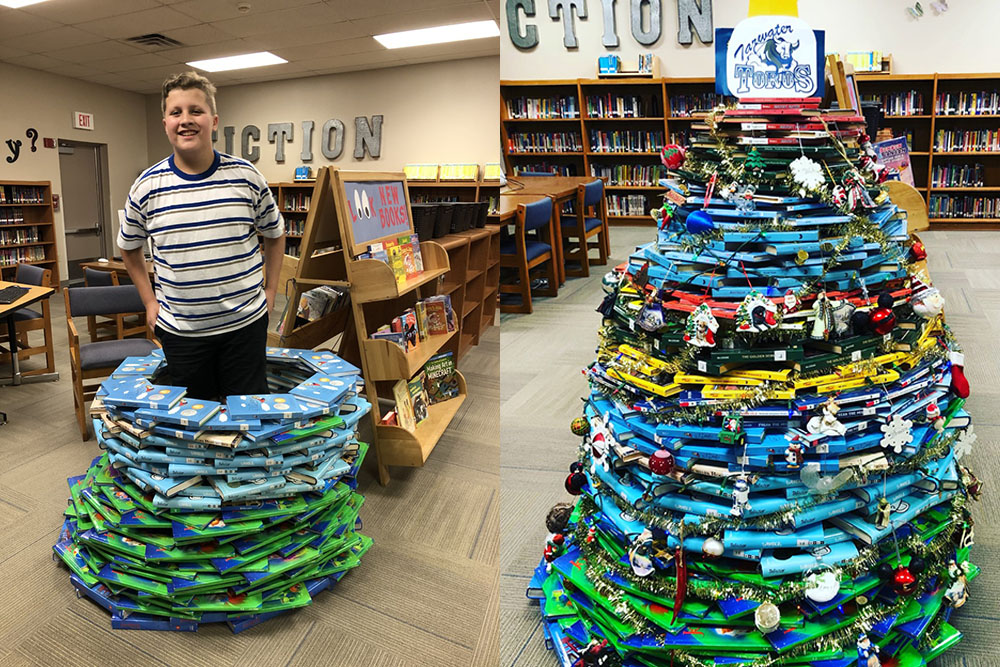 Amy Shoot, Media Specialist at Tarwater Elementary, created a Book Tree with her students. 5th/6th grade Junior Librarians helped build a strong base for the structure of the tree. This fun and physical STEM project involved problem-solving, creativity, resilience, and teamwork. The construction of the project was spearheaded by 6th grade student Preston Hughes in Rebecca McLendon's class. Not only did the students decorate the book tree, but they hooked up a wireless speaker down the middle of the tree to play Holiday Music for all to enjoy.



Willis Junior High

(2021-2022)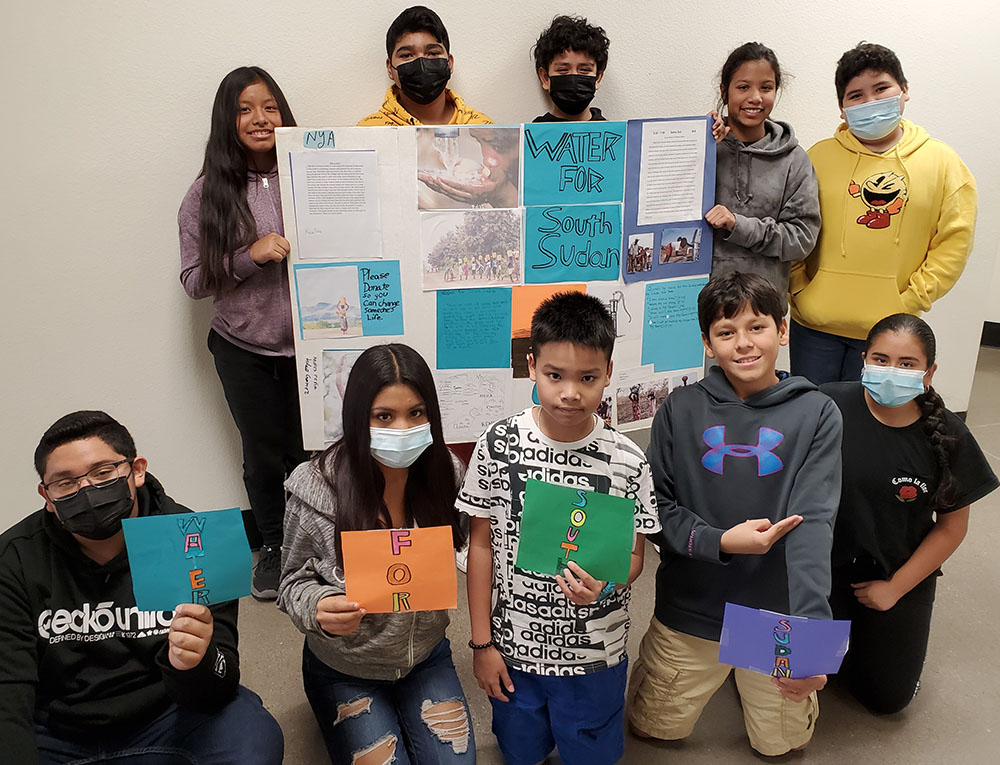 Students in the English Language Development (ELD) Program at Willis Junior High School recently read the book, A Long Walk to Water, by Linda Sue Park. The story tells about the Lost Boys of Sudan and the dire water situation that still exists there. It didn't take long for students to act and hold a fundraiser for the foundation Water for South Sudan. The foundation was created by the main character of the story, Salva Dut, one of the Lost Boys who relocated to the USA. The WJHS students raised over three-hundred dollars that will go for water pumps at the Water for South Sudan organization. If anyone is interested in learning more about the group, their details are at:
Water for South Sudan



Chandler High

(2021-2022)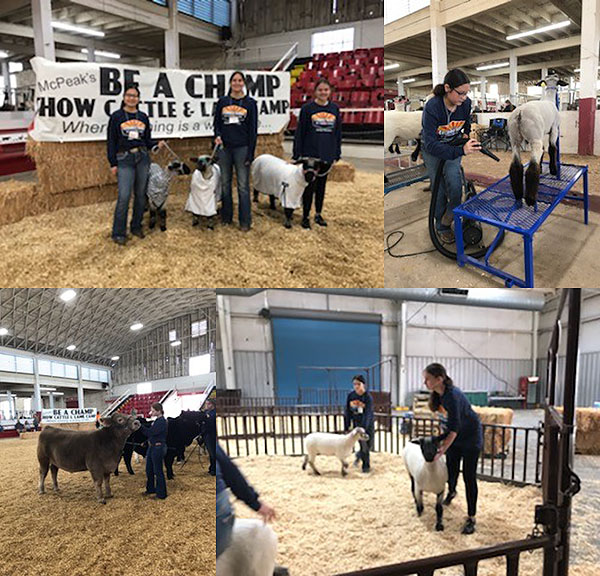 Chandler High FFA (Future Farmers of America) students attended the famous "Be A Champ Camp," which is a livestock camp to learn how to prep your livestock for showmanship and market shows. Jayda Schmerfeld, Raynele Harrington, and Adriana Erwin attended with their lambs. Jayda won the award for the Outstanding Camper, Most Improved. Adriana Erwin won a scholarship for the Be A Champ Camp in Oklahoma this summer. Annabelle Williams attended the Cattle section and learned how to clip her cattles hair for shows.
PHOTO ALBUM: Be a Champ Camp



Chandler Unified School District

(2021-2022)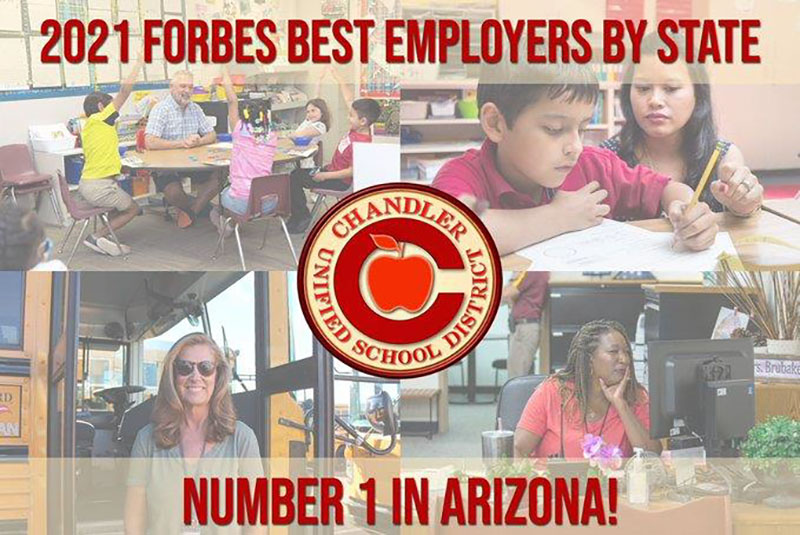 Forbes magazine named Chandler Unified School District the top employer in the state of Arizona, ahead of Apple, Costco, American Express and Southwest Airlines. Wow! This is thanks to our employees. We employ the best of the best. Thank you!
Forbes Magazine: 2021 Best Employers by State



Frye Elementary

(2021-2022)

Frye Elementary students and families had a blast during the Turkey Trot and Family BBQ.



Fulton Elementary

(2021-2022)
Mikayla Posniack shared how she celebrates Hanukkah and presented her traditions to her 2nd grade class. We love to see and celebrate our differences and reflect on our similarities! Well done! As our Jewish families light the second candle on their menorah, we want to wish your and your families, Happy Hanukkah.



Hamilton High

(2021-2022)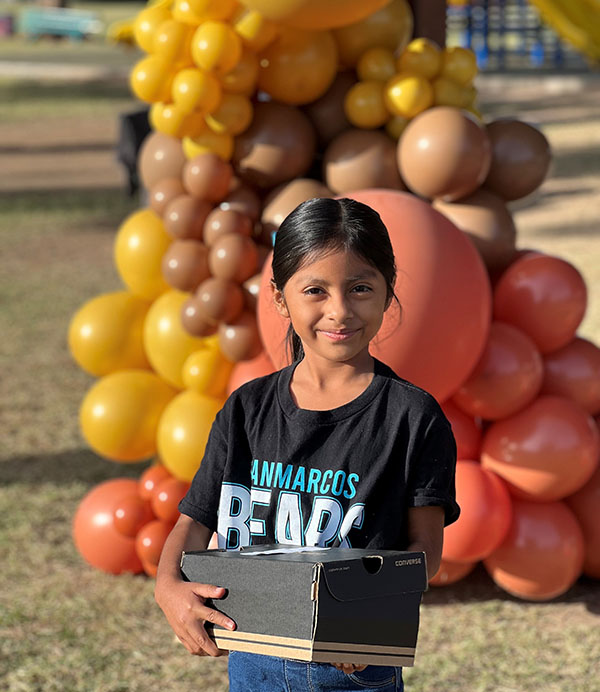 Hamilton High School senior Sam Bregman raised more than $14,000 to purchase 400 pairs shoes and 2,000 pairs socks for students in need at San Marcos Elementary. This is the second school that Sam has brought shoes to. He is looking to start up an annual 5K run to raise money to put on an event like this every year. Thank you, Sam!
PHOTO ALBUM: Shoe and Sock Drive



Hamilton High

(2021-2022)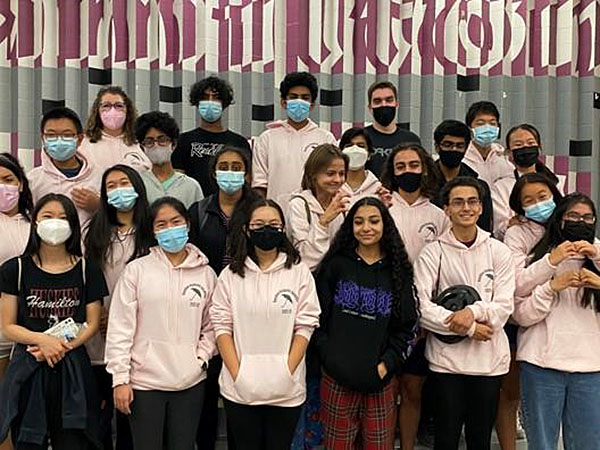 Hamilton High School won the Academic Decathlon Invitational tournament recently. They hosted eight east valley schools at the tournament.



Perry High

(2021-2022)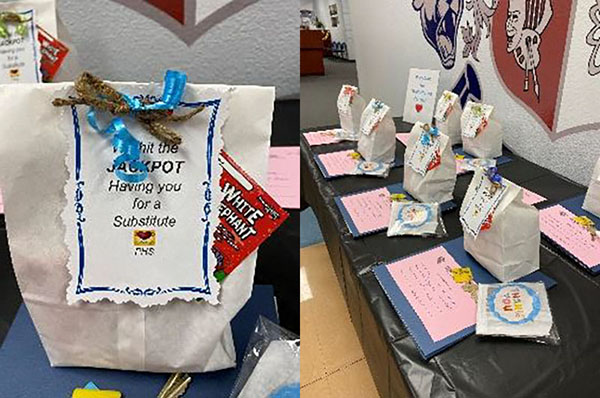 Perry High School celebrated their subs on "Subtitute Appreciation Day" with goodie bags, hot chocolate, coffee, and cookies.



Perry High

(2021-2022)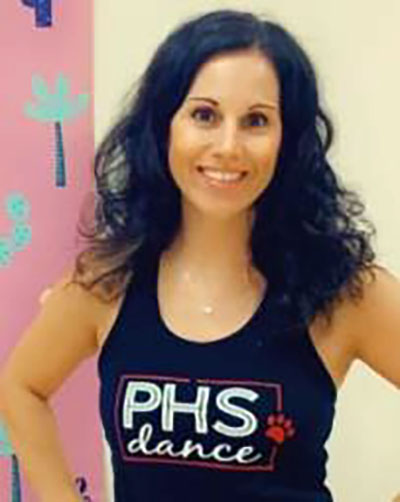 Perry High School had a special visit from the Arizona Department of Education (ADE) Art Education Department during a recent dance performance (under the direction of teacher Fara Sadler). They received a certificate and letter of appreciation from the ADE.



Santan Elementary

(2021-2022)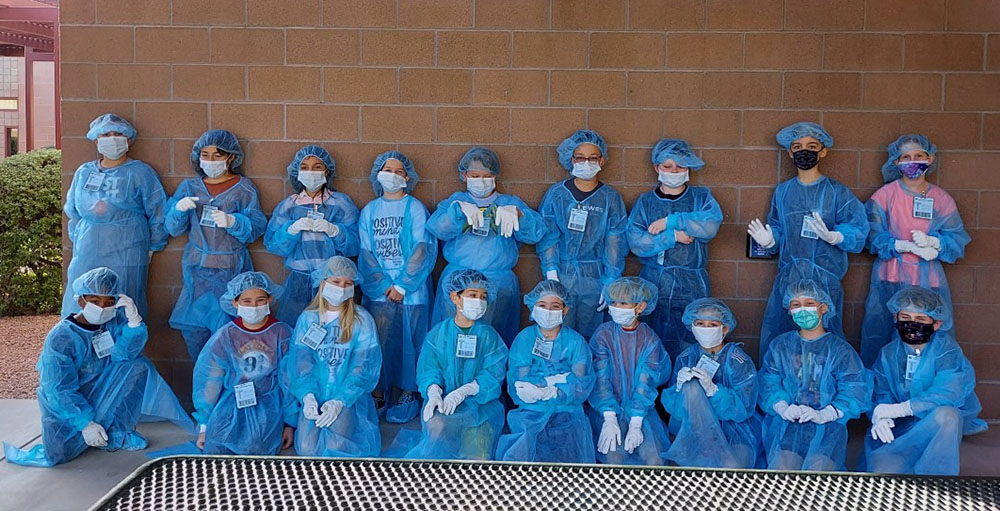 Santan Elementary fourth grade students in Jessica Norman's class, performed "Text Feature Surgery" on patients who were struggling to understand non-fiction information. Each student received a patient chart with a complaint and the doctors had to prescribe the text feature that would cure the patient. The students had a wonderful time in their costumes and enjoyed a fun, engaging way to solidify their understanding of the various text features and how they help develop comprehension of material.



Weinberg Gifted Academy

(2021-2022)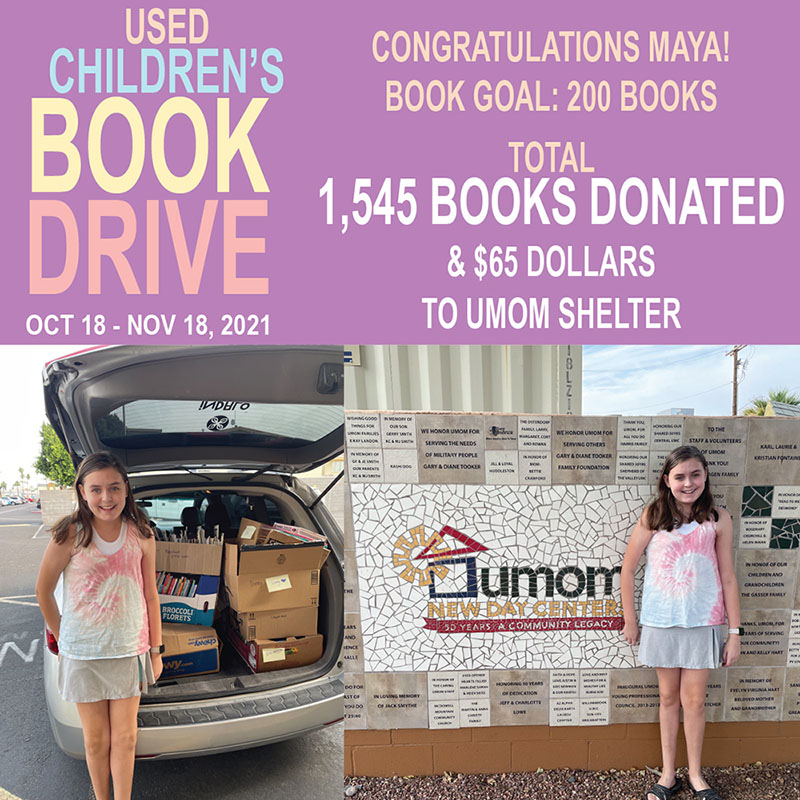 The day before Thanksgiving, Weinberg Gifted Academy student Maya Joffe smashed her goal for her children's book drive charity and was able to donate 1,545 books and $65 cash to UMOM New Day Centers located in Phoenix. Wow!



Knox Gifted Academy

(2021-2022)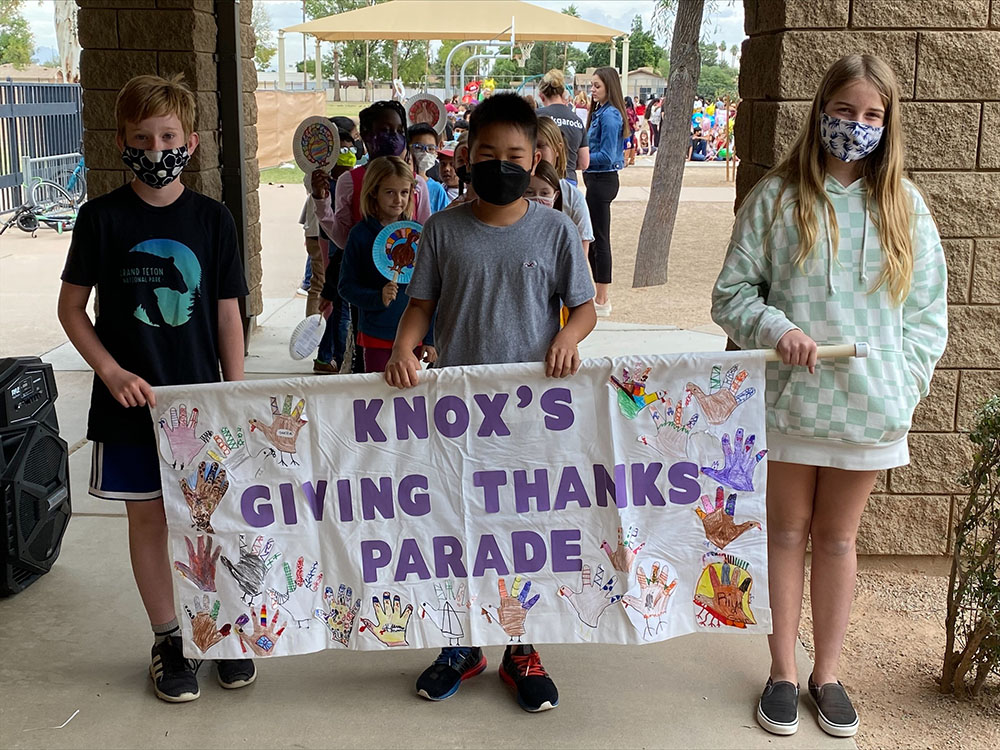 On Tuesday, November 23, Knox Gifted held their 10th Giving Thanks Parade. Third grade led the parade with singing, the Kinder CATS made balloons, second grade made thank you floats for the KGA staff, and fifth grade closed the parade with a recorder marching band.
PHOTO ALBUM: Giving Thanks Parade



Arizona College Prep High School

(2021-2022)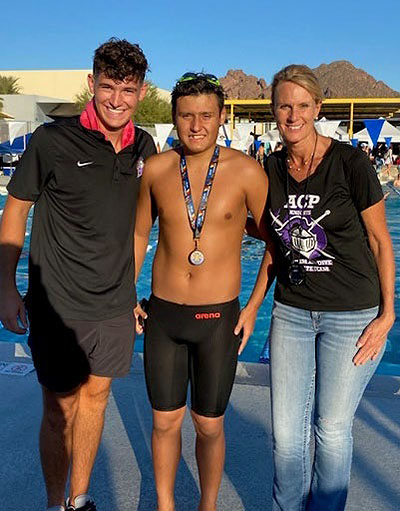 Arizona College Prep High School student Tiago Wakefield broke the 100 back school record and earned third place at the DIII State Championship swim meet. He also broke three additional school records and made the top eight in all of his events.



Basha High

(2021-2022)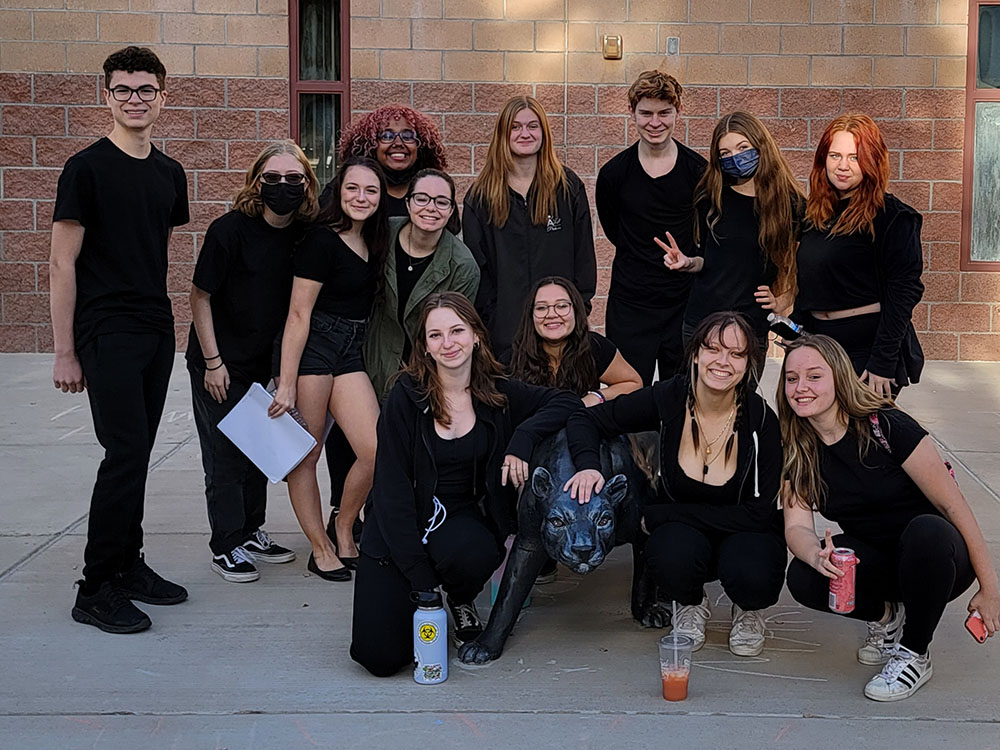 Basha Theatre Company world premiered the new Don Zolidis one act play "Zoodate" at their traveling performances to Payne and Santan Junior High schools last week.



Basha High

(2021-2022)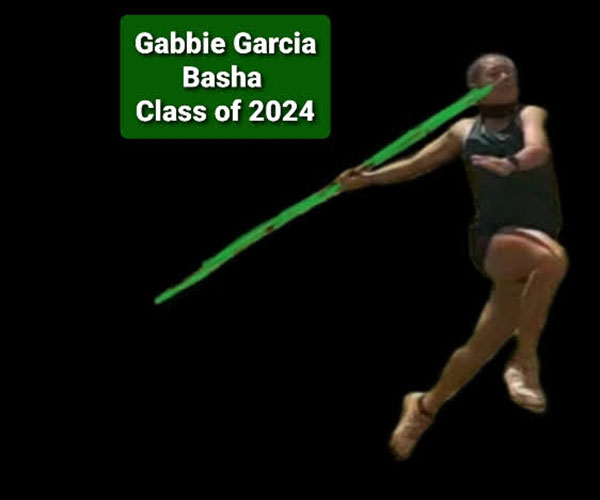 Basha High's Gabbie Garcia sucessfully completed another "USA Javelin Project" clinic in Birminham Alabama, featuring Tom Pukstys, the US Olympic Javelin Coach and a select number of the best throwers in America. Gabbie was invited to Finland (the mecca of javelin throwing) this summer for a competition. Congratulations, Gabbie!



Casteel High

(2021-2022)

Casteel High School's Black Student Union makes the news in the Chandler Arizonan (check out page 14).
Chandler Arizonan article: Black Student Union fills big need at Casteel



Chandler High

(2021-2022)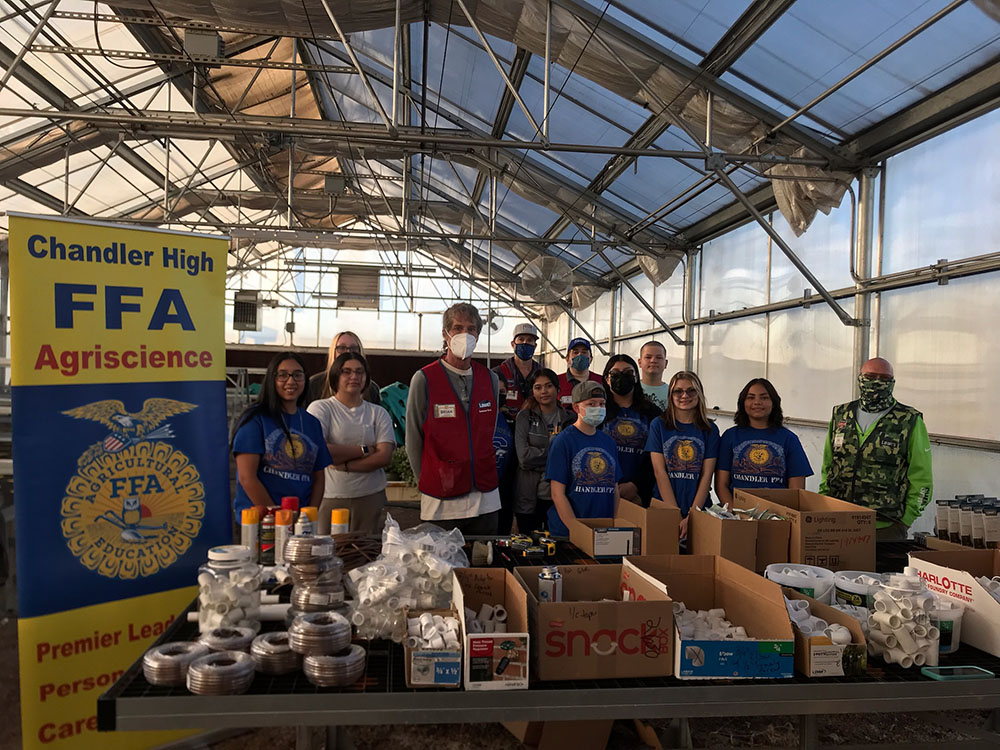 Lowe's Hardware store donated $3,000 worth of supplies for our Chandler High School agricultural greenhouse and our wood shop. Five Lowe's employees, partnered with FFA students, met on a Saturday to complete the greenhouse irrigation system in our two greenhouses. Lowe's employees were impressed with our students' knowledge and work ethic. Thank you, Lowe's, for your generous donation.
PHOTO ALBUM: Donations from Lowe's for our greenhouse and wood shop



Chandler Unified School District

(2021-2022)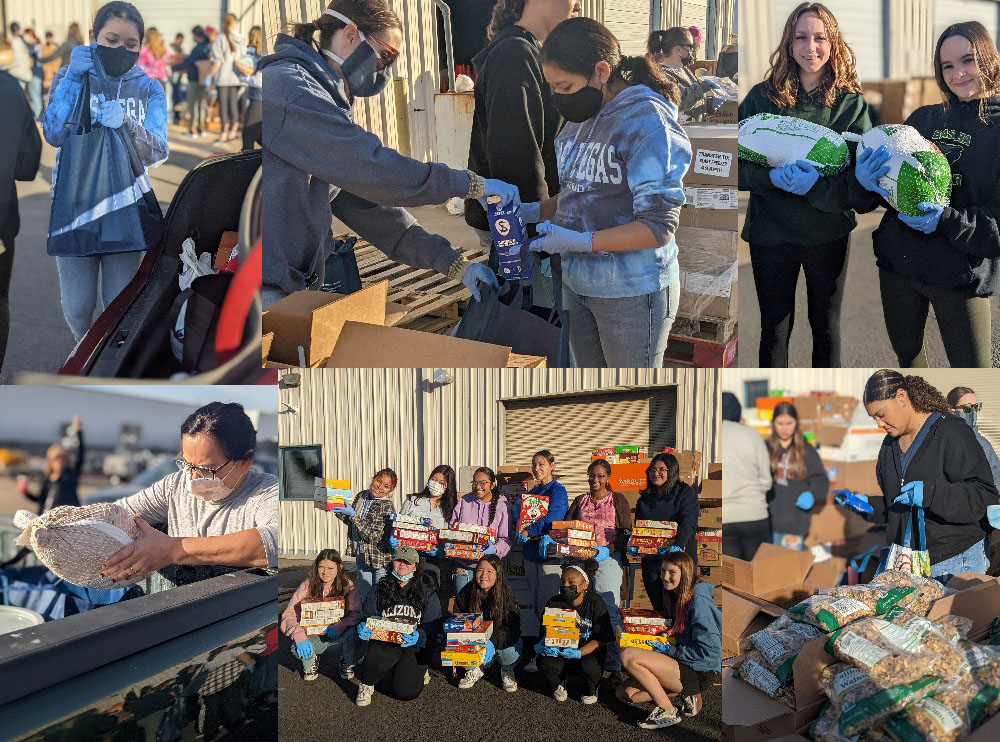 Due to the many donations from CUSD schools and the community, the Chandler CARE Center was able to provide 325 families with turkeys and food bags at the Thanksgiving Family Assistance Day. Volunteers from Basha High, Chandler High and Willis Junior High were on hand to help the distribution go smoothly.



Fulton Elementary

(2021-2022)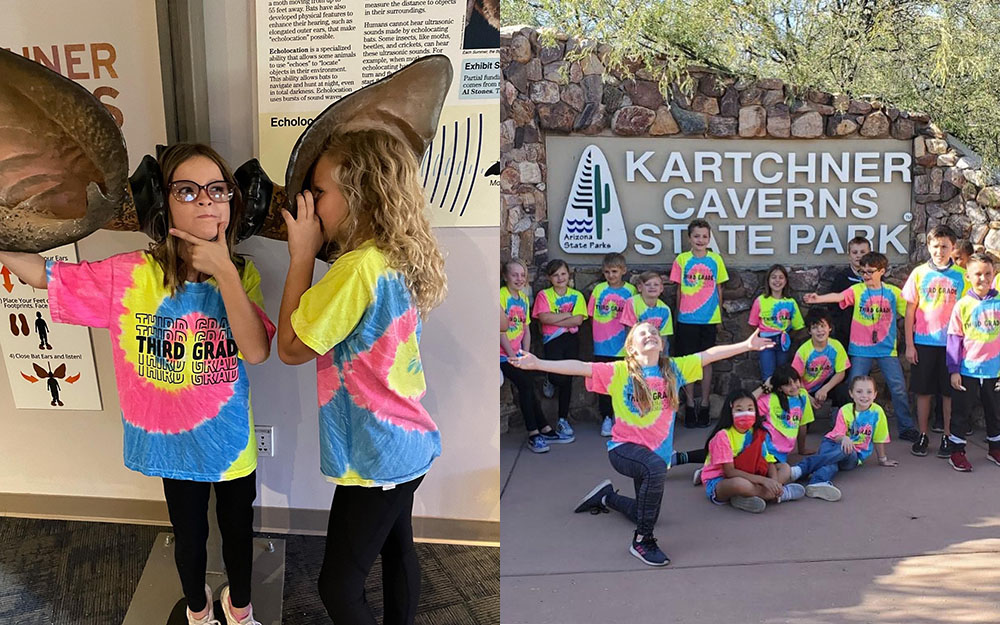 Kartchner Caverns State Park was the destination for Fulton third graders on two days in November. Tie dye could be seen everywhere! Discovering rocks types, formations, and one of our state's natural wonders was a full day of fun and adventure.
PHOTO ALBUM: Kartchner Caverns Field Trip



Hamilton High

(2021-2022)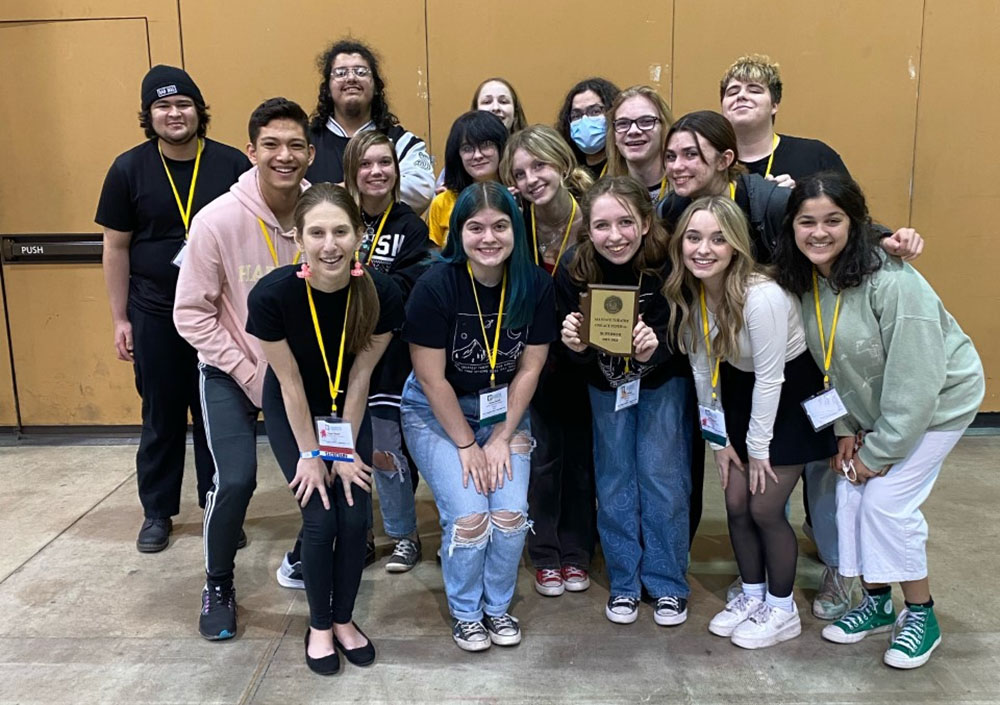 Hamilton Theatre took 1st place in the Arizona State One Act Play Competition this past weekend (Nov 20-21), which means the troupe will also represent Arizona in the International Festival this summer. Hamilton Theatre also received the Silver Honor Troupe Award, 3rd Place in Rigging (quite a win for our new Tech teacher, Jack Pieza, considering we don't have a rigging system on campus), and all three of our senior auditioners received multiple offers and scholarships from a variety of schools from across the country.



Hamilton High

(2021-2022)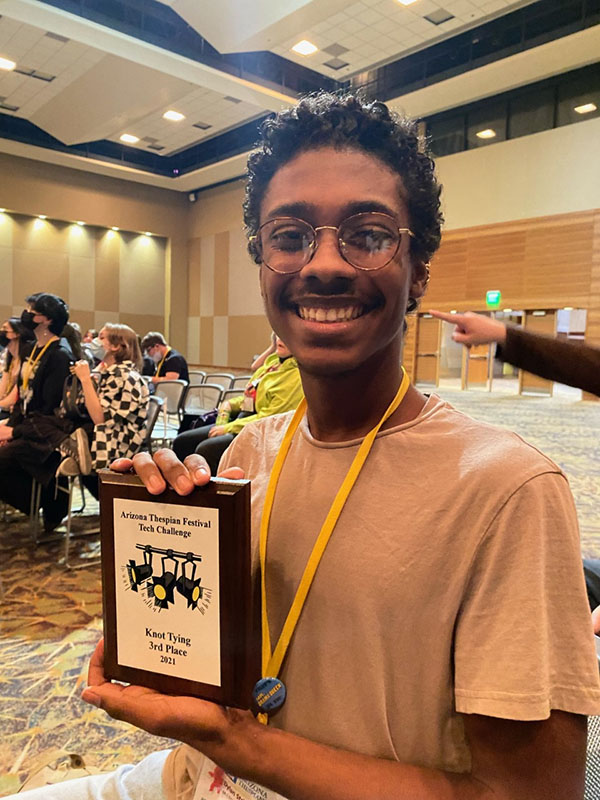 Congratulations to Dylan Strickland who earned 3rd Place in the State for Knot Tying at the State Technical Theatre Challenge!



Perry High

(2021-2022)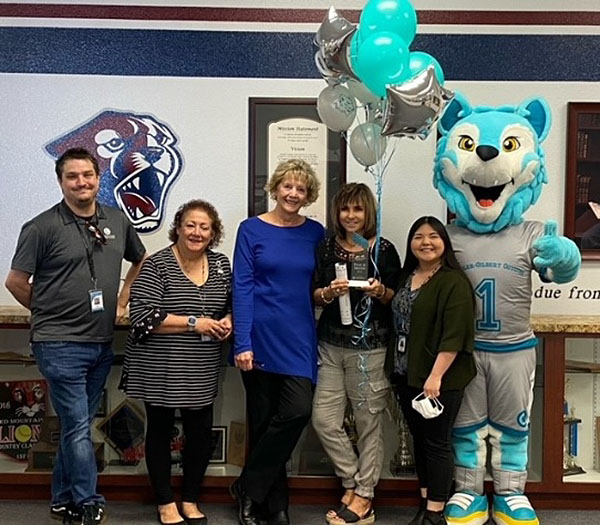 Perry High English teacher Cindy Pino was awarded the Chandler-Gilbert Community College Teal and Silver Award for her role as Perry's Dual Enrollment Coordinator. The Chandler-Gilbert Community College Teal & Silver Awards Program was created to recognize the contributions of individuals who support Chandler-Gilbert Community College. This year's recipients positively impact the college by assisting with the program or service improvements, supporting creative and innovative ideas, improving the quality of the college experience, support the delivery of instruction, providing resources or assisting with cost-saving measures and advocating for the college in media, with elected officials and the in the community.



Santan Elementary

(2021-2022)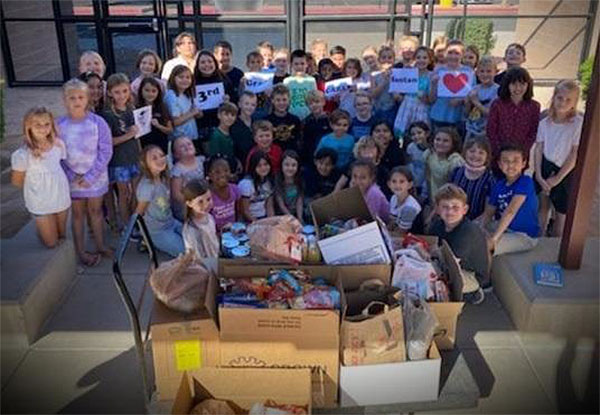 Santan Elementary third grade students worked very hard doing chores at home and for family members to earn money to purchase their own donations for the Chandler CARE Center. Their parents took them to the store to select their choices, and the results of their combined effort was amazing!



Jacobson Elementary

(2021-2022)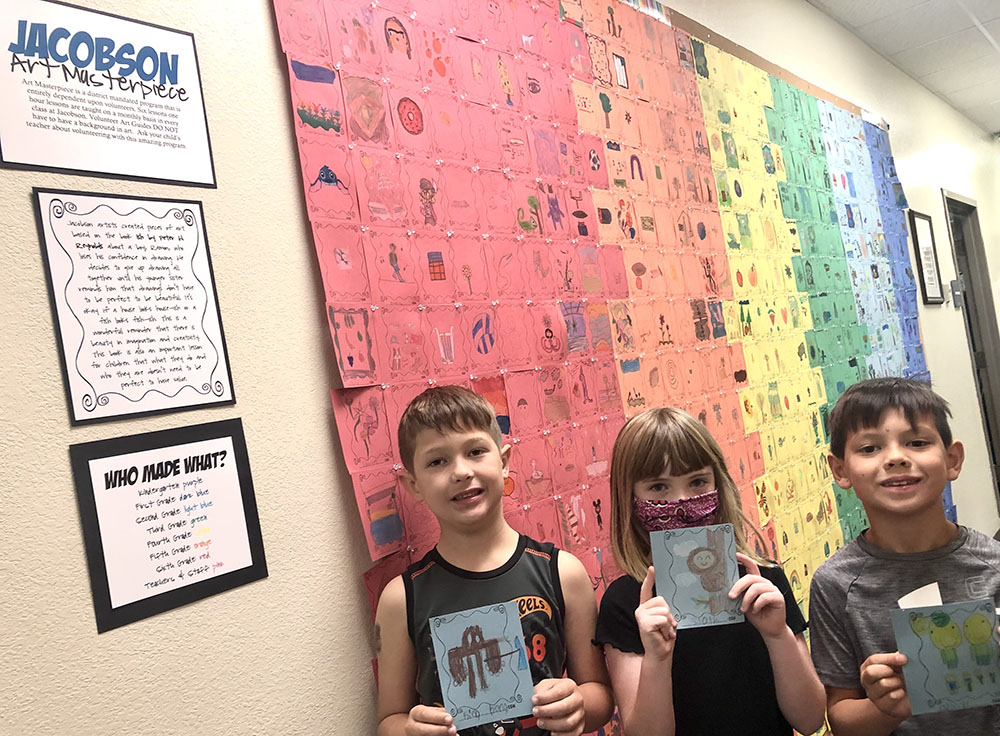 Jacobson Jets are blooming artists! Every child in school created a piece of art based on the book Ish, by Peter H Reynolds. The story is about a boy named Roman who loses confidence in his drawing. Together with the help of his younger sister, Roman learns that drawings do not have to be perfect to be beautiful. Come check out our schoolwide mural. Together as a community school, we celebrate all of us and all of our art!



Jacobson Elementary

(2021-2022)

Jacobson JETS celebrate Hopes and Dreams in November! Together in each class, staff and students participated by answering the following questions: "What is your hope?", "What is your hope for your colleagues?", and "What is your hope for your students?" Staff wrote their hopes for their students on a whiteboard in the cafeteria for students to see and on a poster board in the staff lounge for their colleagues to see. Students completed a classroom discussion and activity about hope and each student wrote down what their hopes and dreams were on the rainbow display in the front office! (If you happen to stop by the front office, come check out the rainbow display!)



Rice Elementary

(2021-2022)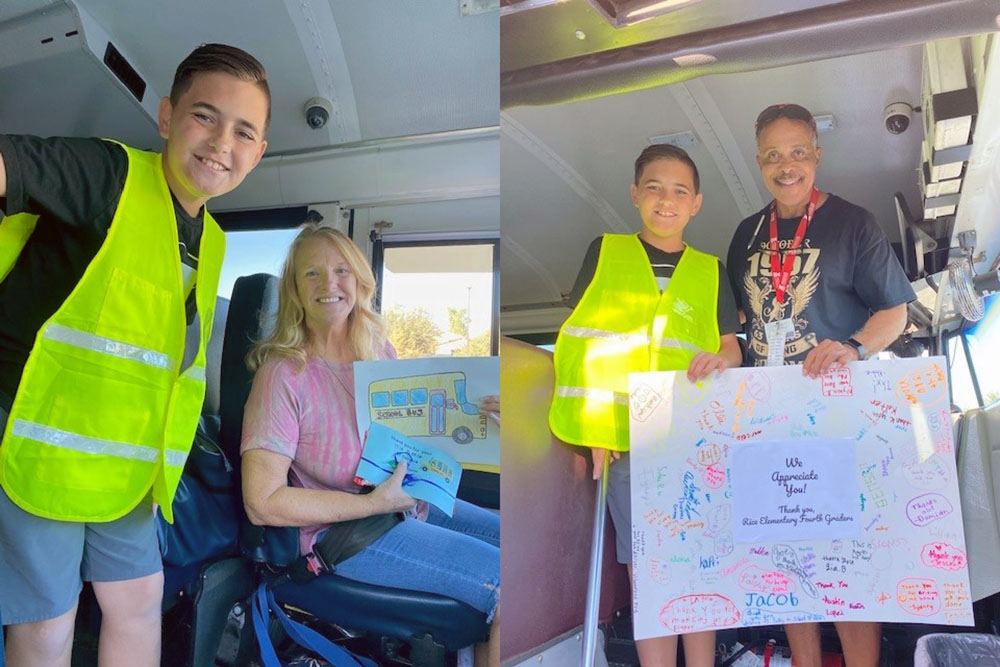 Thank you to our bus drivers for the miles and miles of service. We recognized them with cards and treats.



Rice Elementary

(2021-2022)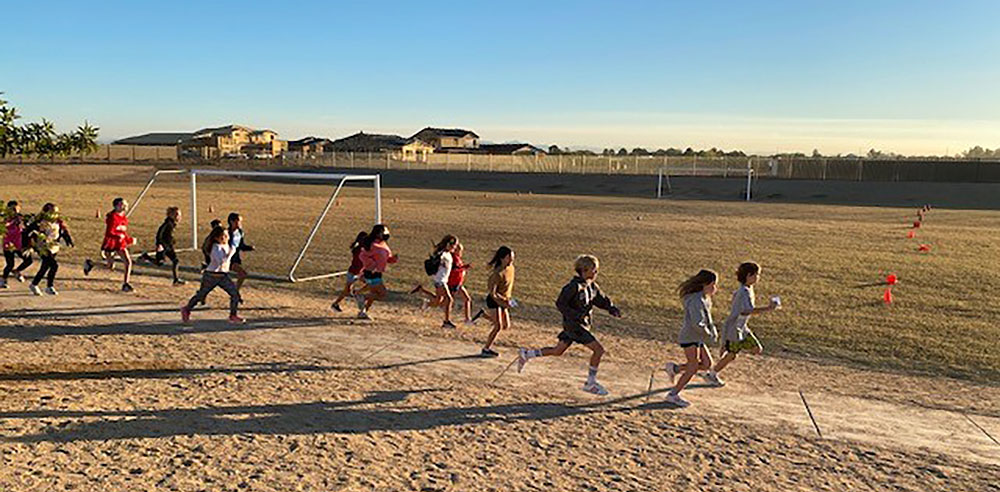 Students start the day bright and early with a morning run. Running club is a lot of fun for our students, and we appreciate the help of our parent volunteers.
PHOTO ALBUM: Morning Run



Rice Elementary

(2021-2022)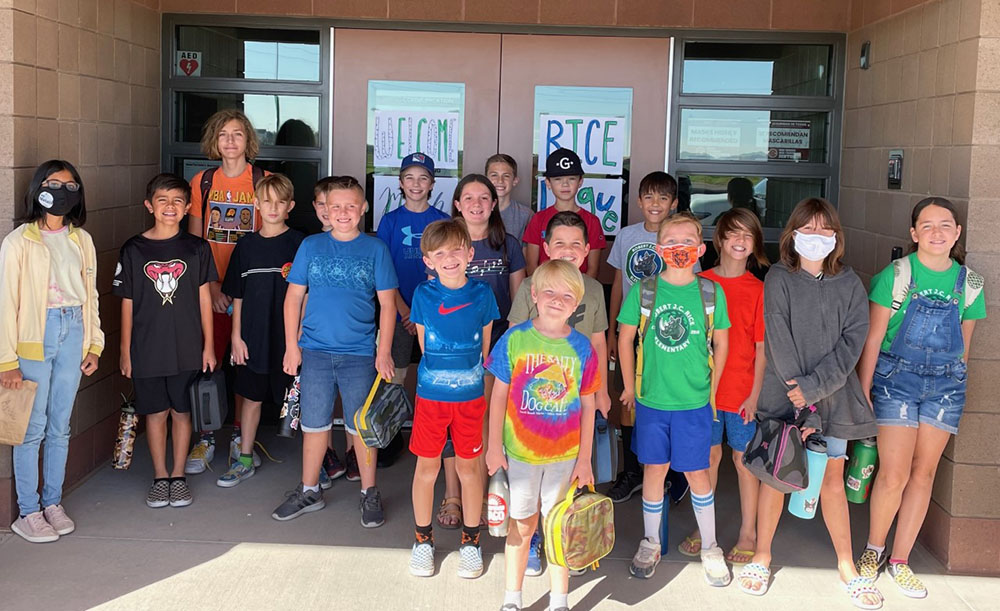 Rice Elementary students Chase Leavy, Sawyer Alvarado, Joey Foreman, and Gabe Pusz (under the direction of Robyn Bills and Jennifer Kraemer) were recognized in the top six in Arizona for their grade level in the Math League competition on Nov. 13. Rice Rhinos worked hard, competed, invested themselves in the process, and had fun.



Rice Elementary

(2021-2022)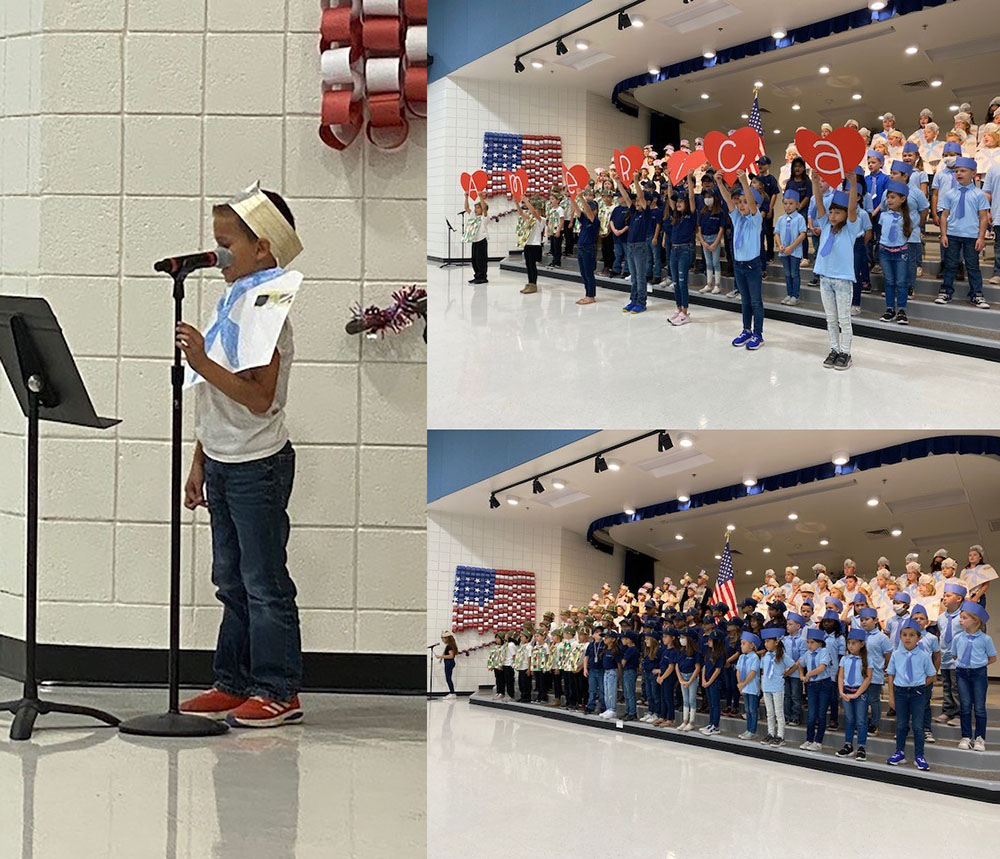 Second grade students honored veterans with an outstanding musical performance. Thank you to our teachers whose hard work was seen in the music and words of our students. We were amazed by the students who learned sign language from one of our teachers, Rylie Perkes, for the performance in order to be inclusive and reach more of our community. We were delighted to welcome our families to watch the performance. It is with our deepest gratitude that we thank our veterans for their service and sacrifice.



Arizona College Prep High School

(2021-2022)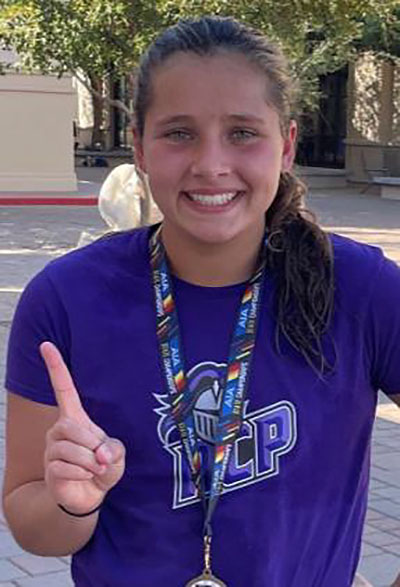 STATE CHAMPIONSHIP:
Congratulations to Addie Grainger, winner of the Division 3 state title in Dive.



Arizona College Prep High School

(2021-2022)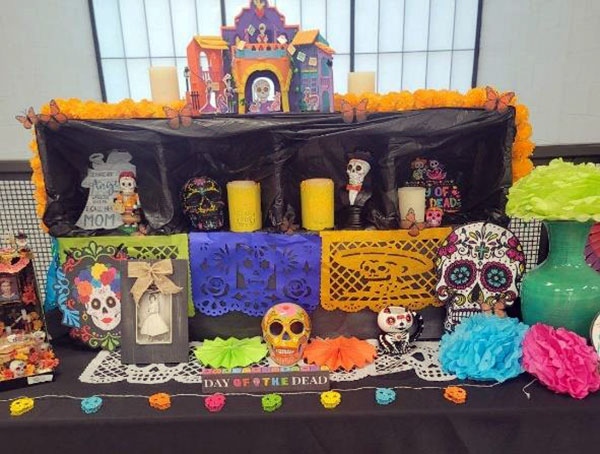 Spanish and Culinary departments at Arizona College Prep High School celebrated the traditional Mexican holiday, Día de los Muertos. Students learned about the significance of the holiday and some of its traditions, made their own calaveras (colorful skulls) and paper flowers, and tasted pan de muerto (dead bread).



Arizona College Prep High School

(2021-2022)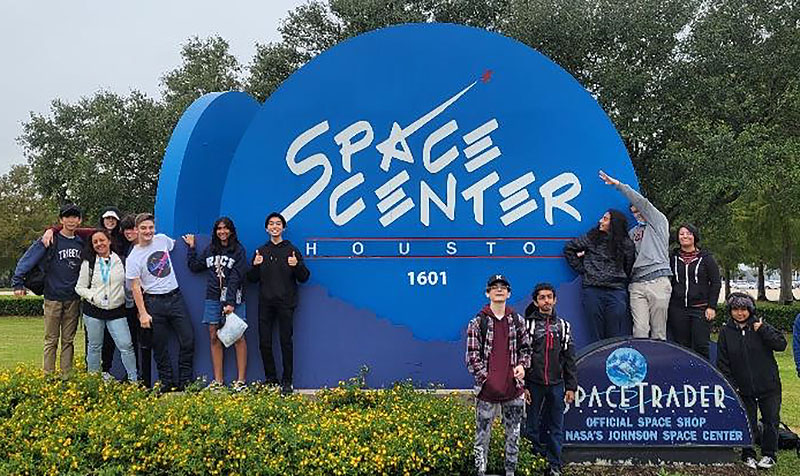 A group of 13 Arizona College Prep High School students participated in the SpaceVisions Conference in November in Houston, TX. They were accompanied to Houston by instructors Rachna Nath and Larry Whitmyer as members of the "Students of Exploration and Development of Space" club (SEDS). ACP High School was one of only two schools from the western U.S. and one of the five schools in the entire nation that got this opportunity -- all the other schools were universities from 38 countries around the world. The SpaceVisions Conference featured a career fair, lectures, discussions, and workshops related to astrophysics, space medicine, space policy, the Artemis project, and inclusivity. Students met with NASA representatives and learned about internship opportunities and mentorships with LIMITLESS, Texas A&M, Space X, NASA, and many other commercial space companies. We look forward to seeing how our Knights contribute to this program and the space industry for years to come.
SpaceVision 2021 website



Basha Accelerated Middle School

(2021-2022)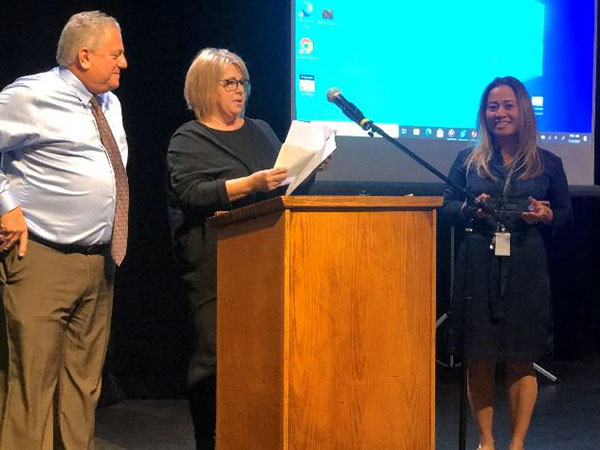 Charina DeCaro, Dean of Basha Accelerated Middle School, was named the Horace Mann Ruler of the Month for November.



Basha High

(2021-2022)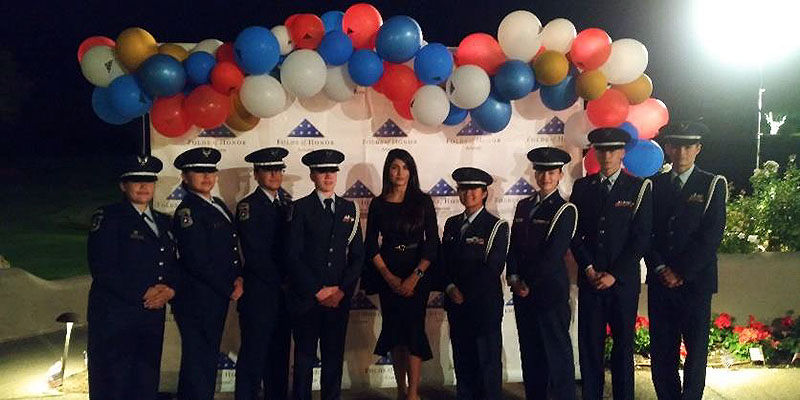 Basha High Air Force JROTC cadets attended the Folds of Honor Event in Scottsdale. The young lady in the middle is Niloofar Rahmani who is the first female Air Force aviator in Afghanistan's history. She was the guest speaker at the event.



Casteel High

(2021-2022)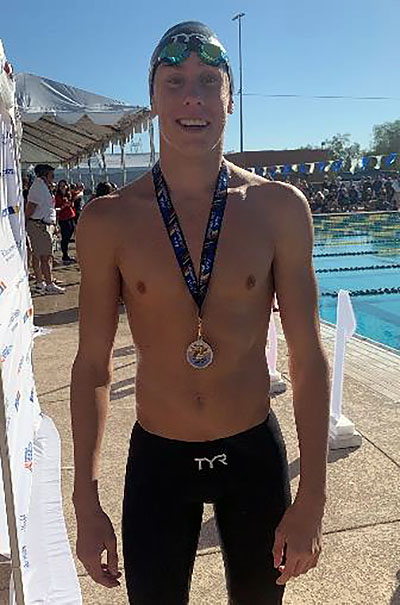 STATE CHAMPIONSHIP:
Congratulations to August Vetsch, winner of the Division 2 state title in 100M Butterfly.



Casteel High

(2021-2022)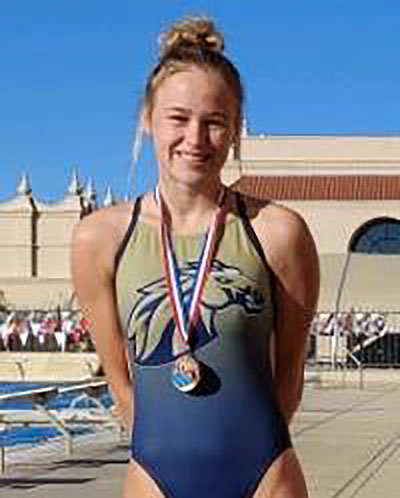 STATE CHAMPIONSHIP:
Congratulations to Brecken Scroggin, winner of the Division 2 state title in Dive.



Chandler High

(2021-2022)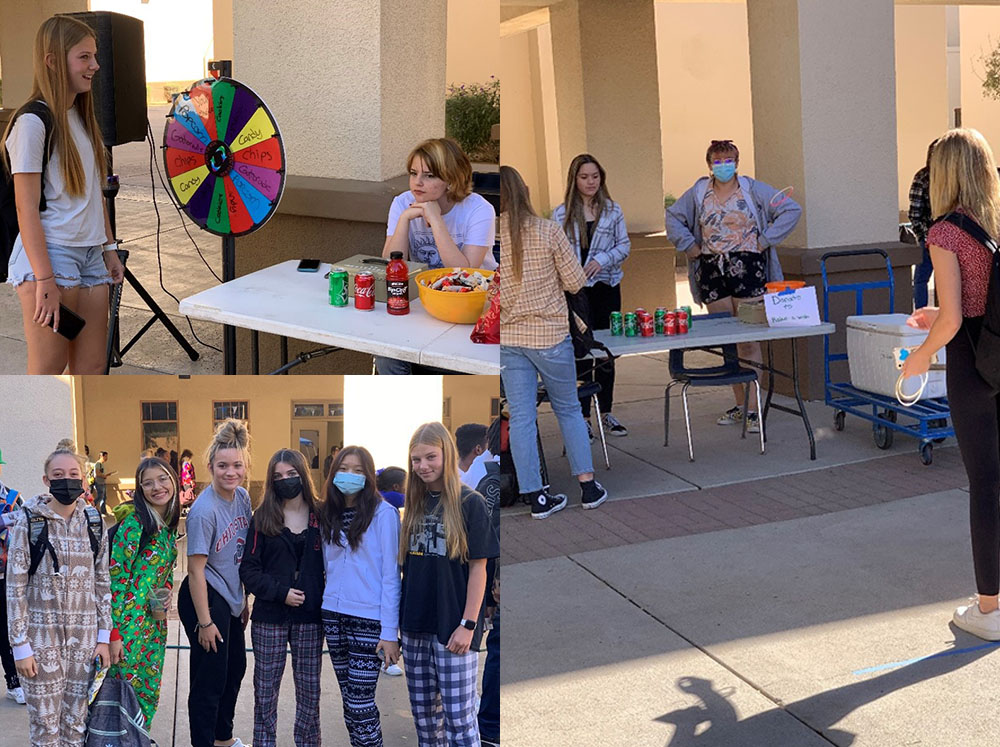 Chandler High raised $4,545.71 to donate to the Make-A-Wish Foundation during last week's spirit week. Thanks to everyone who donated, dressed up, and participated in lunch time activities to support this great cause!



Chandler High

(2021-2022)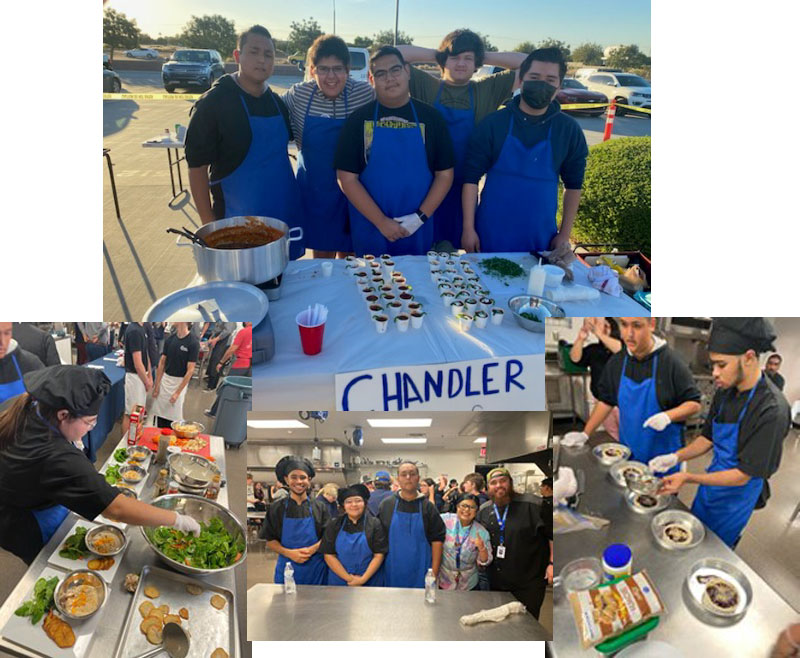 Congratulations to Chandler High's Culinary program for placing 2nd in the district for the chili cook off with the "Chili of Champions" recipe and 1st place in the dessert round for the Chopped challenge.



Chandler High

(2021-2022)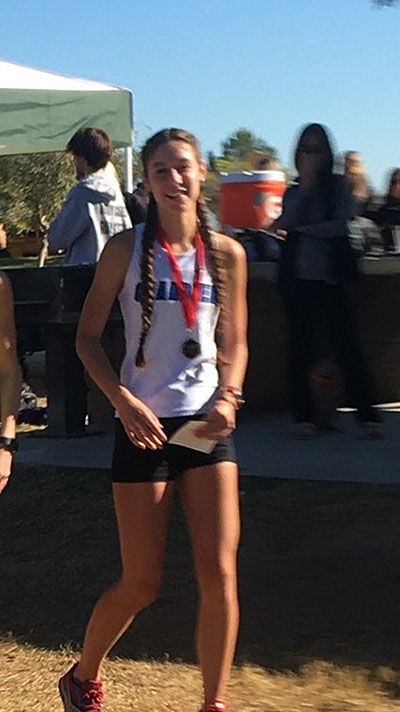 Congratulations to Ava Potts, the CUSD Champion in Cross Country. All high schools in the city took part in the race, which was held at Tumbleweed Park on Oct 27. Ava held off strong challenges from Casteel and Perry in an exciting finish to break the tape. This is Ava's fourth year making the CUSD All District 1st Team, which is comprised of the top seven runners in the city.



Chandler High

(2021-2022)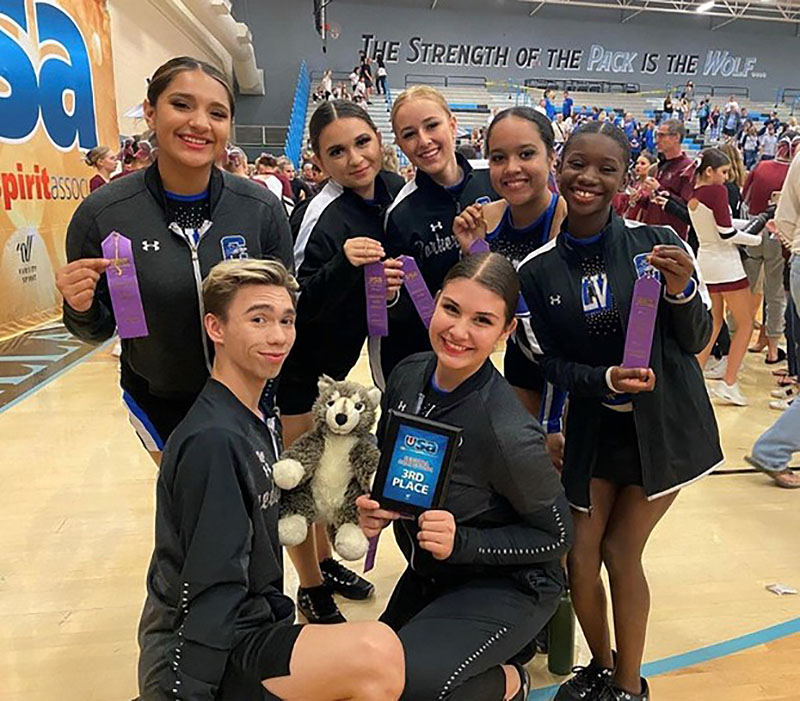 Congratulations to Chandler High Pom for qualifying for United Spirit Association (USA) Nationals!



Chandler High

(2021-2022)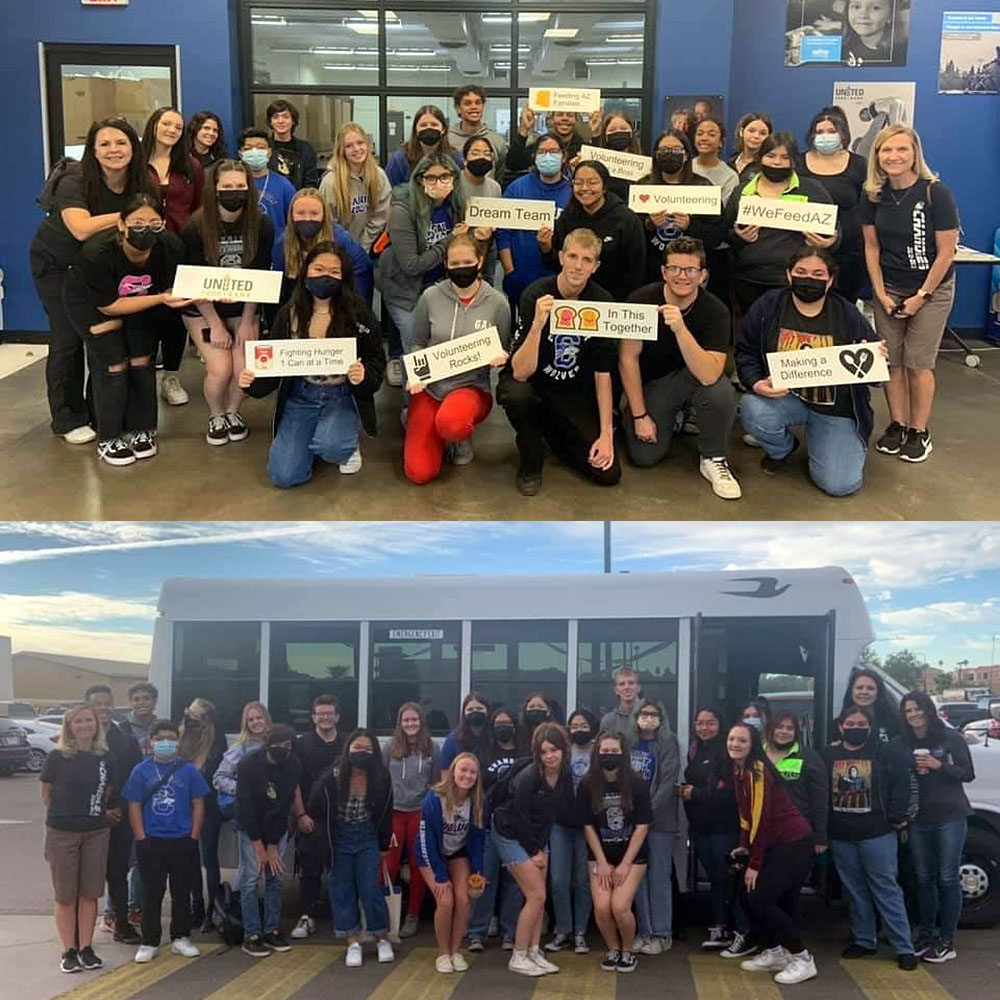 Students involved in Chandler High's International Baccalaureate (IB) Program participated in an amazing IB Day of Service. Students learned about the hunger epidemic in our communities and the impact that just a few people can make. Students filled over 1,050 bags of food for communities and families served by the United Food Bank. Additionally, IB students donated directly to the Chandler CARE Center through the CHS food drive.



Chandler High

(2021-2022)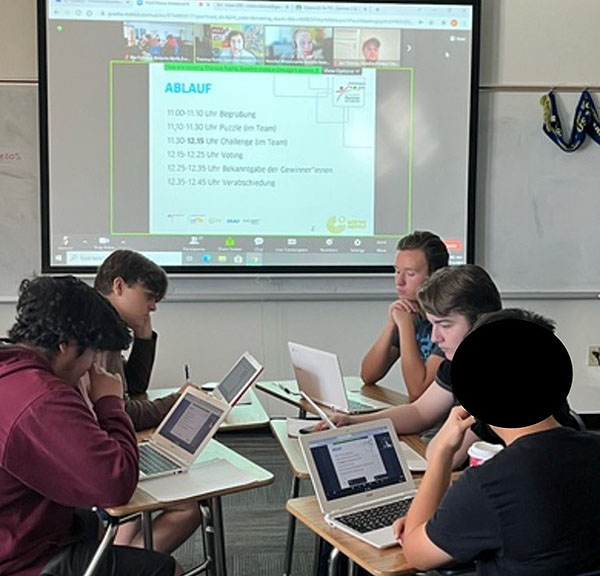 In mid-September a group of students who are in different levels of German participated in the first round of PASCHTopia, a competition organized by the Goethe Institute Chicago. Participating students were asked to solve puzzles and meet challenges using the target language on a virtual game board. The game is staged on a deserted island where the participants have to make their new home. A total of 53 teams from 20 schools located in Illinois, Nebraska, Kansas, Missouri, Wyoming, New Hampshire, Arizona, Wisconsin, New Jersey, Minnesota, Pennsylvania, Ohio and British Columbia (Canada) played PASCHtopia, and Chandler High School students of German were one of the 6 teams selected to compete in the final round on November 13. Congratulations for taking 3rd place!



Chandler High

(2021-2022)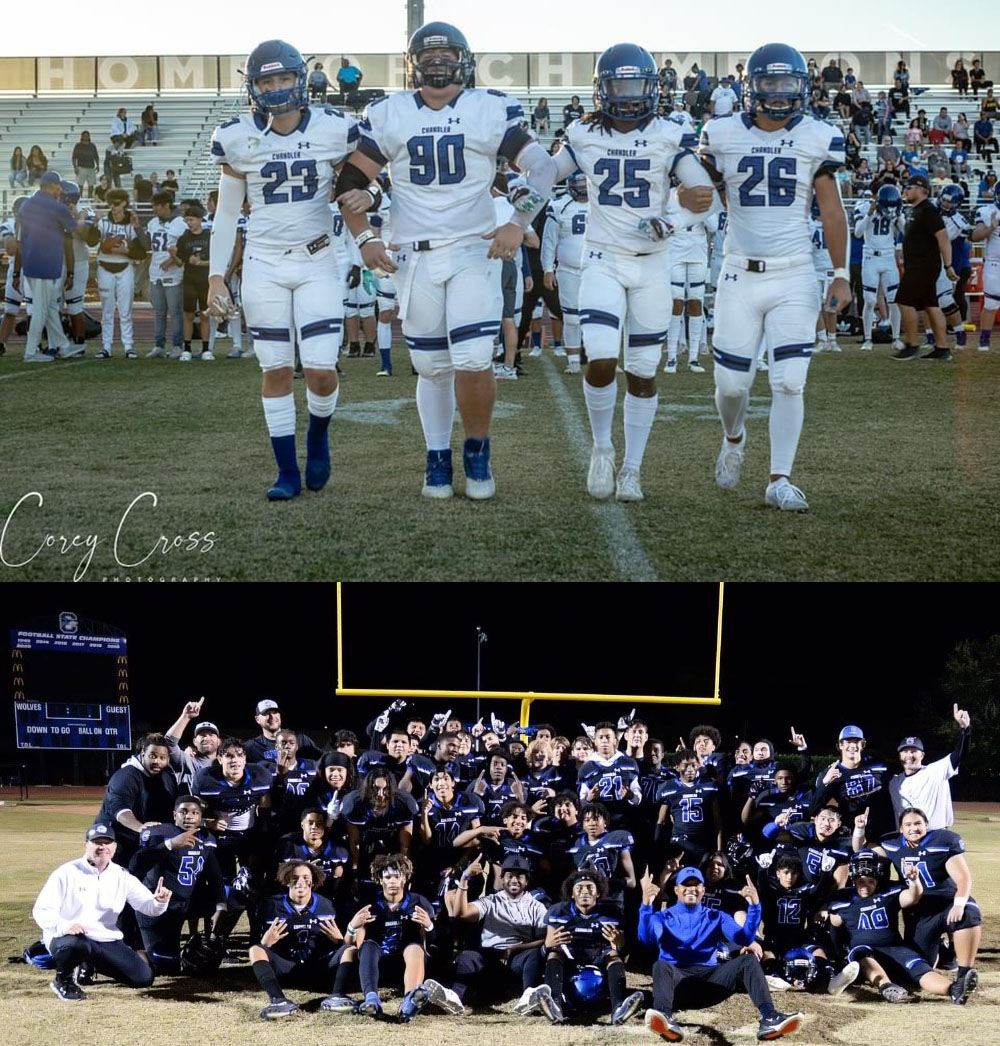 Congratulations to Chandler High's Freshman and JV Football teams for going undefeated this season!



Chandler Learning Center

(2021-2022)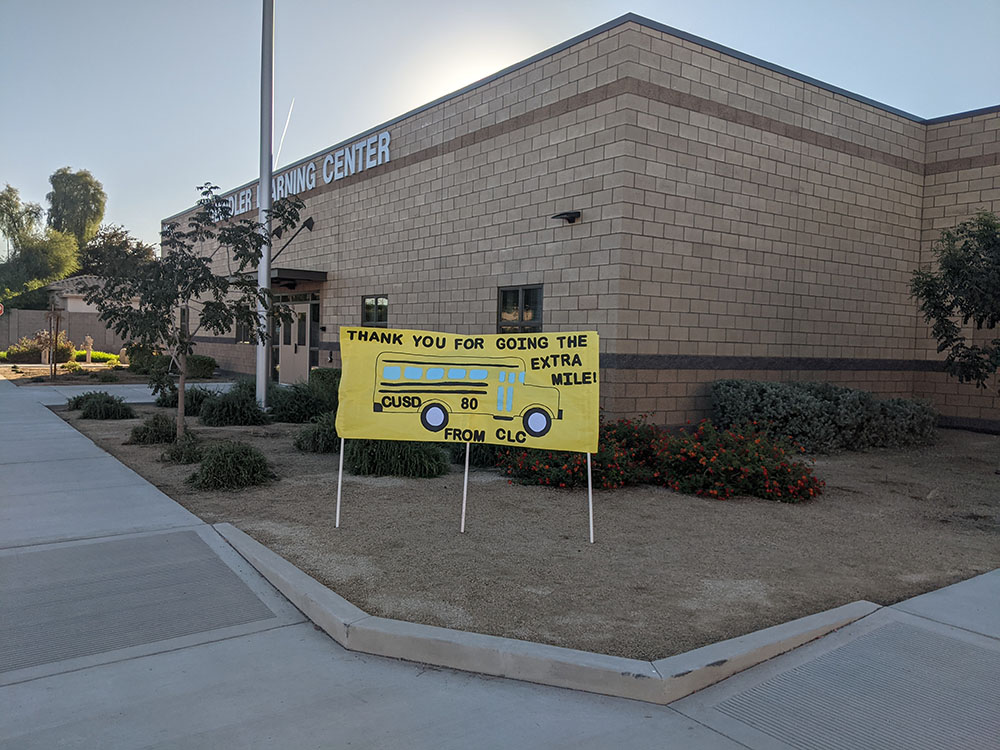 During "Bus Week," Chandler Learning Center celebrated our CUSD bus drivers for "going the extra mile." Drivers received treats and appreciation!
PHOTO ALBUM: Bus Week



Chandler Unified School District

(2021-2022)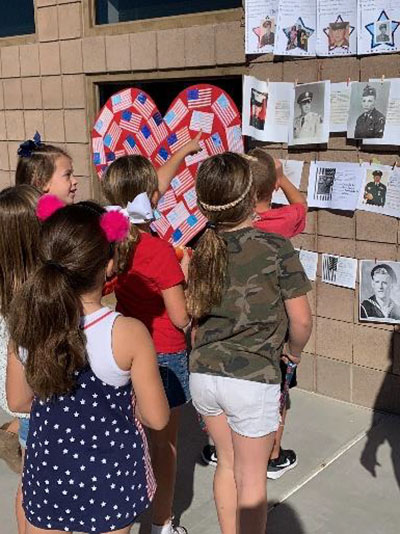 CUSD schools commemorated Veterans Day to honor all those who served and continue to serve our country.
PHOTO ALBUM: Veterans Day around CUSD



Chief Hill Academy

(2021-2022)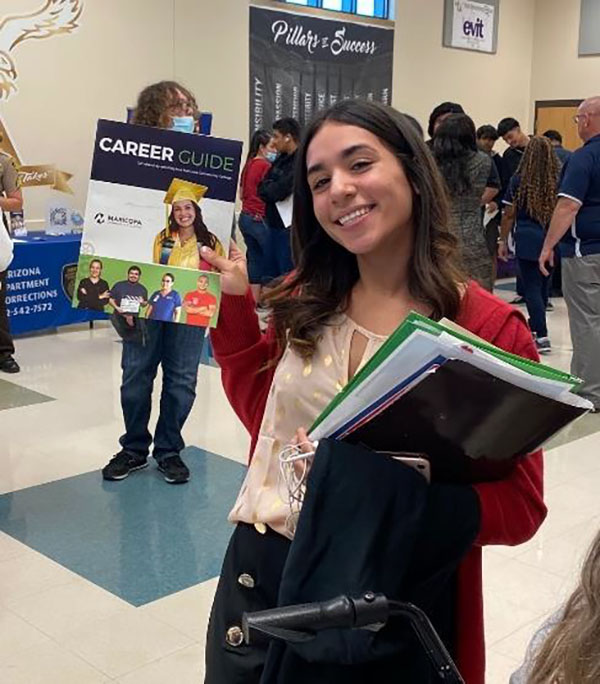 Hill Learning Academy hosted their first post-secondary fair filled with career and college opportunities.



Hamilton High

(2021-2022)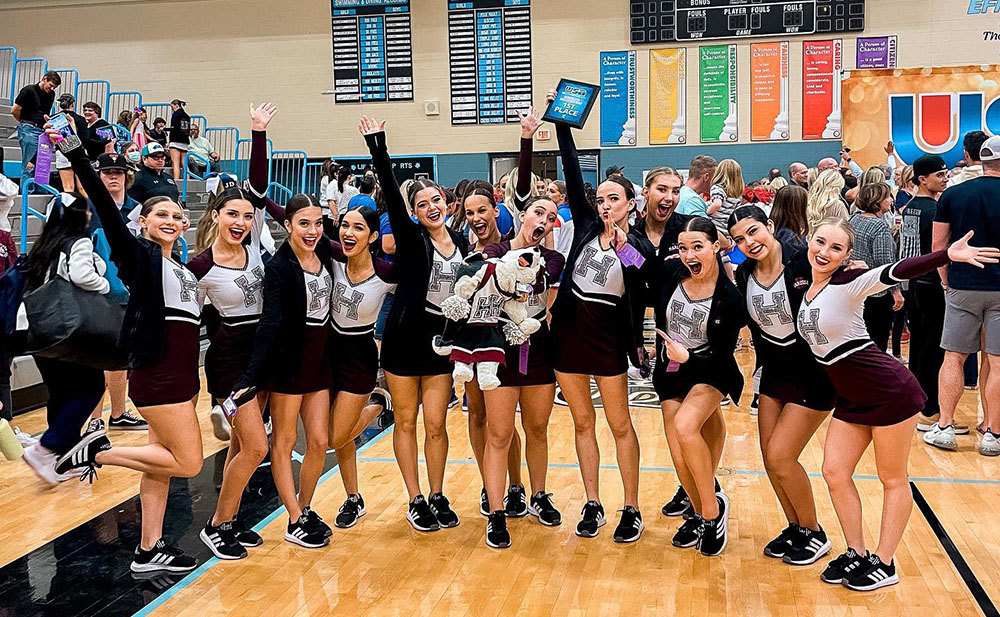 Hamilton Pomline competed at the USA Regional on Saturday, November 13 at Estrella Foothills High School. They placed first in Small Varsity Jazz and third in Medium Advanced Pom!



Hamilton High

(2021-2022)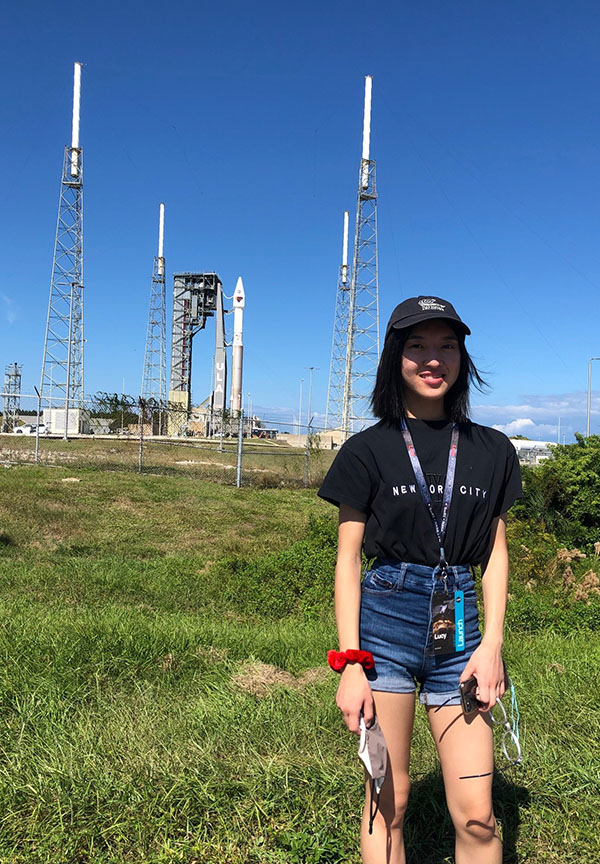 The Lucy in Space Competition was held by ASU's Institute of Human Origins, Southwest Research Institute and NASA in honor of the Lucy Spacecraft. Sarah Tran won 1st place at the high school level of the contest for her To Lucy poem and video. The award included a VIP invitation to a private in-person viewing of the launch of the Lucy Spacecraft in Cape Canaveral, FL in October 2021 which she attended as a guest of NASA. Sarah also won a presentation to be held at Hamilton from Dr. Donald Johanson, the discoverer of the Lucy Fossil which the spacecraft is named after. Lucy will travel for the next 12 years throughout the solar system to the most destinations that a spacecraft has ever visited in one mission. The main goal on the Lucy Mission is to visit eight different asteroids in a major asteroid belt and seven Trojan asteroids or orbiting Jupiter. By visiting the Trojan asteroids, Lucy aims to expand our current knowledge of the formation of the planets in our solar system.



---