Oozing slime, spaghetti and eyeballs, fake blood, spider webs and more!

SMILES for Christmas event was bigger than ever!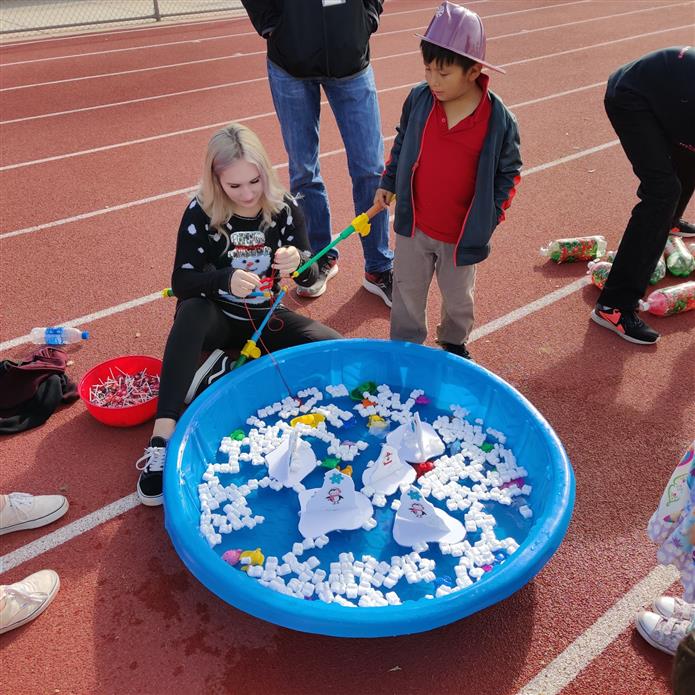 This year it "SNOWED" at Basha High School for our school's collaborative community service project - SMILES for Christmas.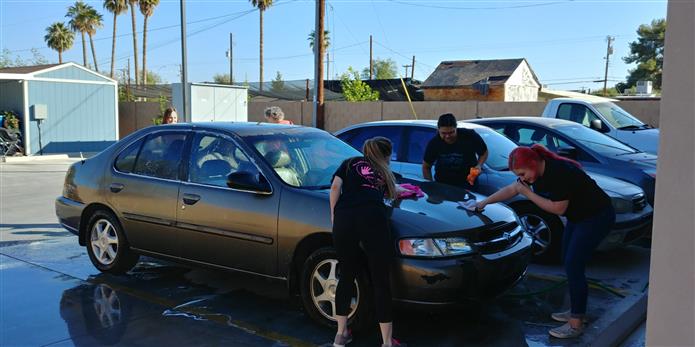 "Empathy - Servant-leaders strive to understand and empathize with others. People need to be accepted and recognized for their special and unique spirit. One must assume the good intentions of coworkers and not reject them as people, even when forced to reject their behavior or performance." - From the Ten Principles of Servant Leadership by Larry Spears.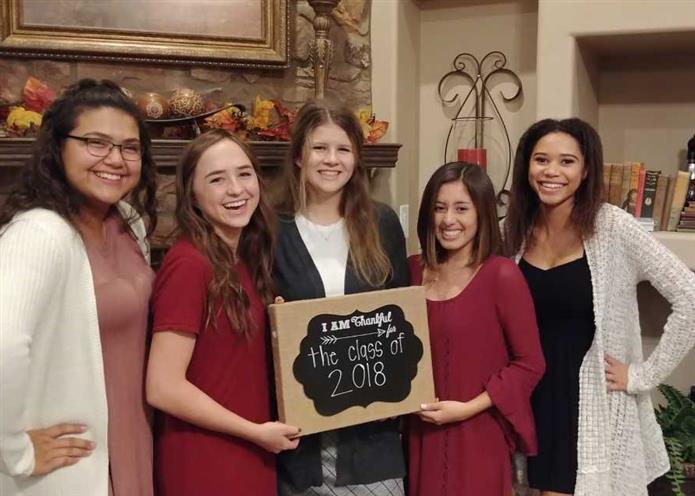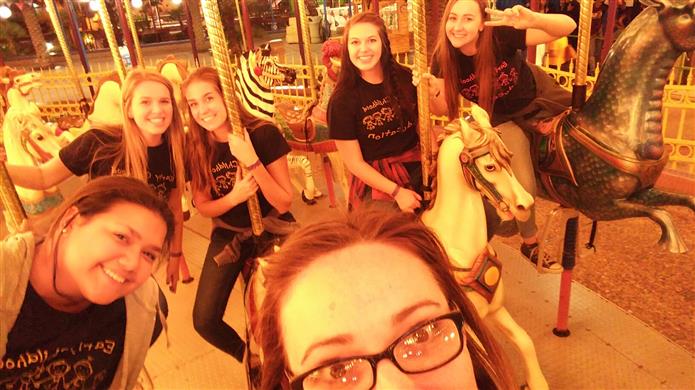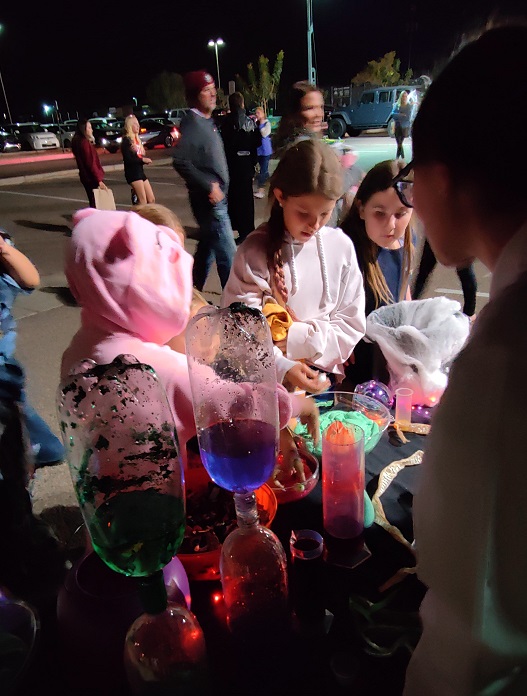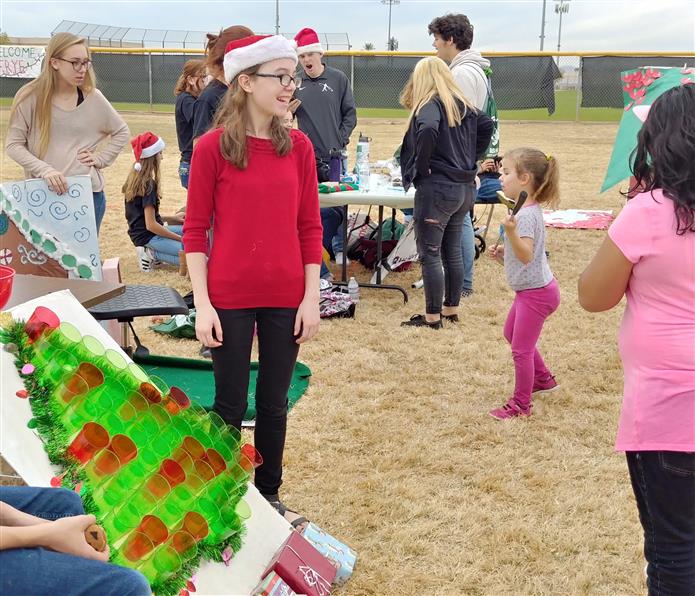 What's Happening - Basha Bears FCCLA Newsletter
Spring 2018

Lead2Feed Service Project

This year's theme for our chapter is "dream BIG, inspire others." and mirrors nicely the focus for our High School this year "#Building Basha." Keeping with our focus on servant leadership and building community, we set a goal to make a difference for young moms (or mothers to be) who are seeking shelter from domestic violence by collecting necessary goods for Maggie's Place, domestic violence shelter and volunteering time completing a monthly clean up or "Serve Saturday" at the shelter.

The Serve Saturday crew!

FCCLA State Competition

Basha FCCLA won big at FCCLA State Competition! 20 students competed and every student received a gold or silver medal - 14 GOLD medals and 6 SILVER.

AZ Proficiency Event Winners

1st place in state, Gold medal - Marianela Luna-Torrado, Art of Story Telling
1st place in state, Gold Medal- Sydney Stevens, Toys that Teach
2nd place in state, Silver Medal - Gabrielle Surprenant, Literacy Connection

STAR Events - GOLD Medal winners

Sara Alexander & Jared Alexander, Illustrated Talk
Tyler Alexander, Life Event Planning-occupational
Kya Armstrong & RyLee Williams, National Programs in Action
Sammy Baker, Career Investigation
Sebastian Dees, Life Event Planning-senior
Alyson Filardi, Advocacy-senior
Neely Mack & Grace Silvernail, Entrepreneurship
Katelyn Pierce & Caitlyn Rackley, Advocacy-occupational

SILVER Medal Winners

Caitlin Anderson & Matison McMillan, Chapter in Review
Rachel Colombo & Cameron Thompson, Chapter Service Project
Masen MacCrone, Interpersonal Communications

Additionally, our chapter received the following awards:

GOLD Chapter Achievement

BRONZE Chapter Service Project

Basha Senior RyLee Williams won awarded FCCLA Member of the Year for the State of Arizona!

Fall 2017

This year's focus is on Building Basha through Inspiring others and transforming tomorrow! Our motto is "Dream BIG, Inspire OTHERS!"


#Building Basha - FCCLA Leadership Camp 2017

Basha Bears FCCLA reresented at leadership camp this year with the hashtag #BuildingBasha. We spent time preparing for camp this year by all getting together and building costumes to look like construction workers. We spent an amazing 3 days in Prescott in cabins participating in a variety of different leadership activites, games, and workships. Overall, we had a great time Building Basha an Transforming Tomorrow!


#Building Relationships - Officer Thanksgiving Dinner

This year's Thanksgiving officer dinner was held at Mrs. Alexander's house. We are focusing on building relationships and our officer team. We spenttime getting to know each other, have conversations, taking pictures, eating dinner, laughing, and having lots of fun. Everyone brought a different food dish to complete the big feast.




Fall 2016

This fall has been busy as our chapter is Launching Leadership! Here are some highlights from our fall events.

Leadership Camp

5 students - RyLee, Mia, Madison, Jaci, and Matison represented Basha Bears FCCLA at FCCLA Fall Leadership Camp where these chapter officers spent time team building, in leadership training, planning our Program of Work planning, learning about competitive events, and Color Team Networking!

Fall Leadership Extravaganza - FLEX

We had 10 students attend this year's FCCLA Fall Leadership Extravanganza at th Talking Stick Resort Arena and Phoenix Convention Center, and then Castles and Coasters. There were over 60 innovative, hands-on, exciting, specialized sessions to choose from--everything from leadership skills to employability and career skills to competitive events training, as well as content-specific sessions! There were over 5,000 students at this event. After the conference, participants spent a night out with dinner, unlimited rides and FUN at Castles and Coasters. It was the ultimate Fall Leadership Extravaganza!

Smiles for Christmas

This year our Basha Bears FCCLA partnered with NHS and other clubs on campus to put on our largest Smiles of Christmas yet on Dec. 1st and it was a HUGE success. For those who do not know what it is here is a quick explanation. Our high school students "adopt a child" from local Title 1 schools. These students take a field trip to our football field and there they spend the day with their high school mentor rotating through various activities/booths set up and run by clubs/groups on our campus. We had over 375 kindergartener/2nd grade/deaf students here yesterday and made them feel special for a day.