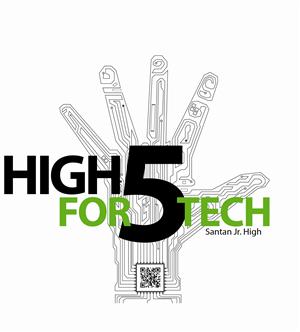 Santan Junior High is excited to share with you our school vision for purchasing technology for our students and campus. With the support of our Santan Boosters, community, and parents, HIGH FIVE FOR TECHNOLOGY is our technological capital fundraiser for Santan Junior High.
Our goal is to attain student ChromeBooks (or similar versions) within the classrooms. ChromeBooks boot up in seconds, require almost zero set up and zero maintenance. They afford unlimited resources for our students and are easy to navigate. The portability of Chromebooks allow an affordable device to be shared within classrooms and across teams.
What is HIGH FIVE for TECHNOLOGY?
High Five for Technology is Santan's fundraiser, which will allow us to purchase sets of ChromeBooks for students to use within the classroom. We have set a goal for $82,500 or 300 ChromeBooks.
Why do we need ChromeBooks or laptops for the students?
HIGH FIVE REASONS:
At SJHS, we have almost 1,400 students registered. Currently we have two available technology labs for our students to use. Each lab has approximately 30 working computers. Within some of our classrooms, we have 1-3 student stations, and in some classrooms, we have 0 student stations. We need more access to resources to enhance instruction!
Research indicates that technology improves achievement, motivation, technological literacy and test scores.
Technology is fundamentally hands-on and a natural integrator of the curriculum as it continues to be motivational and inspirational to students.
Technology promotes problem solving.
Technology increases innovation in Reading Comprehension, Writing, and STEM (Science Technology Engineering and Mathematics).
How can I help?
HIGH FIVE REASONS:
Flat Donations (payable to SJHS Boosters). If every family at SJHS donated at least $64.00 per student, we would have our $82,500! Please submit your donation with our High Five flyer so we can track our donations as effectively as possible.
Participate in Booster Fundraisers such as SCRIPS (Harkins, and more), Spirit Wear, and HIGH FIVE for TECHNOLOGY requests.
Donate time to serve on our Boosters Board. Your ideas are welcome, your time is valued by all of us!
Read our website for important information on HIGH FIVE for TECHNOLOGY, and download (and share!) our flyer for more details.
I look forward to a successful fundraiser and know that we can count on all the parents to help us with our vision.
With a "high five" to all of you,
BJ Kowalinski
Santan JHS Principal