About Darla Tate...
---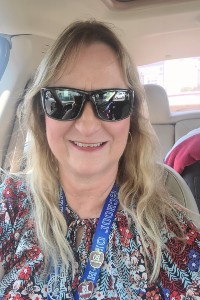 Home Site / Room Number: CHS/COA
Phone: 480-812-7975
Subject(s): Psychology
---
Parent and Student Connections:
Check ongoing assignments and grades by logging into BUZZ:
Check final grades by signing up for Infinite Campus:
Connect with Us!
---
Welcome!
Welcome to Chandler Online Academy!
Educational Background:
I received my BA at Prescott College in 1999. I taught for 6 years in Holbrook, Arizona and after starting at Chandler High, I completed my Masters in Education, School Counseling at the University of Ottawa in 2009. I started part-time teaching with Chandler Online Academy in August of 2020. I am a very proud graduate of Chandler High School from the class of 1978! Go Wolves:)
Educational Philosophy:
My Educational Philosophy is for each of my students to have a better understanding of social studies. Psychology and American/Arizona Social Studies Department goal is to provide a learning environment that promotes the acceptance of others.

---
Click to Report a Website Problem | Email Darla Tate
---